After a long day perfecting our tans at the beach, our sun-kissed skin can often become sensitive, dry and damaged.  Even simple tasks such as taking a shower or wearing tight fitting clothes can suddenly become extremely uncomfortable or even painful. But, thankfully, you can achieve gorgeous golden-brown without the dry, flaky skin. Kat Burki's organic soaps and moisturizers use the finest all-natural ingredients to soothe, moisturize and ease the effects on the skin from a day spent baking in the sun.
Skin exposed to the sun in the summer needs all of the therapy it can get, so make sure to start in the shower with a natural therapeutic soap and continue through the day with soothing moisturizers for preventative and soothing effects.  And what better way to treat your skin than to let it seep in all of the natural benefits of these 3 soothing flavors by Kat Burki, custom designed to bring maximum benefits to just about every skin type: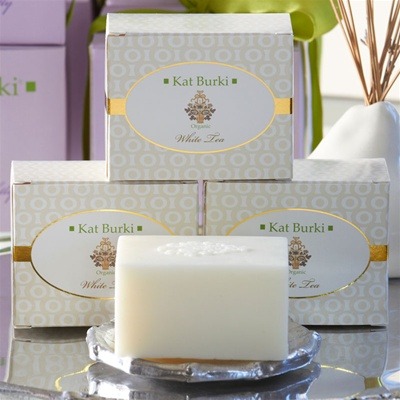 Indulge in the soothing benefits of White Tea Soap and Body Crème with its subtle, soft fragrance incorporating soothing scents of pine, mandarin, palmarosa, white-tea extract and oils of olive, coconut, and palm. White tea is packed with even more anti-oxidants than green tea to keep skin healthy and youthful while the delicious scent will soothe the senses leaving you feeling refreshed and relaxed.
White Tea Organic Soap ($18.00)
White Tea Body Crème (6oz. $52.00 or 2oz. $15.00)
Ignite your skin's freshness with Freesia and Pink Grapefruit, another delicious summery scent which will leave you feeling clean, fresh and smelling delicious for those lovely, long summer nights. Grapefruit is renowned for its anti-oxidant properties and its scent is known to invigorate the mind and awaken the senses. The perfect pick-me up after a hot summer day.
Freesia and Pink Grapefruit Organic Soap ($18.00)
Freesia and Pink Grapefruit Crème (6oz. $52.00 or 2oz. $15.00)
The airy combination of Avocado and Cucumber is the perfect scent for skin suffering from sunburn or heat rash. Cucumber has long been recognized for its incredible cooling effects while avocado is a rich moisturizer. The combination will instantly cool down and moisturize skin while its enchantingly elegantly crisp and clean scent will have you so relaxed you'll quickly forget about any discomfort you were once in!
Avocado and Cucumber Body Creme (6oz. $52.00 or 2oz. $15.00)
Avocado and Cucumber Organic Soap ($18.00)
No matter how minimal or extreme your skin is suffering from sun damage this summer, Kat Burki organic soaps and body crèmes are the perfect remedy to leave skin feeling refreshed and moisturized during these hot, hazy summer months.
About Kat Burki: Kat Burki products are designed for the chic individual to relax and unwind with her clean, soothing and sophisticated scents of candles, soaps and cream's made from the finest natural ingredients which are carefully selected and fine-tuned by Kat Burki herself. The full Kat Burki Collection is available online at www.katburki.com.
Disclosure: Product information provided by PR.