The cold season is nearly upon us, and the verdict is in with respect to what one is supposed to wear for the fall's hottest events. While, at first glance, you may think not much has changed in terms of trends and styles compared to 2011, you'd be rather wrong to assume so. Style is a living organism, constantly evolving – and this is, of course, also the case for footwear. Read on to learn what the experts are saying you should don on your feet this autumn, in order to keep dry, warm, and stylish.
The Biker Bootie
Ankle booties have been around since roughly four seasons ago, but that doesn't mean they are the same in 2012 as they were in 2008. Their shape, cut, and accessories have evolved from a very eighties-esque, round-tip, soft-edged shape, to a mid-heel, to barrettes and belt-buckles. In 2012, the hottest ankle boot is an homage to the biker culture of the 1950s and 1980s at the same time. It's most often made in black leather, sports a weathered, worn-out look, and invariably has got buckles, layered straps and studs. Most fast-fashion, ready-to-wear big brands offer them at prices ranging up to $170, in ecologic leather.
The Mountain Boot-cum-Platform
Mountain boots have sturdy laces, a fuzzy, warm interior and a comfortable shape. They are also usually ankle-tall, in order to keep the ankle fastened tightly and snugly during long hikes up on mountain range or another. In their urban variant, the fall 2012 mountain boots have entered an interesting marriage with the year's most popular trend, the platform sole. The sole is now patterned, in order to ensure safe treks through the snow, while the boot is ankle high, with a rounded tip and contrasting laces, from what we've seen in the shop windows of most major retail, ready-to-wear brands.
The Tall, High-Heeled Platform Boot
Boots in high heels, up to the knee or in the over-knee variant, are in no way news on the fashion scene. However, this season builds on the classic shape by merging it with trends and influences from various eras and options in matter of style. Laced or laceless, the 2012 autumn boot is tall, with a high heel and a platform sole, and it also usually comes in soft, rich shades of brown, reminiscent of the most lush, plush leather. Honey-hued browns are all the rage, as are black boots with heels and soles in contrasting, light shades of brown and grey. The 1980s over-the-knee boot, whose upper part can be folded over, is still around on the fashion scene, and it looks like it's here to stay at least until the following spring.
The Equestrian Boots
Sometimes you just have to stick to the classics for elegance, poise and understated luxury: equestrian smooth leather boots are one of those timeless yet exciting pieces. With the 70s trends pushing ridiculous platforms and chunky spectacular heels, the prim riding boots are also spicing it up a bit: sturdy heels dressed in fiery reds, maroons, forest greens and khakis have been spotted cavorting with the usual suspects in hues of whiskey, rich brown, chestnut and jet black. Look out for two-toned patterns and metal accessories this season for extra panache as they've been popping up on the catwalk for Gucci, Ralph Lauren and Miu Miu.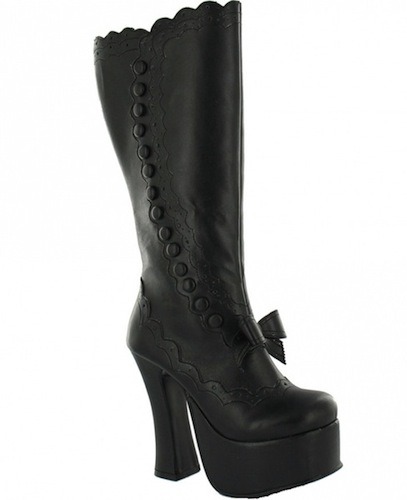 boots

and occasionally writes about them as well.

Guest post by Mara M