Everyone has heard from a doctor/skincare professional (or a skincare fanatic like me!) about the importance of wearing sunscreen to protect against skin damage. But with the winter chill still in the air, you may think that you can lay off the sunscreen for now. However, the fact is that UVA rays, the ones responsible for changing the DNA in the skin causing premature lines, wrinkles & sagging, are almost the same strength from summer to winter and can penetrate through clouds and windows in your home, car or office even on cloudy winter days. If you want to prevent premature aging & wrinkles, wearing a moisturizer with sunscreen  365 days a year, rain or shine, inside or out, is a must – period.
Ok, after that friendly reminder, let me introduce you today to my latest sunscreen entry – Perfective Ceuticals Ultra-light Sunscreen SPF 40 – a high protection broad-spectrum sunscreen that is also designed to improve skin tone & texture.
Product Description
Ultra-light Sunscreen SPF 40 with Titanium Dioxide is a non-comedogenic, broad-spectrum sunscreen formulated with naturally occurring Titanium Dioxide and cellular-protecting plant extracts. It offers skin protection from UV rays that contribute to skin damage and premature aging. Utilizing an exclusive ultra-light technology, it glides on smoothly; leaving the skin with a soft, non-greasy finish. Perfect to wear alone, over daily moisturizer or as an invisible makeup primer. Fragrance-free.
Key Ingredients
Titanium Dioxide: An earth mineral capable of creating a physical barrier to block both UVA and UVB.
Ginkgo Biloba Leaf Extract: A herb used as an anti-inflammatory, antioxidant and anti-irritant.
Ascorbyl Tetraisopalmitate: A form of Vitamin C Ester. Works as a powerful antioxidant to prevent cellular aging by inhibiting the cross-linking collagen, oxidation of proteins and lipid percutaneous absorption and stability.
Prunus Yedoensis Leaf Extract: Has positive effects on improvement of noticeable pores, and improvement of skin elasticity.
And here's the full ingredient list :
Water (Aqua), Cyclopentasiloxane, Titanium Dioxide, Alumina, Dimethicone, Cetyl Peg/PPG-10/1 Dimethicone, Dipropylene Glycol, Phenyl Trimethicone, Isopropyl Isostearate, Ethylhexyl Salicylate, C12-15 Alkyl Benzoate, Cyclomethicone, Polyhydroxystearic Acid, Aluminum, Octocrylene, Prunus Yedoensis Leaf Extract, Ascorbyl Tetraisopalmitate, Tocopherol, Sodium DNA, Ginkgo Biloba Leaf Extract, Magnesium Sulfate, Crithmum Maritimum Extract, Tocopheryl Acetate, Phenoxyethanol, Methylparaben, Propylparaben, Ethylhexyl Methoxycinnamate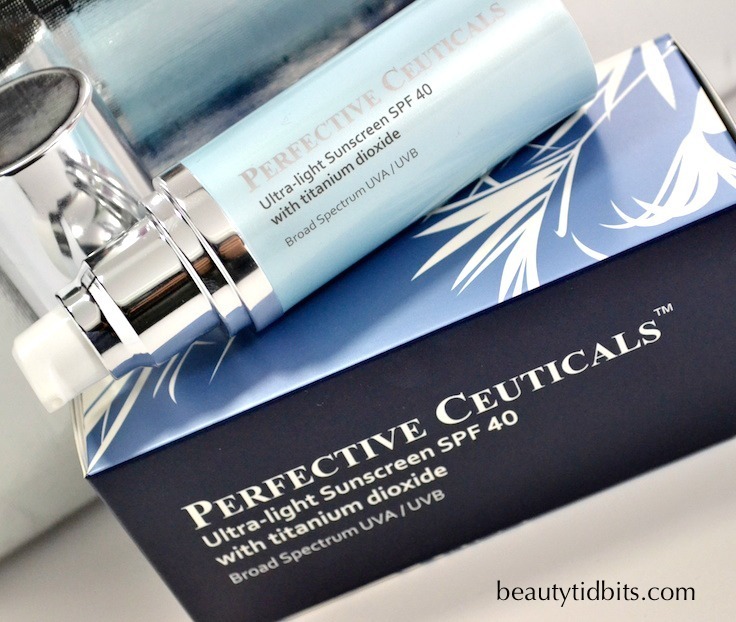 What I like :
– Provides full spectrum UVA/UVB protection with only physical blocking sunscreen titanium dioxide
– Enhanced with antioxidants like Ginkgo Biloba Leaf Extract and vitamins C and E to neutralize free radicals
– Lightweight, cosmetically elegant formula glides on smoothly leaving the skin with a soft, non-greasy finish
– It takes a few extra seconds to really soak in but doesn't leave any white cast or residue
– Keeps my dry skin nicely moisturized all day (without a sticky/tacky feel or unwanted shine)
– Wears beautifully under makeup
– Oil-free and non-comedogenic (does not clog pores)
– Lightly fragranced but the scent dissipates soon after application
– Doesn't make my skin break out
– Convenient packaging in an opaque bottle (which prevents the active ingredients from deteriorating) with a pump dispenser
What I don't like :
– A few of the ingredients on the list like aluminium and parabens; I try to avoid these in my skincare products
– Pricey ($48 for 1oz)
Bottom Line
Overall, Perfective Ceuticals' Ultra-light Sunscreen SPF 40 ticks all the right boxes for me in terms of formula. With Titanium Dioxide as the main sunscreen active, it's elegantly lightweight & moisturizing with a smooth, almost matte finish without any white cast and I can wear it all day long without my skin looking shiny by the end of the day.
Perfective Ceuticals' Ultra-light Sunscreen SPF 40 can be purchased at perfectiveceuticals.com or Amazon.com