If there's a grand taskmaster in skincare, it's retinol. Retinol is a tried and true ingredient that really works – from clearing acne to stimulating the production of collagen and speeding up skin cells turnover to prevent and even reverse symptoms of aging like wrinkles, sun damage, dark spots and a dull complexion.
In fact, if you do nothing else at all for your skin, using retinol at night and sunscreen by day will go a long way towards keeping your skin looking younger. From your 20s all the way into your 80s, retinol and sunscreen are the most important things you can put on your skin to fend off the signs of premature aging.
However, this wrinkle-erasing elixir often comes with a few side-effects like drying, flaking and irritation that can make it difficult for many to comfortably incorporate into their skincare routines. That's where the InstaNatural Retinol Moisturizer comes in!
InstaNatural's Retinol Moisturizer contains a robust formula of handpicked ingredients including 2.5% maximum strength Retinol (Vitamin A) and 10% Vitamin C to provide a potent dose of these anti-aging antioxidants in your anti-aging skincare routine. Vitamin C works synergistically to repair the damaging effects of sun exposure and other environmental aggressors that cause early signs of aging. In addition, formula also boasts of a creamy blend of nourishing ingredients, such as Jojoba Oil, Hyaluronic Acid and Shea Butter and Green Tea which keep skin moisturized and well hydrated.
Ingredients:
Organic Aloe Vera, Organic Sunflower Oil, Retinol, Palm Oil, Glyceryl Stearate, Cetyl Alcohol, Stearic Acid, Vitamin C (Sodium Ascorbyl Phosphate), Botanical Hyaluronic Acid, Organic Jojoba Oil, Kosher Vegetable Glycerin, Shea Butter, Wildcrafted Green Tea, Wildcrafted Propolis, Vitamin E (d-Alpha Tocopheryl Acetate), Vitamin B5 (Panthenol), Phenoxyethanol, Ethylhexyl Glycerin, Xanthan Gum, Citric Acid
InstaNatural Retinol Moisturizer comes packaged in an opaque airless pump container, preventing any exposure to air and light. I've been using this product daily for about 3-4 weeks now, every night. The formula has a lightweight, non-greasy lotion consistency and absorbs very quickly, leaving my skin smooth and nicely moisturized. A pea-sized amount is all you need for your face.
I am really loving the results as my skin feels so supple, radiant and even in texture & tone – without any unwanted side effects, like redness or flaky skin, despite a high concentration of retinol. So, the formula truly lives up to its claim of being gentle on your skin!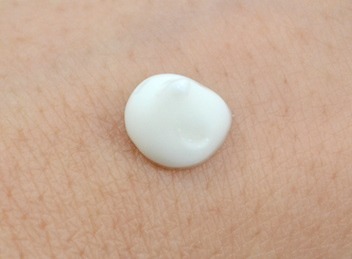 Here are a few tips to keep in mind for best results with any retinol product:
Use it only at night – Sun doesn't play nice with retinol!
Don't slather it on thinking you'll get faster results—more is not better
Retinol speed up cell turnover so our skin becomes more sensitive to the UV rays. Make sure to slather on a high SPF during the day – whether the forecast calls for sun or clouds.
If you are new to retinol or have sensitive skin, start with just two or three nights a week and work up to nightly application as your skin adjusts to it. You may notice some flaking or slight sensitivity initially but that's normal – try using a light moisturizer on top or even before to reduce your chances of irritation. Applying retinol as a final step after moisturizing at night creates a nice buffer between your skin and the active ingredient. Studies show that you will still get the same benefits with a much lower risk of irritation.
Stay consistent and patient, giving it time to work. Whether you use it every day or once a week, keep up with it your routine…it takes a few weeks to see visible results .
Bottom line
InstaNatural Retinol Moisturizer is truly a skincare gem! It harnesses the extraordinary power of retinol without any unwanted side effects or irritation. This high potency yet gentle retinol formula has definitely earned a place in my HG (holy grail) skincare list. And the best part is that it comes with a budget-friendly price tag at only $25 (for 3.4 fl oz) giving you the most bang for your buck! Pick it up from Amazon.com