Press sample New for summer 2018, Urban Decay Born to Run collection is a travel-inspired makeup range that features a brand new 21-shade eyeshadow palette, 3 limited-edition shades of Vice Lipsticks and 3 fun-loving shades of 24/7 Glide-On Eye Pencils.
There's also a limited-edition travel-sized version of the All Nighter makeup setting spray to lock in your look.
Urban Decay Born to Run Eyeshadow Palette ($49)
The new Urban Decay Born to Run Eyeshadow Palette includes 21 shades with a great mix of neutrals and colorful shadows that lets you create a variety of makeup looks – from nude to smoky and bright to sultry.
Designed for on-the-go beauty lovers in mind, it also comes with a full-size mirror inside. There are six mattes and the rest of the shades have satin, shimmer or metallic finishes.
Shades include:
Breakaway (warm ivory shimmer)
Stranded (pale rose gold with tonal micro-shimmer)
Blaze (light metallic peach with pink shift)
Weekender (light neutral beige matte)
Still Shot (bright peach)
Riff (brown-nude matte with floating micro-sparkle)
Good As Gone (deep brown with iridescent micro-shimmer)
Hell Ride (deep fuchsia matte)
Baja (burnt orange matte)
Accelerate (reddish copper metallic)
Guilt Trip (smoky purple shimmer)
Ignite (rose gold metallic)
Smog (deep coppery bronze shimmer)
Wanderlust (forest green with gold micro-shimmer)
Wildheart (bright fuchsia)
Punk (red-brown matte)
Double Life (metallic rust)
Jet (black with deep shimmering purple shift)
Drift (charcoal satin with tonal micro-sparkle)
Radio (deep emerald satin)
Big Sky (frosted green shimmer with iridescent micro-sparkle)
I am really impressed with the beautiful range of shades this palette has, from deep copper bronze to smokey browns, purples and cool blue-greens to add in pops of color!
The shades are all richly pigmented with a velvety soft texture that applies and blends out easily. The satin shimmers and metallics are all rich and silky smooth with very little fall out. Not only is the formula easy to work with but also packed with pigment!
The mattes are overall pretty good too, except for Weekender and Baja that have a little drier, almost chalky texture which isn't as easy to work with as other shades in the palette.
My favorite shades in the Urban Decay Born to Run Eyeshadow Palette are the gorgeous shimmery greens Wanderlust and Big Sky and also the golden copper shade named Ignite (that I can see myself wearing all summer long!) I am also loving the warm neutrals especially Double Life and Smog that are great for summer and all year-round.
If you are a fan of rich jewel tones like me, this pretty palette is sure to please! Not to mention, it's beautifully packaged in a sleek travel-ready case that's perfect for wherever your go this summer and beyond! Here are the swatches:
image credit: addcolo
Urban Decay Born To Run Vice Lipsticks ($18)
The Born to Run Vice Lipsticks are available in three brand new (limited-edition) shades that are are designed to complement your everyday (and even not-so-everyday) looks. 66 is a rich mauve nude with matte finish, READY is a bright rose sparkle (metallic finish) and MARFA is a dark berry with pink micro-shimmer.
My favorite is the mauve shade 66. Not only is it a beautiful color but the formula is also super smooth, creamy and well-pigmented. Ready (shimmery rose) is also right up my alley…it's such a lovely shade for summer! With its purple tones, Marfa is not really my type of color especially for the warmer months.
Here are the swatches from Urban Decay: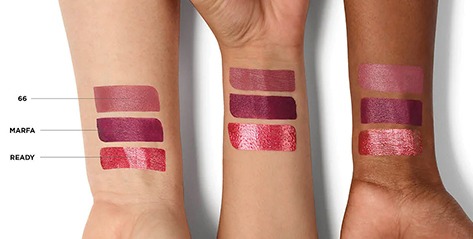 Urban Decay Born To Run 24/7 Glide-On Eye Pencils ($21 each)
The Born to Run collection includes three new fun shades of Urban Decay 24/7 Glide-On Eye Pencil in rich jewel tones that'll amplify any look. LUCKY is a dark metallic copper, OVERDRIVE is a deep green metallic and DOUBLE LIFE is a reddish-brown metallic.
All the three shades are super pigmented, creamy and apply very smoothly. The formula is waterproof with a long-lasting finish that stays put. I am totally digging the teal green shade (Overdrive) that's perfect for adding a pop of color to any look! 
Urban Decay Born to Run All Nighter Makeup Setting Spray ($15)
The Urban Decay Born to Run Collection also includes a limited edition travel-size All Nighter Makeup Setting Spray with a custom Born To Run deco. The formula is exactly the same as the original, but in a convenient travel size that can be easily tucked in your purse or carry-on.
This weightless spray gives your makeup serious staying power for up to 16 hours without melting, fading or settling into fine lines.
Bottom Line
Overall, the Urban Decay Born to Run Collection gets a two thumbs up from me! The Born to Run eyeshadow palette features a beautiful selection of jewel-toned shades along with everyday neutrals and more colorful shadows to create multiple looks…for day and night!
With more than 20 richly pigmented shades packed into one palette, this is a truly versatile makeup kit (also travel-friendly!) with a great value. And with such a nice variety of colors, it will transition well from summer into the fall season. As for the Born to Run Vice lipsticks and 24/7 Glide-On eye pencils, they are rich and colorful with plenty of pigment and delightfully smooth textures.
Urban Decay Born to Run collection is available in stores and online at Sephora, Ulta Beauty, Nordstrom, Macy's and urbandecay.com
What are you planning to pick up from the Urban Decay Born to Run collection? Let me know in the comments below!
Shop this post…