Sponsored post by Olay, all thoughts and opinions are my own
Aside from sunscreen, a moisturizer is undoubtedly the most crucial part of any skincare routine. Whether your skin is extra dry or super oily, you need a daily moisturizer to keep it hydrated and healthy.
That said, all moisturizers are not created equal. Some hydrate skin much better than others but often have a greasy or tacky texture, leaving your skin feeling suffocated. Certain formulas feel truly lightweight, but don't offer much beyond basic hydration.
Despite the fact that moisturizer is a bona-fide skincare essential, sometimes it can be tough to find one that works with your daily routine and pack a smoothing and moisturizing (not greasy) punch, especially in summer!
Even though I have dry skin, the thought of slathering on a layer of thick, occlusive moisturizer on a 95-degree day is enough to make me break out into a sweat. I need something that offers a healthy dose of hydration without glopping up my skin or clogging my pores (and causing breakouts!)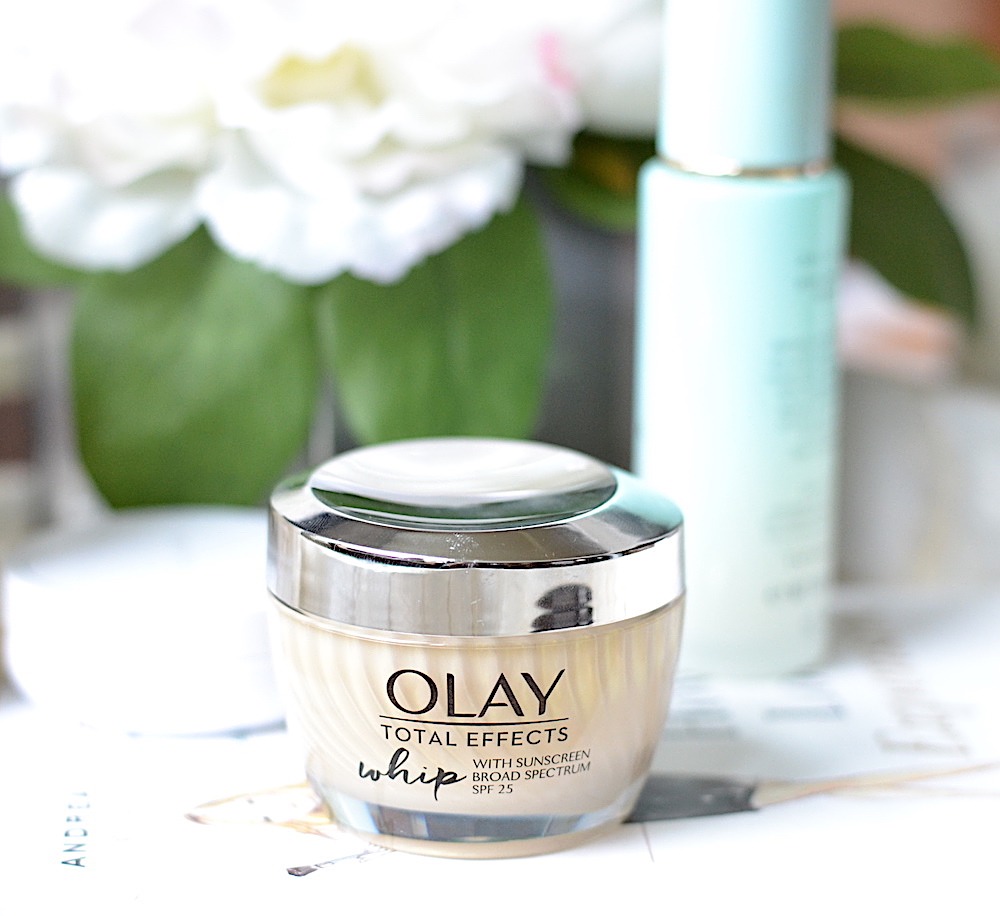 After trying out my fair share of ordinary products, I have finally found the perfect pick in Olay Total Effects Whip Face Moisturizer SPF 25. 
This hardworking hero kicks ass in the anti-aging and hydration departments, thanks to an A-plus combination of skin-smoothing niacinamide, antioxidant vitamins C, E and green tea.
Not only does it nourish and provide broad-spectrum SPF protection but also helps even skin tone while reducing the appearance of fine lines, large pores and dark spots over time. But the BEST part is that it does all that while leaving skin with a smooth shine-free finish that feels light as air…how many SPF products can you say that about?
In regards to texture, Olay Total Effects Whip Face Moisturizer SPF 25 is absolute bliss! I love how it sinks into my skin in a flash with a smooth, slightly dewy (but not shiny) finish that's not heavy or greasy in the least…thanks to its Active Rush Technology that transforms cream to liquid on skin for instant absorption!
The formula has a super light, breathable feel and leaves no wet or sticky residue behind that can cause my foundation to 'pill'. I don't have to wait for it to dry before applying my makeup (unlike many other moisturizers that claim to be 'lightweight' but seem to sit on top of the skin for a long time!)
Not only that, the light-as-air velvety smooth finish of Olay Total Effects Whip Face Moisturizer SPF 25 also makes it the perfect primer! It helps my foundation apply more smoothly and stay put longer while helping to keep the mid-day shine to a minimum. Just perfect for the hot and humid summer months!
Bottom Line
There's nothing better than achieving two skincare goals with one product but Olay Total Effects Whip Face Moisturizer SPF 25 is a multitasker's dream come true! It's a hydrating + wrinkle fighting moisturizer and primer ALL in one, with a silky shine-free finish that is light as air.
Not to mention, it also delivers broad-spectrum SPF protection with a weightless feel…truly the unicorn of moisturizers! Cheers to Olay for this amazing and affordable skincare savior!
Olay Total Effects Whip Face Moisturizer SPF 25 is available for purchase at Walmart here. 
This is a sponsored conversation written by me on behalf of Olay. The opinions and text are all mine.