Sephora Collection Cream Lip Shine is a new line of creamy liquid lipsticks that promise to provide long-lasting color with a high shine finish.
With an array of nudes, pinks and reds, Sephora Collection Cream Lip Shine comes in 10 trendy shades. The formula is infused with antioxidant vitamin E and avocado oil for ultimate comfort.
On Sephora's website, this product is actually described as a cream lip stain but I found the formula to be more of a liquid lipstick with a glossy shine finish. I picked up 2 shades of Sephora Collection Cream Lip Shine: 05 Sunset Mirage and 13 Sweet Crush.
True to its name, the Sephora Collection Cream Lip Shine really has a creamy smooth texture with a glossy finish that feels nicely hydrating yet lightweight on the lips. All it took was one swipe and I was hooked!
Not only does this liquid lipstick apply easily and evenly across my lips, but also provides excellent color payoff with opaque coverage in one coat. And it comes out as its true color right off the bat, without any layering required!
Despite being glossy, the formula isn't sticky or tacky. Also, it doesn't accentuate my lip lines and wears comfortably throughout the day without ever leaving my lips feeling dry. The formula has a sweet vanilla scent but it dissipates within a few minutes after application (which is good!)
I love both the shades I got…they're so flattering and vibrant!
This lip shine isn't transfer-proof though and tends to rub off onto things like coffee cup rims. As for the longevity, it's not very long-wearing but stays put for about 3-5 hours. That said, it doesn't hold up well after eating (as is the case with most creamy or glossy lipsticks) and you'd definitely need a touch up.
Here are the swatches of all the shades from Sephora…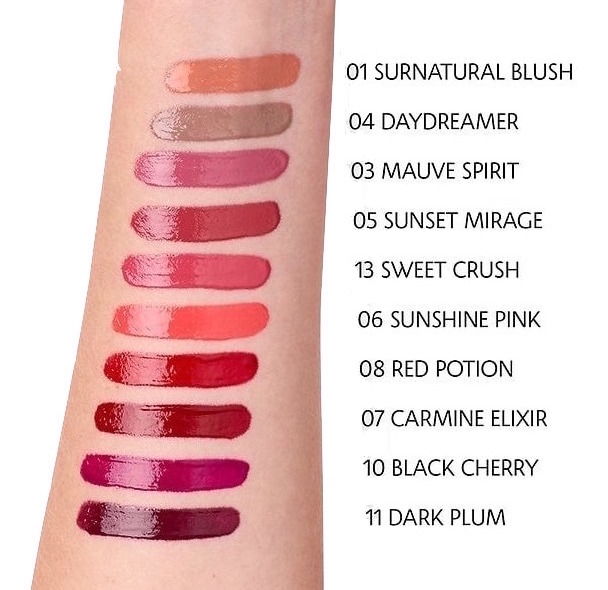 Bottom Line
Overall, color me impressed with the new Sephora Collection Cream Lip Shine! With a creamy, comfortable texture and picture-perfect coverage with a glossy finish, the formula is fabulous! These are highly pigmented and make my lips look so supple and juicy.
Not to mention, they are relatively affordable at $14 per tube (as compared to similar products that are more expensive!) Also, Sephora collection is cruelty-free which is always a big plus!
Here's hoping this liquid lipstick is never, ever discontinued. Available at Sephora