Affiliate links Sephora spring sale 2020 is almost here! The Sephora Spring Savings Event starts on Friday, April 17th for VIB Rouge members who get 20% off discount their entire purchase until May 1st at Sephora.com.
VIB members get 15% off all orders from April 21st through April 29th and Beauty Insiders get 10% off their total purchase from April 23rd through April 27th.
The Sephora Spring Sale 2020 discount code is SPRINGSAVE and it's the same for for each tier of the membership.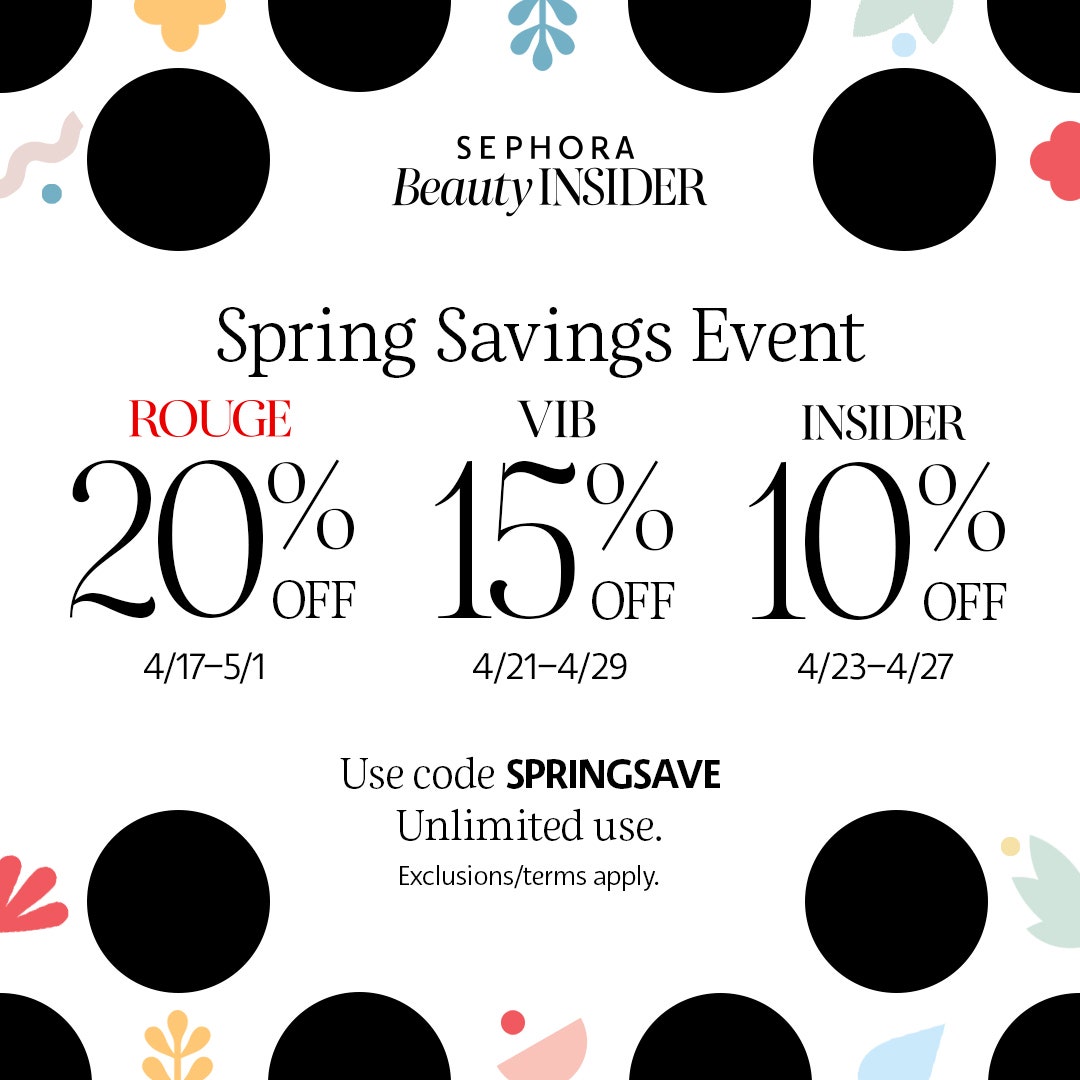 Image credit: Allure
You can use the promo code SPRINGSAVE as many times as you want to redeem the discount during the dates for your tier at Sephora.com. Given the current situation with coronavirus outbreak, it's highly unlikely that Sephora stores will be able to re-open anytime soon so it will be online shopping for all of us this Spring!
VIB Rouge members: 20% Off from April 17th to May 1st with code SPRINGSAVE
VIB members: 15% Off from April 21st to April 19th with code SPRINGSAVE
Beauty Insiders: 10% Off from April 23rd to April 27th with code SPRINGSAVE
Not a Beauty Insider member? Sign up for FREE today! Yes, you can still join the Sephora Beauty Insider Program and get instant access to this Spring Savings Event! You earn rewards every time you shop plus exclusive access to discounts and sales events like this one that you can take advantage of.
If you have been waiting for the Sephora spring 2020 sale (like me!) to stock up on your favorites and try some new stuff for spring and summer, now is the time to start making your shopping list! There's no better time than now to treat yourself and save some money while you're at it, while staying at home!
Image credit: Sephora
Here are some of the things on my shopping list, plus some product recommendations and this season's top picks from Sephora Spring 2020 Savings Event
Image credit: Sephora
So, get ready for the Sephora Spring Savings Event that starts on April 17. This is one sale you do not want to miss!
P.S. Before you start shopping for the Sephora spring 2020 sale, be sure to sign up for Rakuten (formerly Ebates) to get cash back! Don't forget to use Rakuten every time you order something online from any of your favorite stores and you'll get a bit of your money back!
Sign up here for FREE and get a $10 bonus after you make your first purchase of $25 or more using Rakuten! It just takes a few minutes to sign up and start saving!
What do you plan to purchase during the Sephora Spring Sale 2020?