Affiliate links Somehow the holidays are already around the corner, and with them comes the pressure to find the perfect present for everyone on your list. Sometimes buying great holiday gifts can blow your budget but it doesn't have to be that way!
Related: Ulta Holiday 2020: Best Beauty Gift Sets Under $50
Continuing with my gift guide series, today I have a roundup of the best holiday beauty gifts under $20 that you can easily grab at the drugstore like Target or Walmart. Many of these pretty little things also make the perfect stocking stuffers or Secret Santa gifts. Just split the sets apart and divvy them up to stuff those stockings. You can even mix & match sets for a custom care package!
These affordable and festive beauty finds don't cost a penny over $20, making holiday shopping easy for everyone on your list. In fact, most of these limited-edition kits are under $15. All the perfect presents, right in your range!
Whether you're looking for a little something for your friend, neighbor, cousin or co-worker, these exclusive gift sets filled with some of the best-selling products (from so many brands they know and love!) are sure to please!
Not to mention, these beauty gift sets come in cute packaging that'll no doubt get them excited. Plus, the prices are so low you won't feel any buyer's remorse even if you want to stock up a few for yourself!
From a fabulous fan-favorite lip gloss set to a must-have multi branded mascara kit – all wrapped and ready to go – these budget friendly holiday beauty gifts under $20 will have your shopping done in no time!
Best Holiday Beauty Gifts Under $20 
Check out these affordable drugstore delights and grab them before they're gone!
e.l.f. Give Me Some Sugar Lip Balm Holiday Gift Set $10 ($15 value, Set includes 3 full-sized Ride or Die Lip Balms)
L'Oréal Voluminous Lash Paradise Mascara and Primer Holiday Kit $14.99 ($22 value)
MILANI Ourfa Monochromatic Realness Makeup Kit ($14.97)
Physicians Formula Murumuru Baby Butter Tropical Getaway Collection ($23) Amazing value!!
eos Holiday Shea Better Hand Cream Set – Vanilla Cashmere, Coconut and Pomegranate Raspberry – 3pk ($7.99)
e.l.f. Holiday Best of E.L.F. Skin Care Set $20 ($26 value)
Burt's Bees Essential Travel Kit Holiday Gift ($14.99)
Freeman 12 Days of Glow Hydrating Facial Mask Gift Set, 12 Pieces $9.98 ($15 Value)
Baylis & Harding Cranberry Martini Luxury Bath Gift Set ($14.98)
bliss Mask for More Skincare Set – 4ct ($9.99)
Target Best of Box Giftset – Mascara Edition $14.99 ($59 value, Includes 5 full-sized mascaras)
EcoTools Holiday Vibes Makeup Brush Gift Set, 5 Pieces $14 ($36 Value)
Physicians Formula Murumuru Butter Brazilian Pout Lip Kit ($14.99, Includes 3 lip creams + lip sleeping mask)
Versed The Big Chill Winter Unwind Skincare Gift Set $16.99 ($30 value)
Real Techniques Rosy All Night 5 Piece Brush Kit $9.99 ($37 Value, Includes 4 makeup brushes and a rose gold makeup bag )
Tresemme Keratin Smooth Shampoo + Conditioner + Heat Protect Spray + Shine Serum Gift Pack Set  $14.99 ($20 value, All full-size products)
Freeman Glow On Ultimate Facial Kit 14-piece Gift Set  $19.99 ($45 Value, Includes 12 facial masks plus 2 bonus mask brushes )
Shop these gifts

Keep scrolling for more drugstore beauty gift sets…
e.l.f. Holiday Prime & Pop Gift set – 3pc $15 ($21 value)
eos Holiday Shea Lip Balm Sphere – Cotton Candy Snow, Caramel Brulée Sleigh, and Champagne Pop ($7.99)
L'Oréal Voluminous Original Bold Eye Mascara Duo In Blackest Black ($15.49)
Baylis & Harding Luxury Bath Gift Set, Boudoire Rose ($14.98)
MILANI Ourfa Up To No Good Makeup Kit ($14.97)
Love Beauty and Planet Murumuru Butter Rose & Shea Butter Sandalwood Hand Cream Gift Set ($9.99)
NYX Diamonds & Ice, Please! Soft Matte Lip Cream Vault $18.75 ($33 value)
OPI Shine Bright Nail Lacquer Mini 4 Pack ($17)
Pacifica Wake Up Beautiful Dreamy 4-piece Skincare Set ($14.99)
bliss Merry Blissmas Skincare Set – 8ct ($19.99)
Maybelline Gift of Glam Mini Mascara and Eyeliner Makeup Gift Set 3pc ($7.99)
 E.l.f. Holiday Gorgeous Goodies 10-Piece Brush Gift Set $20 ($47 value)
Pantene Gold Series Holiday Gift Set $9.99 ($17 value, 2 full-size products)
ONYX Professional LED Makeup Mirror Rose Gold ($19.98)
Feeling Beautiful Freeman Exotic Blends Multi-Mask 4-piece Kit $9.99 ($15 value)
EcoTools Glow On The Go 6 Piece Kit $9.99 ($36 value, Includes 4 makeup brushes, beauty sponge blender and travel brush bag)
Pantene Blends Rosewater Shampoo & Conditioner Gift Set ($14.99) $20 value
Target Best Gift Ever – Cosmetics Edition Giftset ($14.99)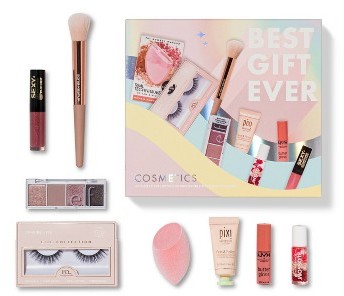 EcoTools On The Go Style Kit 4-piece Makeup Brush Set ($9.98)
Love Beauty and Planet Rose & Muru Muru Spa Body Holiday Gift Set (Body Wash, 2 Bath Bombs and Pouf) $9.88 ($15 Value)
Shop this post…