Affiliate links Spring has finally sprung and with it, so many great new drugstore makeup, skincare and hair products. Today I'm rounding up all the new drugstore beauty goodness for spring 2021!
From hydrating tinted moisturizers and outdoor-inspired palettes to radiance-boosting serums and texture-smoothing night creams, the latest drugstore lineup includes everything you need for a fresh, flawless look and dewy smooth skin…without making a dent in your wallet!
Here's your guide to every enticing drugstore makeup and skincare launch that just hit the shelves!
New Drugstore Beauty Buys Spring 2021
Maybelline Fit Me Tinted Moisturizer ($8)
This lightweight tinted moisturizer provides a fresh feel and natural coverage with shine-free hydration. Available in 14 shades, it enhances skin, blurs pores and conceals imperfections.
Maybelline Fit Me Matte + Poreless Mattifying Primer with SPF 20 ($6)
This mattifying face primer controls shine, blurs pores and extends the wear of makeup. It creates a smooth canvas for makeup with an instant mattifying effect that lasts up to 16 hours. It can be worn with or without makeup.
L'Oréal Paris Age Cell Renewal Perfect Midnight Serum ($33)
Formulated with an exclusive Antioxidant Recovery Complex that helps boost skin's renewal overnight plus hyaluronic acid to hydrate, this luxurious serum makes skin appear smoother, firmer and more radiant. It absorbs quickly with a non-greasy, non-sticky finish and won't clog pores.
Neutrogena Rapid Firming Skincare Collection
Collagen Triple Lift Face Serum ($29.97) – This serum moisturizes, smooths and visibly firms skin to restore a youthful appearance.
Its triple action collagen formula combines pure low molecular weight collagen with AHP amino acid and an amino sugar to complement skin's natural firming support.
Peptide Multi Action Eye Cream ($29.97) – Formulated with a proven peptide blend known to target dark circles, this anti-aging eye cream hydrates, brightens and depuffs the eye area & smooths the look of fine lines.
Peptide Contour Lift Face Cream ($29.97) – This luxurious moisturizer is formulated with a dermatologist-developed micropeptide, an ultra-small molecule designed to go deep within skin's surface and improve skin firmness & elasticity and reduce the appearance of smile lines.
Infused with vegan milk, this hydrating lip gloss delivers a buildable splash of color with an ultra-glassy shine. Available in 8 milky shades with a sweet vanilla milkshake scent, it provides long-lasting hydration — thanks to sunflower, jojoba, and sweet almond oils.
Bliss Drench & Quench Serum ($27)
This spa-grade moisturizing serum is supercharged with 4 types of hyaluronic acid for intense yet lightweight hydration to amplify skin's moisture levels for soft, smooth skin and a healthy glow. Plus, it contains 7 amino acids to support skin's resilience and elasticity. Fragrance free.
Milani Gilded Shadow Sticks ($6.99)
4 cream shimmer eyeshadow sticks with an intense color payoff and buttery texture that glides on smoothly. These convenient on-the-go sticks can be used as an all-over shadow, a liner or as a pop of color on the inner eye corners. Available in mossy green, copper, rosy pink and dark brown shades.
Milani Gilded Getaway Eyeshadow Palette ($20)
With earthy, matte neutrals and shimmery shades of sunset, this 12 shade eyeshadow palette is inspired by the most exquisite glamping destinations.
Formula 10.0.06 Vitamin E Collection ($15 each)
Vitamin E collection includes 3 new products that make the most of this skin-loving ingredient for revitalized, smooth and supple skin.
Pacifica Vegan Collagen Skin Solve Hydrating and Blurring Primer ($14)
This clean, silicone-free face primer serum is formulated with super-hydrating ingredients like vegan collagen, hyaluronic acid, caffeine and jasmine & orange flower extract to help improve skin texture & hydration, while light-reflecting pigments softly blur skin for radiant, smoother skin. Use as the last step in your skincare routine and first step in your makeup routine.
Neutrogena Ultra Gentle Daily Cleanser with Pro-Vitamin B5 for Acne Prone Skin ($9.97)
Formulated with nourishing pro-vitamin B5, this gentle non-foaming face wash cleanses skin thoroughly to remove excess oil, dirt, bacteria and makeup. Featuring a fragrance-free and soap-free formula, it's gentle on acne-prone & sensitive skin.
bliss Drench & Quench For Dry Skin Rich Water Cream ($20)
Formulated especially for dry skin, this fragrance free cream surges skin with 4 types of hyaluronic acid plus ceramides for a healthy, hydrated complexion. It disappears into skin with no heavy after-feel and increases skin's moisture levels in minutes.
Elf Jelly Pop Luscious Lip Mask ($6)
Elf has released a few new additions to its Jelly Pop collection that include a leave-on jelly lip mask with a sheer tint of pink color. It's infused with watermelon extract, hyaluronic acid, and vegan collagen to hydrate and soften lips.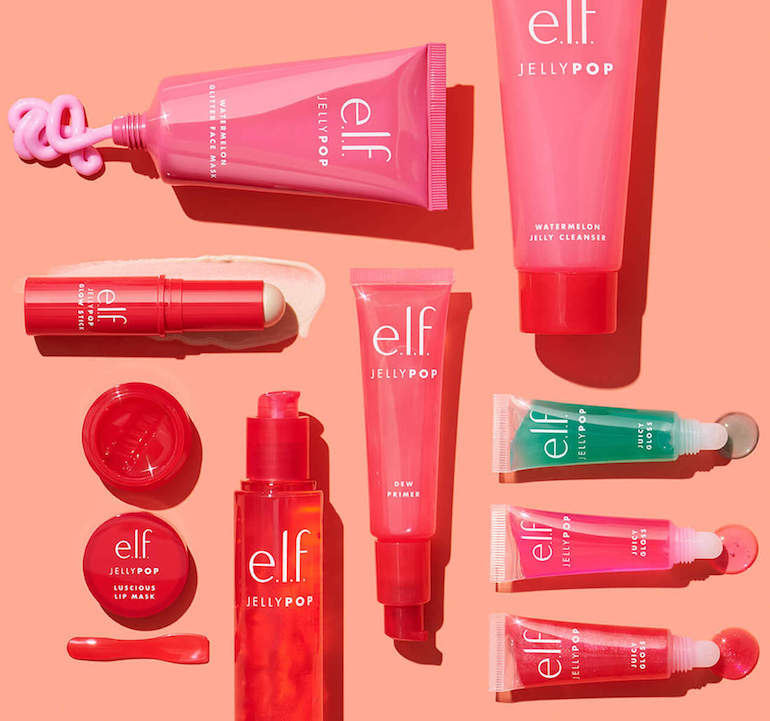 There's also a new Jelly Pop Glow Stick ($8), a hydrating highlighter stick that gives your skin a dewy, luminous glow with a hint of golden color. And the new Jelly Pop Watermelon Glitter Mask ($12) Infused with skin-loving ingredients to hydrate, plump and soothe skin, while keeping things fun with pink micro-shimmer and a watermelon scent.
NYX Lip Lingerie XXL Long-Lasting Matte Liquid Lipstick ($9)
This vegan liquid lipstick delivers full-bodied smooth matte color, accentuating your natural lip shape and creating the appearance of fuller-looking lips! Available in 24 color-saturated nude lip shades designed to enhance all complexions, the formula promises no crack, no bleed, no fade, and no transfer for up to 16 hours!
NYX Epic Wear Metallic Liquid Eyeliner ($10)
Featuring a fine, flexible brush-tip applicator for precision and easy application, this liquid eyeliner promises to last for 36 hours, and doesn't crack, bleed, or fade! Available in a range of basic to bright metallic shades, including hot pink and electric teal.
e.l.f. xx Jen Atkin Xxtra Lip Duo ($8)
A 2-in-1 creamy lipstick and liner duo of complementary shades that defines and enhances lips with a pop of rich, matte color. Choose from 3 sultry shades: a haute red, the perfect pink, and a fresh brown nude.
e.l.f. xx Jen Atkin Let's e.l.f.ing Do it Palette ($14)
This all-inclusive face and eye palette features four eyeshadows plus a sheer-matte blush, bronzer and shimmery highlighter with a luxe powder formula for easy, chic looks. Choose from 2 palettes that complement all skin tones.
Formula 10.0.06 Skin So Clear Collection
Designed for troublesome skin dealing with acne, blemishes and maskne, the new Skin So Clear collection is formulated with Salicylic Acid and Niacinamide plus powerful botanicals to unclog pores, reduce breakouts and minimize acne marks for a calm and clear complexion.
This acne-fighting collection includes 6 new products – Start So Fresh cleanser, Scrub So Clean exfoliating scrub, Renew So Smooth oil-controlling clay mask, Feel So Soft oil-free moisturizer, Treat So Deep acne treatment and Fade So Fast blemish fader.
Pond's Clear Solution Foaming Face Wash ($1.29)
With oil absorbing herbal clay to remove excess oil and help clear impurities from your skin's surface, this face wash also has salicylic formula to fight pimple-causing germs.
Pond's Pure Detox Facial Cleanser ($1.29)
With activated carbon charcoal, this deep foaming face wash extracts embedded pollutants and impurities, leaving your skin purified from the inside out. Great for oily skin.
Pacifica Vegan Collagen Fluffy Lash Mascara ($16)
Formulated with vegan collagen and plant-based fibers to fluff up lashes while helping to condition, lengthen and add volume. The 100% vegan spiral Fluff It Up Brush rolls the glossy, true black formula evenly onto every single lash and separates them for a feathery, fluttery effect.
Pacifica Vegan Collagen Lash Serum & Primer ($14)
The first step to the fluffy lashes! Formulated with hydrating vegan collagen, this lash conditioning serum + primer helps to add volume and longevity, and intensifies the color of any mascara.
Acure Radically Rejuvenating Overnight Bakuchiol Treatment ($24.99)
This is a luxe overnight facial cream with 2% bakuchiol for a plant-based gentler alternative to retinol without the harshness. It also contains squalane and nourishing oils to moisturize deeply without feeling heavy.
Versed Recovery Mode Advanced Night Cream ($24.99)
This repair cream works at the cellular level to smooth skin, reduce rough texture, and soften lines and wrinkles. Fermented purple tea doesn't just provide that dreamy lavender hue—it delivers full-spectrum antioxidant protection to fend off free radicals. Plus, green coffee extract and microalgae protect against the premature degradation of collagen and elastin.
Versed Auto-Save Advanced Restoring Serum ($24.99)
This daytime serum contains powerful antioxidants (ferulic acid, phloretin, and stabilized vitamin C) to fight off free radicals and enhance your sunscreen's protection. Plus, a blend of microalgae delivers an instant lift to tired skin, while while working to correct past damage.
No7 Lift & Luminate Dual Action Cleansing Exfoliator ($7)
Powered by a complex of Vitamins C, E and B5, this daily cleanser with gentle exfoliating particles not only removes impurities but also improves the appearance of skin tone and texture.
No7 Restore & Renew Cleansing Lotion ($10)
Supercharged by antioxidants and natural AHAs from a blend of fruit extracts, this lotion cleanser thoroughly dissolves makeup, product build-up and pollutants without stripping skin of moisture. Using a gentle exfoliating action, it leaves skin feeling smooth and revived. refreshed.
Lumene Arktis Moisture & Relief Rich Night Balm for Sensitive Skin ($27)
This soothing and replenishing night balm combines nurturing Nordic Oat Butter (rich in omega-6 fatty acids) and comforting Nordic oil blend to provide intense hydration for dry and sensitive skin. The fragrance-free formula replenishes moisture levels and calms irritated, stressed skin.
Pacifica Vegan Silk Blow-Out Primer ($14)
Formulated with vegan silk proteins and other nourishing naturals, this heat-styling treatment protects your hair against thermal damage while adding silky shine and smoothness.
The new Pacifica Vegan Silk Collection also includes Hydro Luxe Shampoo and Conditioner, plus a silicone-free Instant Gloss Mask to smooth damaged hair shafts for a shiny, healthy and silky feel.
ChapStick Total Hydration with Sea Minerals Overnight Lip Treatment ($8.49)
With its Sea Mineral complex that combines blue sea kale, sea algae, aloe and shea butter, this nourishing lip treatment provides deep hydration while you sleep.
Pacifica Glow Baby Body Peel ($14)
Powered by vitamin C, glycolic acid, lactic acid and aloe, this body peel helps brighten skin & remove dullness through gentle exfoliation. 100% vegan & cruelty-free.
Shop this post…