Affiliate links Prepping your skin with a primer before makeup is the key to achieving a smooth, even application. A good primer helps to give your foundation a more natural, skin-like finish and also ensures makeup won't crack, crease or slide off during the day.
Now that we are in the middle of winter (aka dry skin season!), it's the perfect time to talk about the best drugstore hydrating primers for dry skin.
If you have naturally dry skin like me, you know how it can can often look a little dull & flaky especially in the cold winter months, and of course that affects your makeup too.
For those of us with dry skin, a hydrating primer is the essential first step in makeup prep. Not only do these hydrating primers smooth skin texture, soften fine lines and dry patches, but also add a little extra dose of much-needed moisture to give your skin that silky-smooth feel without the greasiness.
Not to mention, these primers also provide some serious staying power to your foundation while giving you a healthy, hydrated glow! What's more to love? Besides hydration, some of these primers also offer soothing and brightening skincare benefits as an added bonus!

So, whether you are dealing with a persistently dry, dull complexion or just the seasonal dryness, here are the best drugstore hydrating primers that'll smooth, plump and prep your skin for makeup application….ALL under $20!
Best Drugstore Hydrating Primers For Dry Skin
1. NYX Plump Right Back Electrolytes Plumping Primer Serum ($17)
Supercharged with 5 electrolytes and vitamins including Hyaluronic Acid, Vitamin E, Pro-Vitamin B5, Magnesium and Potassium, this new NYX primer leaves skin looking fresh, plump and moisturized.
It has a lightweight serum like texture and absorbs quickly with a slightly tacky finish that helps your foundation adhere to your skin better so it stays put throughout the day. Not to mention, it also keeps your skin hydrated without an oily shine. Vegan and cruelty-free.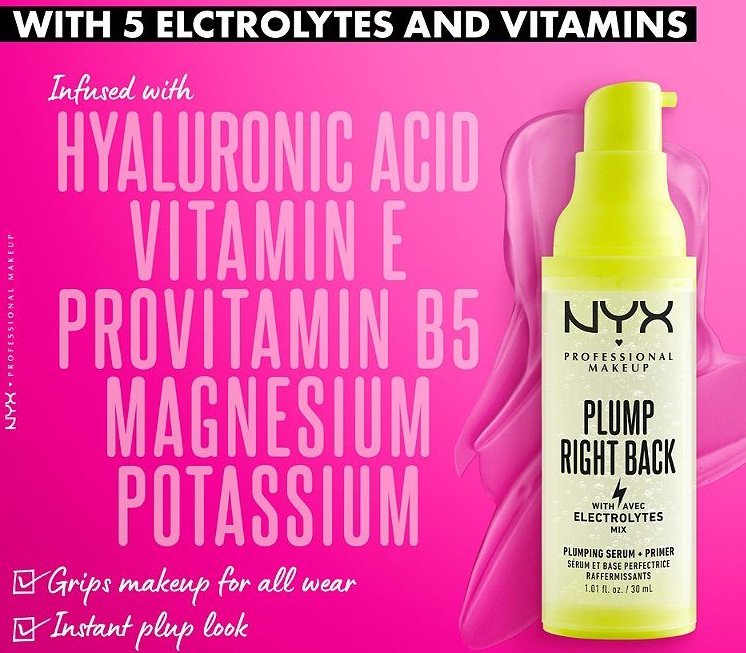 2. e.l.f. Cosmetics Power Grip Primer ($10)
This is a lightweight gel-based, hydrating face primer that gives skin a soft-focus effect for a smoother complexion while gripping your makeup. Enriched with hydrating ingredients like Hyaluronic Acid and Niacinamide to help skin retain moisture, it goes on clear with a translucent finish.
The fragrance-free gel formula feels a bit sticky but that's actually good as it grips your makeup for all-day wear. Vegan and cruelty-free.
3. Milani Supercharged Dewy Skin Primer ($10.99)
This perked-up primer creates a glowy-smooth canvas for flawless makeup application while also blurring imperfections. The silicone-free formula is infused with citrus, ginseng & turmeric extracts to reduce dullness, plus it also contains Squalane, jojoba milk and Panthenol to hydrate and soothe skin.
It leaves skin really smooth with a radiant, dewy finish and prolongs makeup wear as well. Can be worn alone for a dewy glow or underneath your favorite complexion product to boost luminosity.
4. Pacifica Vegan Collagen Skin Solve Hydrating & Blurring Primer ($14)
This silicone-free primer serum is infused with skin-loving ingredients like super hydrating vegan collagen, hyaluronic acid, squalane, shea butter, and jasmine & orange flower extract to help improve skin texture and boost hydration.
The silky formula feels very lightweight and smooths skin so your foundation goes on flawlessly. It also contains light-reflecting pigments that softly blur skin for a radiant finish that lasts. Also, this pretty primer comes in a glass bottle that's recyclable.
5. Good Molecules Silicone-Free Priming Moisturizer ($12)
Formulated with macadamia seed oil, shea butter and a natural silicone alternative, this lightweight moisturizer has a silky texture that leaves skin feeling really smooth and sets the stage nicely for makeup with a natural satin finish.
It contains a plant-based, naturally derived alternative to silicone that helps smooth skin texture and plump up fine lines with a lightweight, breathable feel. The fragrance-free formula also contains antioxidant vitamin E, green tea extract and essential fatty acids from olive oil to moisturize and soothe skin.
6. e.l.f. Puff Puff Primer ($8)
This elf primer packs a hydrating punch, thanks to hemp-derived cannabis sativa seed oil, shea butter, jojoba and carrot seed oil in the formula. The silicone-free formula also includes antioxidants vitamins A and C to boot! It has a creamy-soft texture that feels more like a light moisturizer and absorbs easily to soothe, nourish and prep skin for makeup.
7. Essence Hello, Good Stuff! Face Primer ($6.99)
Infused with natural hemp seed oil, this silicone-free primer leaves skin refreshed and ready for foundation. The formula has a hydrating lightweight lotion consistency that absorbs quickly and leaves skin smoother for makeup to glide on. It also contains moisturizing squalane, aloe leaf juice and glycerin for hydration. Cruelty-free.
8. Milani Skin Quench Hydrating Primer ($10.99)
Enriched with hydrating hyaluronic acid, coconut water, allantoin and vitamin E, this primer has a lightweight creamy lotion texture that sinks into skin quickly without a greasy residue. It blurs imperfections and helps makeup glide across skin more easily. It also extends makeup wear with a natural finish. Vegan and cruelty-free.
9. Hard Candy Sheer Envy Hydrating Gel Primer ($6.96)
This hydrating primer has a very lightweight, smoothing gel formula that absorbs quickly and moisturizes skin while gripping makeup to enhance its longevity.
Formulated with hyaluronic acid and agave that help lock in moisture, plus Niacinamide and a bunch of antioxidant-rich plant extracts, this primer nourishes as well as soothes skin.
10. Physicians Formula Butter Believe It! Putty Primer ($8.40)
With an incredibly creamy and buttery texture, this putty primer provides a velvety-smooth base for your foundation and allows it to glide on seamlessly. The formula literally feels like butter going on your skin and delivers a dewy-smooth, blurred finish!
Infused with a blend of murumuru butter, cupuaçu butter and tucuma butter, this primer is best for dry to very dry skin. It also contains essential fatty acids and pro-vitamins that soften and hydrate skin.
11. ColourPop Pretty Fresh Hydrating Hyaluronic Acid Primer ($12)
This lightweight, hydrating primer refreshes and preps your skin to create a smooth canvas for makeup. Formulated with good-for-your-skin ingredients like hyaluronic acid, coconut water, argan oil, squalane, glycerin and aloe juice, the formula feels smoothing and hydrating without any heaviness.
Have you tried any of these drugstore hydrating primers for dry skin? Do you have a favorite that's not on this list? Let me know in the comments below! You can also check out what our friends at BeautyMag recommend in to their best water-based primers.
Shop this post….