PR sample Urban Decay has collaborated with the SMILEY Company to create two new vibey eyeshadow palettes that pair neutral shades with vivid-brights to keep you inspired. Show your happy with dopamine-boosting hues with uplifting staying power that lasts up to 12 hours!
Say hello to Urban Decay x Smiley Naked Mini Eyeshadow Palettes
Packaged in a colorful and holographic compact, each of these Naked Smiley eyeshadow palettes includes a mix of shimmer, metallic and matte shadows with a velvety texture and richly pigmented color.
MUCHO HAPPY palette includes a mix of smile-inducing brights and feel-good neutrals with a pop of yellow and blue eyeshadow
Psyched (Soft pinky-peach nude, matte finish)
Blast (Honeydew orange, matte finish)
Partay (Bronze orange metallic, gold shimmer finish)
Spritzer (Reddish-orange metallic, magenta shimmer finish)
Smiley (Yellow, matte finish)
Cybersmile (Aqua-blue shimmer with silver and gold pearlescent finish)
CHILL HAPPY palette has the shade to fit any mood – a vibrant red for intensity, playful pink and purple, or an ivory satin to add a touch of flirty
Paz (ivory, satin finish)
Modern Mystic (coral pink, matte finish)
Upper (magenta, metallic finish)
Brain Wave (black-purple with purple pearlescent finish)
Happy Trap (ivory pink, shimmer finish)
Fire (red metallic with a multi-colored shimmer finish)
Urban Decay x Smiley Naked Mini Eyeshadow Palettes Review
As you'd expect from Urban Decay, the eyeshadows in these palettes are well-pigmented with a velvety soft texture that applies and blends out easily. I would recommend using an eyeshadow primer to intensify the colors and longevity…it's an absolute must for me.
Check out my Instagram reels below to see the swatches of both these palettes:
View this post on Instagram
Let's start with the Mucho Happy palette! The matte yellow in this palette is such a fun shade (definitely mood-boosting!) and it's packed with pigment. The other two matte shades are also smooth and pigmented, there's no patchiness and the formula is easy to work with.
The two shimmery neutral shades in the middle are also very smooth and rich with a vibrant color payoff. They are both very pretty, and so is that aqua blue! The blue and yellow shades play beautifully together. I tried a look using the two together and loved it! The blue also looks beautiful as a liner on your lower lash line.
The Chill Happy palette has more of a berry pink color story. It has only two matte shades and they both blend beautifully. My favorite shade in this palette is Fire (shimmery metallic red) It has a silky, blendable texture with an amazing color payoff and is perfect for a bold, dramatic look!
The black purple shade (Brain Wave) is also gorgeous with a great color payoff and looks lovely paired up with the magenta pink shade (Upper). The only shade in this palette that isn't so impressive is Happy Trap (shimmery ivory pink) It's very sheer and the color doesn't show up well on my lids, plus it has quite a bit of fall out which can get a little messy.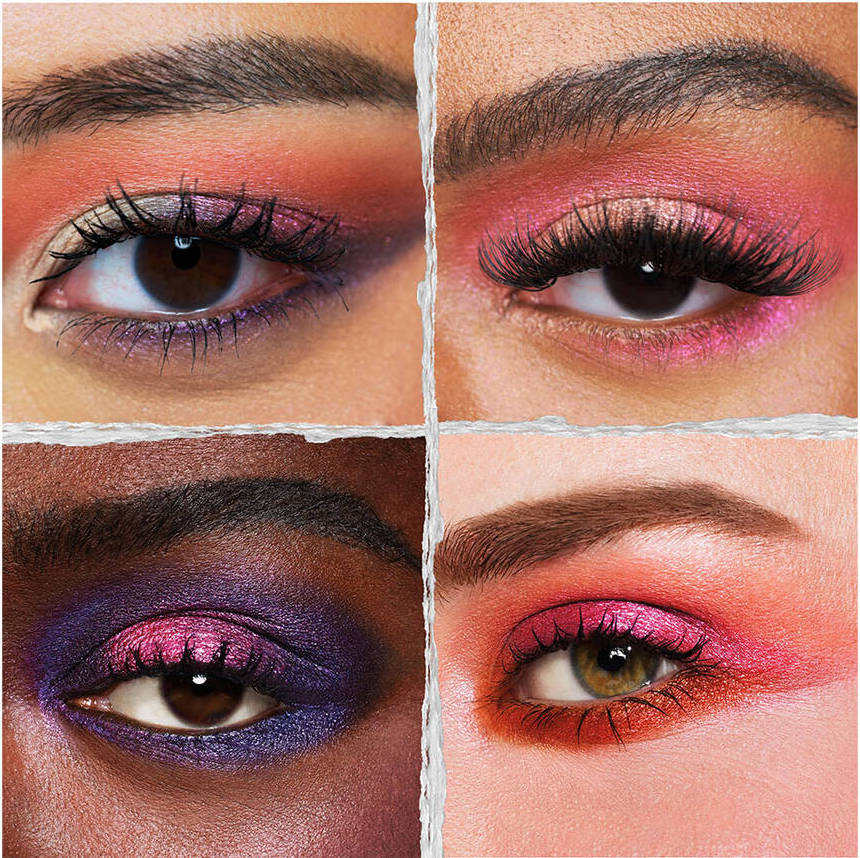 Overall, both of these palettes are really cute, and perfect for bright and colorful looks. Not to mention, these mini palettes are compact and travel-friendly with sleek packaging. Out of these two, my favorite is the Mucho Happy palette! Which one would you like to try first?
Urban Decay x Smiley Naked Mini Eyeshadow Palettes are available for purchase at UrbanDecay.com and Ulta Beauty online and in-store for $33 each.
Shop this post…