A few days ago, Milani cosmetics posted their upcoming collection (limited edition) on their Facebook page. These LE products will be available in July only at select stores.
First up, there is the new Color Streaks Hair Mascara with 5 pretty colors to choose from.
Next in line is the Haute Flash Full Coverage Shimmer Lipglosses – available in 4 shades. (Only available at select stores in July).
Below are the swatches of Milani Haute Flash Full Coverage Shimmer Lipglosses. From left to right: 101 Hot Flash, 102 Flashy, 103 In a Flash, 104 Star Flash.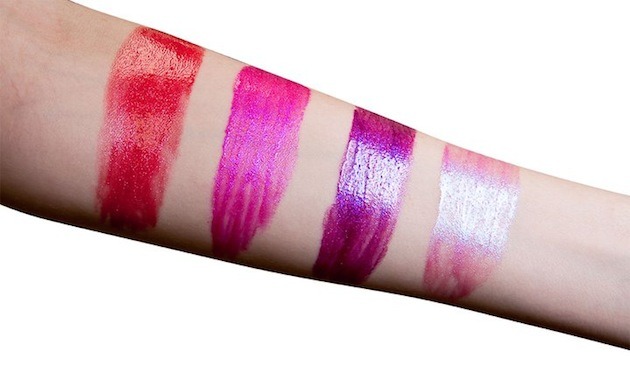 And then there are the new Milani High Speed Fast Dry One Coat Formula Nail Lacquers available in eight high fashion shades….great for the summer season and just $3.99!
Available Shades: Purple Rush, Instantaneous Blue, Racy Green, Fast Fuchsia, Jiffy Orange, Violet Dash, Yellow Whiz, & Hot Pink Frenzy.
I am all excited for the new full coverage lip glosses! The color streaks hair mascara sounds interesting too…..wondering if I could use the black shade to keep my grey streaks covered up.
What do you think of these new offerings from Milani? Yay or nay…..Do tell!