This summer, I stumbled upon a website called Infuenster.com and signed up for it. As an Infuenster member, you can get opportunities to receive free products for reviewing after you unlock "badges" based on your interests and influence. By earning badges, Influensters can qualify for VoxBoxes  (complimentary themed packages of products from beauty, health, food and lifestyle brands to test & review).
A few weeks ago, I received an email saying that I have been selected to receive this year's Holiday VoxBox. This was the first time I had qualified for an Influenster VoxBox so I was quite excited about it! Here is what came in the mail recently……. check it out!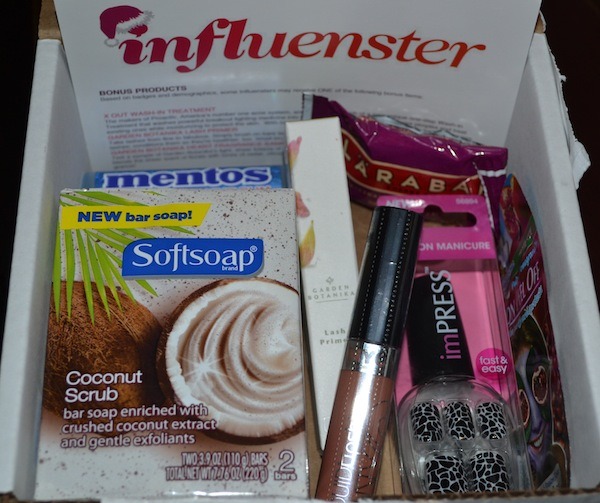 My Holiday Voxbox Includes –
imPRESS Press-on Manicure by Broadway Nails (Space cadet)
Softsoap Coconut Scrub Bar Soap
New York Color Liquid Lip Shine ((Nude York City)
Mentos Pure Fresh Gum
Larabar in Cherry Pie
Montagne Jeunesse Face Mask (Passion Peel Off)
Garden Botanica Lash Primer (bonus product)
I finished up the Larabar snack bar as soon as I was done clicking these photos…it's yum! Made from only 2-9 ingredients, each Larabar is a delicious blend of  fruits, nuts and spices.
I have already tested out the Softsoap Coconut Scrub Bar Soap. It's  "Enriched with crushed coconut extract, this bar soap gently exfoliates to renew your skin's surface, while helping retain natural moisture for soft, smooth skin.
I am not very fond of using bar soaps (especially in winter season) and prefer hydrating body washes because of my dry skin. While this bar soap does not leave my skin silky-soft to touch, it doesn't leave it feeling very dry or tight either. I really like its coconut scent though!
Also, I couldn't wait to try out the new NYC Liquid Lip Shine in Nude York City.  This lipgloss promises "pure pigments that create a 3-D gloss effect and Vitamin E provides shine and a moisturizing feel". It has a non-sticky formula with a sweet scent and goes on smoothly. As the name implies, Nude York City is a nude shade with shimmer that's just perfect for everyday use and since the shimmer is not too much so it's also work appropriate. This lipgloss adds a lot of shine but I do wish it was a little more pigmented because the color was too light for my fair-medium skintone. The staying power is decent with about an hour or so without eating or drinking. With a price tag of just $2.49, it's definitely worth picking up and if you are not a nude lippie fan, there are 9 more shades to choose from berries to fuchsias.
As for the other goodies, I still have to try the imPress Press-On Manicure Kit by Broadway Nails, Garden Botanica lash primer and the Passion peel off face mask.  I'll give a more detailed account on these products in the next few days.
Thanks to Infuenster for this really nice Holiday VoxBox!
Disclosure – I received these complimentary  products through Influenster's VoxBox program.