Summer is in full swing and this week I've already covered two budge-proof eye makeup products that won't stray away as the temperatures rise. Continuing with the flow, today I'm talking about another summer-proof gem – Smashbox Limitless 15 hour Wear Cream Shadows.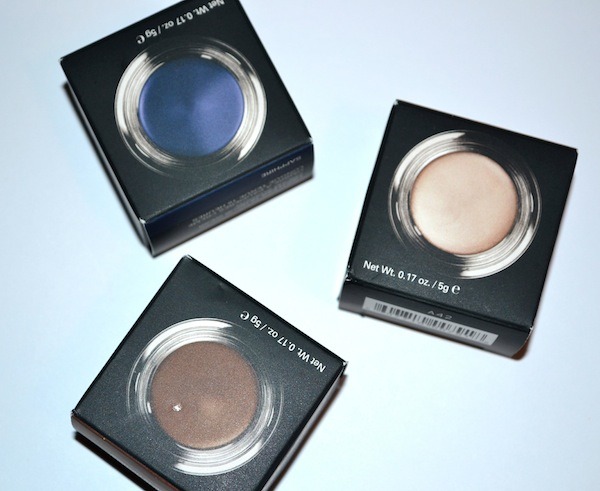 Product Description
Developed in our studios to take long-wearing color to the next level! These super luxe, super saturated shadows glide on and stay put, even through the longest photo shoots.
Transfer-resistant, sweat-resistant and humidity-resistant, this innovative shadow won't crease, cake or flake. The Limitless 15 Hour Wear Cream Shadow luxurious formula is enriched with Vitamins A and E to glide on smoothly and provide superior antioxidant protection. Available in 12 stunning shades that complement every eye color, Limitless 15 Hour Wear Cream Shadows create the most alluring daytime looks, as well as captivating, smoldering nighttime looks.
Try layering darker shades over lighter ones to build definition and depth for a subtle, yet smoldering stare.
The three shades I tried are Topaz – soft golden beige, Icon – bronze and Sapphire – deep blue.
The texture is very smooth and creamy. It applies and blends with ease either with your fingertips or brush. The pigmentation is superb as well and you just need a swipe or two for rich, vibrant color-payoff. You can easily build up the colors for even more pop. All the shades I tried have some shimmer but it's very refined and not sparkly on the lids. The overall finish is smooth and lovely!
As for the longevity, these cream shadows really keep it going! I can't attest to the 15-hour claim simply because I never happen to wear my eyeshadows that long but I get a good 9 – 10 hours wear time without any signs of creasing or smudging. There's just a bit of fading by the end of the day but no issues otherwise. And yeah, in case you are wondering, these are also Zumba class approved!
Bottom Line Smashbox Limitless 15 Hour Cream Shadows are a winner in my book for their beautiful color payoff and a solid hold that's waterproof. The color range is fabulous with 12 glistening shades to choose from! At $19 each (0.17 oz), the price is a bit steep but these creamy pots are sure to last a really long time!
Available at Smashbox.com and Sephora 
Disclosure: This review features a sample product provided by PR for consideration only and reflects my honest opinion as always!