After having explored too many skincare products, it's not very often that a new skincare line excites me as much as Radical skincare did! It's a luxury skincare brand whose products are based on the philosophy 'maximum potency and results with no time to waste'. Developed to address the primary cause of aging i.e. free radical damage, Radical skincare line is derived from a unique blend of powerful and rich anti-oxidants, and age erasing active ingredients that work synergistically to protect and repair the skins' epidermal layer and promote healthy new skin cells.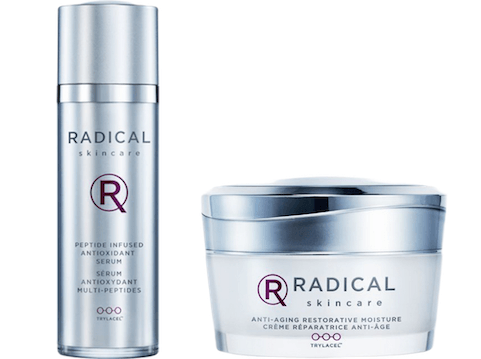 However, what makes this skincare line unique is their Trylacel Technology, a cutting edge approach to prevent the antioxidant breakdown that diminishes the efficacy of even the most premium treatments on the market. The technology encapsulates powerful actives and an array of 10 potent antioxidants in a lipid membrane that pushes the ingredients deep into the skin while preserving their potency and preventing ingredient degradation. Because antioxidants aren't one-size-fits-all – each type of free radical is neutralized by a unique antioxidant – Trylacel technology incorporates the range of antioxidants necessary to vanquish every free radical.
Thanks to this innovative technology, Radical skincare claims that it has proved to be 300% more potent in antioxidant strength when tested and compared to leading mass and prestige brands by a USDA lab!
I got a chance to try out Radical Skincare's Anti Aging One-Two Punch Power Duo that features two supercharged formulas – Peptide Infused Antioxidant Serum and Anti-Aging Restorative Moisture cream.
When it comes to reversing signs of aging, there's no better ally than Radical skincare's power duo – Peptide Infused Antioxidant Serum and Restorative Moisture : A synergistic combination of powerful peptides and replenishing moisture, supercharged with maximum levels of antioxidants and anti-aging actives. Formulated with an array of powerful antioxidants and rich peptides at maximum recommended levels, the serum supports collagen production and increases elasticity for smoother and firmer skin. When applied afterwards, Radical Anti-Aging Restorative Moisture locks in the serum and hydrates skin while reducing wrinkles and evening skin tone. The "Moisture Lock Technology" of the Radical Anti-Aging Restorative Moisture combined with the hydrating consistency of the Radical Peptide Infused Antioxidant Serum, you will be guaranteed the most effective penetration of the protective and reparative actives.
Let's start with the Peptide Infused Antioxidant Serum – Chock full of free radical fighting antioxidants, this serum is in one word – Amazing! It comes packaged in an airless pump bottle with a twist up/down cap. The serum has a berry-bronze color which is a reflection of the rich dark shade fruit extracts that it is made of (such as coffee berry, acai berry, vitaberry, resveratrol and pomegranate and more) but the dark color blends easily and doesn't leave a tint on your skin. It has a slightly moisturizing, lightweight texture that sinks in quickly and is just perfect to layer under your sunscreen for additional defense against UV damage….score! The citrusy scent is very light and pleasant.
According to Radical skincare, this complex blend of antioxidants attacks the full spectrum of free radicals to deliver maximum results. Not only that, this anti-aging cocktail also combines a tetra peptide blast to increase skin firmness, smooth wrinkles and skin texture while enhancing collagen production.
Anti-Aging Restorative Moisture – Packed with powerful doses of age-reversing actives, this multi tasking cream promises to intensely hydrate, increase skin's elasticity and firmness while combating dark spots for an even skin tone. It has a rich, velvety texture and boasts the ability to help skin look plumper. A tiny pearl size is all you need for your face. As the directions suggest, I have been using it after the antioxidant serum (at night) and the formula is indeed very moisturizing but not greasy. It keeps my skin supple and much softer. However, for those with combination to oily skin, I think this would be better suited for use in winters when the skin needs an extra dose of moisture.
The only drawback of this otherwise luxuriously hydrating formula is the jar packaging which exposes the product repeatedly to air/light thus deteriorating the efficacy of ingredients over time.
Bottom Line – Infused with cutting edge ingredients at maximum levels, Radical Skincare products are definitely top notch!! The Peptide Infused Antioxidant Serum serves as the ultimate shield against the free radicals responsible for skin aging while the Restorative Moisture Cream is an ultra-hydrating, age-defying moisturizer. If the cream was in an airtight container to preserve the antioxidants, I'd be even more excited about it. One other notable thing, both the above products are suitable for use around the eyes. I didn't experience any irritation whatsoever.
The Peptide Infused Antioxidant Serum retails for $190.00 (1 fl. oz), Anti-aging Restorative Moisture for $150.00 (1.6 fl. oz jar) and the Power Duo with both these products bundled together is $335. Without a doubt, Radical skincare products are a splurge but if you like luxurious anti-aging formulas and don't mind the super high price tag, these are absolutely worth the investment to amp up your skincare routine!
Available at RadicalSkincare.com, Barneys.com ,Dermstore.com and select Barney's stores.
Disclosure: This review features a sample product provided by PR for consideration only and reflects my honest opinion as always!