Braids never go out of style. They're elegant, versatile and just perfect for a casual or glam look! Whether it be a dutch braid, waterfall braid or milkmaid braid, this little touch of flair is the perfect way to spice up your everyday hair routine. They're sophisticated, stylish, and oh-so-pretty! Braids are also an easy way to keep your hair out of your face without losing style points!
Whether you are looking for an easy holiday hairstyle or a chic braid for any special occasion, this is the article for you…from a pretty side french braid updo to a romantic braided bun, you'll find a braid hairstyle that suits your hair and your braiding ability. Get ready for some serious hair-spiration with these seven gorgeous and easy braid hairstyles that will take your look from drab to fab!
Just a quick tip : Braids hold better in hair that has a little texture. So try these braided hairstyles with second day hair or on wavy/curled hair. If your hair is freshly washed or slips out of braids easily, spray some texture spray or dry shampoo lightly to add some texture. Here are some more quick and easy tips to help you braid your hair.
Loose Side French Braid
You may find the classic French Braid too simple for a special occasion. But the moment you mix it up with a wonderful side waterfall  Ponytail braid, you get something super chic & trendy!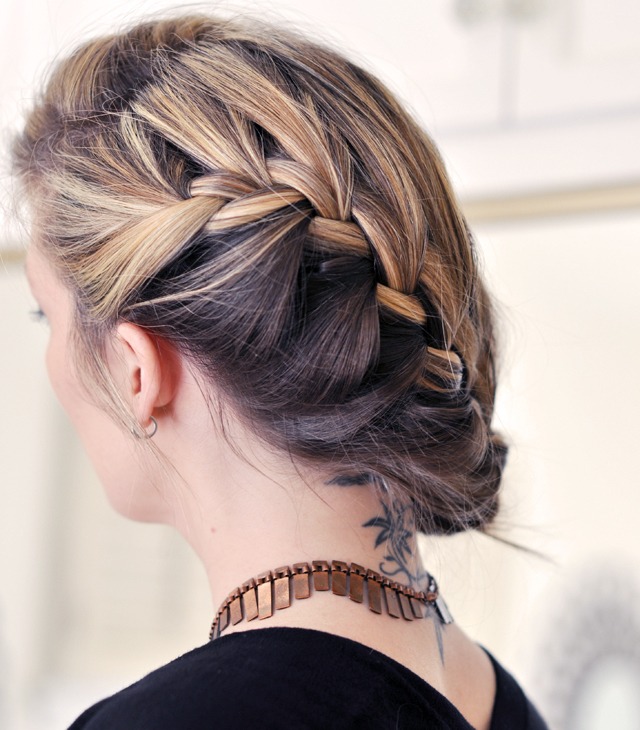 To start your look, section one side of your hair in three even portions which you should keep separated with your fingers. Start crossing the three strands into a normal braid. Once you have an initial foundation, you can add an extra strand of hair with each crossing you make. Take the strand, mix it with a bit of hair you take from the hairline, and then cross the new strand over the middle one. Continue braiding the hair until you are one inch close to the neckline. From this point on, start braiding horizontally to the other side.
By the time you reach the other ear, you should have gathered all the hair into one French Braid. Finish the one braided strand and secure the ending with an elastic band. If you don't want your hair to hang, you can seamlessly attach the ending to the French Braid. Here's the video tutorial for this pretty side French Braid Updo from love Maegan.com
Side Parted Mini Braid
For a wavier look, start by curling your hair with a curling wand. Then create a side part. Begin the braid on the side with less hair. French braid until you reach the back of your head and secure with two or three bobby pins. See the full tutorial from Olivia Rink here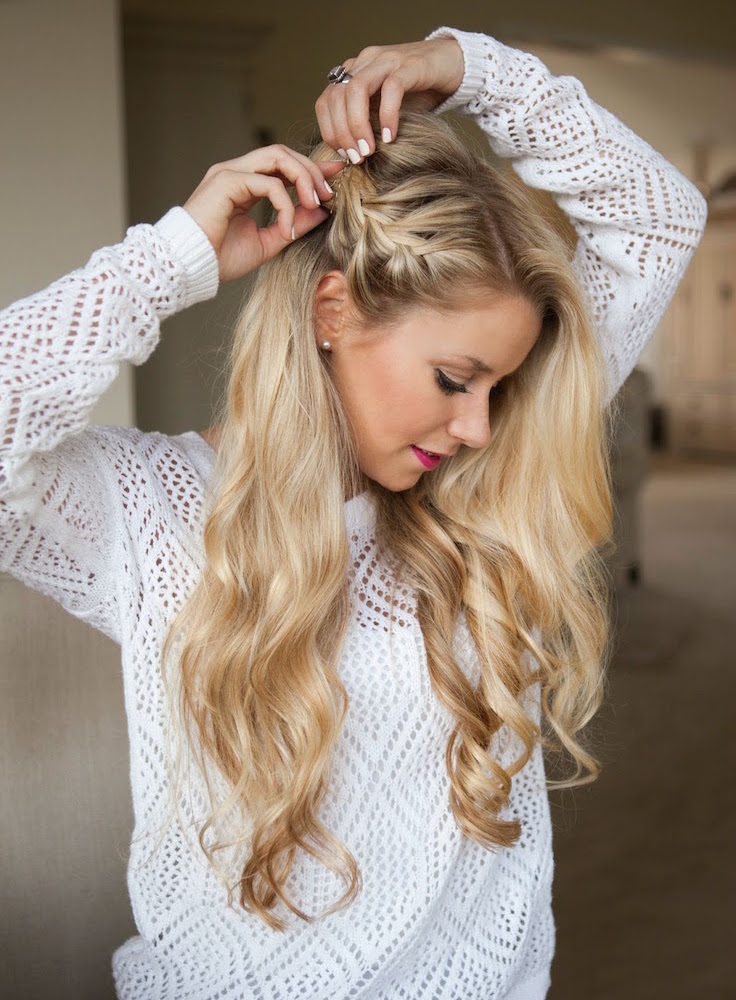 Twisted Crown Braid
Take a triangle section of hair near your part and divide it into two sections. Then add a new section of hair to both the front and back pieces. Now twist the sections together making sure the front one is going over the back piece. Stop adding new sections of hair when you reach the back of your head and just twist the two sections. Do the same thing on the other side.
Next, take one of the twists and push your thumb and index finger through the gaps. Pull the other twist through the gap and finish securing with a few bobby pins. Here's the step-by-step tutorial from Twist Me Pretty.
Braided Crown for Short Hair
This messy braided crown is such a quick and easy hairstyle for short hair. It looks super cute with carefree waves! And the best part is that you can get a carefree ponytail using this same braid so that's two hairstyles in one! Check out the step-by-step tutorial from The Wonder Forest.
Braided Ponytail With Cuff
Step up your everyday ponytail with this double Dutch braid tutorial that's all about adding detail with braids and playing around with accessories! This hairstyle can work in straight, wavy or curly hair (best with second day hair as always). If you are a braid beginner like me, you can try this style with regular braids instead of Dutch braids. Here's the step-by-step tutorial from Hair Romance.
French Braid Ponytail
This pretty braided pony is the perfect way to amp up your regular ponytail. It's a low-maintenance yet fancy enough style for the weekend or drinks with the gals, especially when you're rocking day-two hair. It starts high on the head so the ponytail sits at the perfect level. See the detailed instructions and video tutorial from Missy Sue.
Ladies with short bob hair, don't despair! Whether you're a bridesmaid, or just want to glam up your look for a party, this French braid is perfect for short- to medium-length hair. Here is the step-by-step tutorial from The Every Girl. This hair style matches the bridesmaid's dress style so well.
Double Braided Ponytail
This double braided ponytail looks tricky and intricate but it's not that hard once you get the hang of it! It's actually a waterfall braid and french braid combined together and the only difference is the placement of the two braids. It's the perfect hairstyle to dress up your ponytail. Check out the step-by-step instructions and video tutorial from Missy Sue.
Waterfall Braid for Short Hair
Waterfall braids are oh-so-pretty! And you don't need long hair for this braided style….it can be done in short hair, and is perfect for when you are growing out your fringe/bangs. Check out these steps from Hair Romance and this video to help you master the technique.
Fishtail Braid
One of the best braid styles that withstood the test of time is the fishtail braid. This braided hairstyle blends casual chic with the elegant look you want! Fishtail braids look best with a slept-in look so tease the braid by pulling out some strands for a more textured look. Here's the step-by-step guide to help you create this sought after look. 
Braided Side Ponytail
This braided side ponytail is a chic hairstyle that is great for a casual, relaxed look…like a music festival or pool party! Regardless of your hair length, it's a good idea to start with some texture in your hair for this braid. So, try this hairstyle on the day you plan to skip the wash! Check out the step-by-step tutorial from Hair Romance.
Topsy Fishtail Braid
If you love fishtail braids, this Topsy Fishtail Braid tutorial is a must-see! With a few twists and topsy ponytails combined to create a voluminous (and versatile!) look, this hairstyle is perfect for any occasion. Here's the the step-by-step tutorial from Lulus.
Braided Half Updo
Looking for an easy holiday hairstyle idea? A little bit bohemian, effortless and feminine – this half fishtail updo is perfect for your holiday parties or any special event! This cute hairstyle would look great on curly, wavy or straight hair and is easy to create. Here's the step-by-step guide and video from Luxy Hair.
Braided Bun Updo
This elegant braided bun will give you a classy and stylish look…it's perfect for weddings or a romantic evening with your hubby! Start with a side part, French-braid both sides, and finish with a big messy bun. Check out the step-by-step images and video tutorial at The Every Girl.
Bohemian Twisted Ponytail
This twisted braided look is sure to put a spring in your step! It's an easy & cute style for a casual date night as well as weekend fun, and it's perfect for dirty unwashed hair. Here are the detailed steps and video tutorial from Twist Me Pretty.
Fishtail Braided Updo
This elegant updo is just perfect for a romantic date or night out! It features one fishtail french braid and one regular fishtail braid. The bottom braid is wrapped to create a braided bun with the top braid wrapped over the top. Here's the step-by-step guide and video tutorial from Missy Sue to help you re-create this look.
Bohemian Messy Side Braid
Spritz hair with sea-salt spray and blow-dry. Begin by pulling all your hair to one side, leaving out a few stray pieces to frame the face. To create a fishtail braid, part the hair into two equal sections. Grab a small piece from underneath one of the sections and cross diagonally over the hair, adding it to the opposite section.

Continue to cross pieces loosely over one another down the length of the hair to form the braid. Stop two or three inches from the end of the strands and secure with a clear hair elastic.
Which of these braided hairstyles do you like the most? Which one will you be trying first?