Eight Skincare is a new line of hydrating bath & body products rich in natural ingredients and essential oils that nourish and replenish dry skin. Available in three scents, Ginger Lime, Lavender, and Tangerine, Eight Skincare is a natural and simple solution for healthy skin.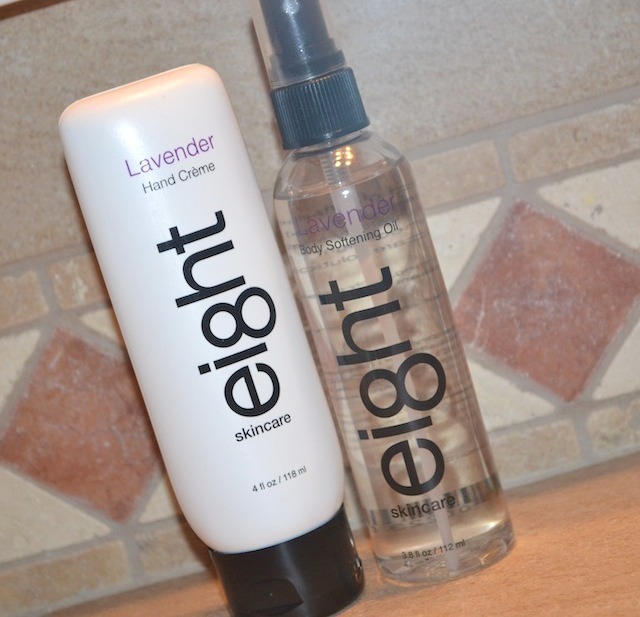 True to its name, Eight Skincare products are made with eight core ingredients — a luxurious blend of the very purest skin re-balancers such as Aloe Vera, Argan Oil, Monoi Oil, Evening Primrose Oil, Vitamin E Oil, Jojoba Oil, Avocado Oil and Apricot Kernel Oil.
– Aloe Vera Increases Natural Skin Moisture
– Argan Oil Rich in essential fatty acids and antioxidants (including vitamin E)
– Monoi Oil Long Lasting Rehydration
– Evening Primrose Oil Reduces Anti-Inflammatory
– Vitamin E (antioxidant) Oil Slows Aging Process
– Jojoba Oil Promotes New Cell Growth
– Avocado Oil Helps Anti-Wrinkle and Anti-Aging
– Apricot Kernel Oil Improves Tones and Firms
I have been trying out two products from the Lavender range – Hand creme and Body Softening Oil.
Hand Créme Lavender ($18) – Lightly scented with the soothing essence of French lavender, this deep penetrating formula is enriched with nourishing and healing ingredients such as Aloe Vera Leaf Extract to condition the skin, Sea Buckthorn Oil to heal damaged skin, Kiwi Fruit Extract to prevent the damaging effects of pollutants, Licorice Root Extract to improve the skin tone and increase luminosity, Plumeria Acutifolia Flower Extract to smooth irritated skin, and Elderberry Extract to firm and tone.
Texture wise, it's rich and creamy but absorbs quickly and leaves my hands feeling velvety smooth, not greasy or sticky. The formula provides long-lasting hydration with natural emollients and I love the soft lavender scent….it's not at all overpowering.
At $18 for a 4 oz tube, it's quite reasonably priced as compared to similar products from other natural luxury skincare brands. However, it can still get a bit expensive if you have very dry hands and need to reapply several times a day. But this woud definitely be a great choice as an overnight restorative treatment for dry hands!
Body Softening Oil Lavender ($22) – It is a luxurious blend of 13 essential oils, specifically formulated to leave the skin velvety smooth, softened and toned.
Key Ingredients – Safflower Seed Oil, Lavender Oil, Jojoba Seed Oil, Apricot Kernel Oil, Sunflower Seed Oil, Sweet Almond Oil, Coconut Oil, Gardenia Flower Extract, Avocado Oil, Rice Bran Oil, Wheat Germ Oil, Vitamin E, Evening Primrose Oil
Despite being a body oil, it has a totally non-greasy, silky matte finish on the skin without a greasy residue and I love that! The directions suggest to spray and massage gently onto clean dry skin after bathing or showering. The formula soaks in quickly and a little goes a long way! The soothing essence of French lavender dissipates soon after application and doesn't compete with your fragrance. It also comes in a 4 oz bottle and is a bit spendy at $22 but if you are a fan of body oils, this one is sure to please!
All Eight Skincare products are paraben free, not tested on animals and do not contain animal source ingredients. Available at eightskincare.com