If you are looking to add a pop of color that won't wear off, lip stain is definitely the way to go! Today I have a roundup of some of my favorite lip stains that pack a highly pigmented punch while keeping your kisser moisturized and shiny!
These trusty lip colors will stain your pout to perfection so that you don't have to worry about reapplying every 20 minutes. And their lightweight texture is perfect to keep your lips covered through an average day without bleeding, smudging, getting on your teeth or fading awkwardly.
Here are the ones you really need to try…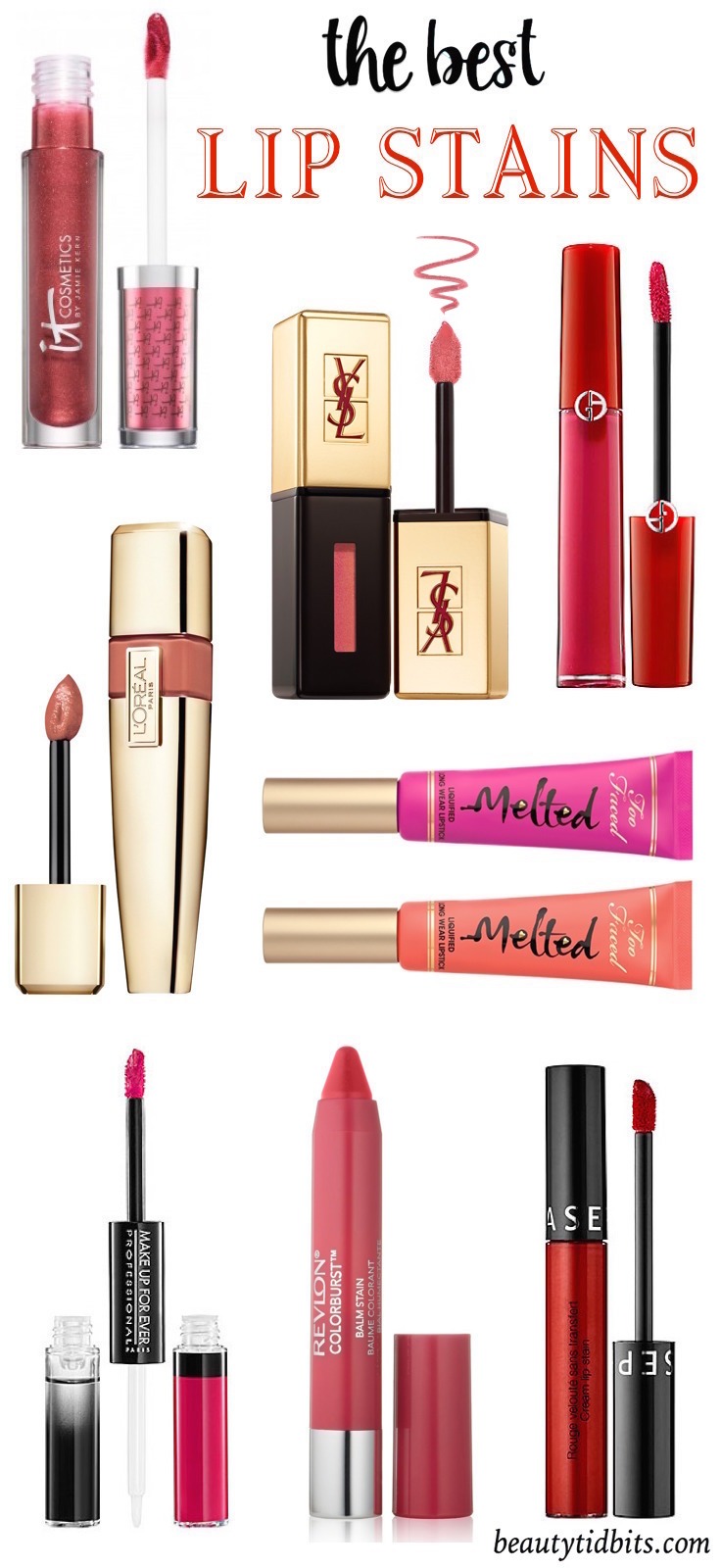 L'Oreal Colour Caresse Wet Shine Stain ($5)
The drugstore version (down to the wand) of the YSL Glossy Stains, L'Oreal's Colour Riche formula combines the shine of a gloss with the lasting power of a stain. And I love that the glossy aspect of this stain (not just the color) takes a really long time to wear off!
Sephora Collection Cream Lip Stain ($14)
Infused with avocado oil, this creamy lip stain delivers a vibrant color payoff that stays put. And it's beautifully lightweight so once the stain dries, you'll practically forget you're wearing anything on your lips!
Revlon ColorBurst Balm Stain ($6)
This is the perfect daytime stain, especially if you're not into a bold lip look. It glides right on, so you never have to worry about coloring outside the lip lines, and the shades are lovely. Plus, it earns bonus points for being a budget-friendly option – under $10!
Giorgio Armani Lip Maestro ($38)
This one is expensive but worth every penny! The silky smooth formula dries to a velvety matte finish and offers incredibly rich color that's truly long-lasting. Plus, though it finishes like a stain, the luxurious texture offers hours of hydration and comfort.
Too Faced Melted Liquified Long Wear Lipstick ($21)
Too Faced Melted gives you the pigment-packed color of a liquid lipstick with the longevity of a stain. The semi-matte formula takes forever to fade, and when it does, it does so evenly, leaving behind a natural looking tint. Best of all? It won't feather, and a little goes a long way!
Make Up For Ever Aqua Rouge ($30)
This highly pigmented yet lightweight stain is made to last. It has a two-step process – first, you brush the color on and then seal it with a layer of clear gloss that moisturizes & protects the color from fading. This stuff doesn't budge even after a meal so you will have a bright, evenly colored pout for hours on end!
It Cosmetics Vitality Lip Blush Hydrating Gloss Stain ($24)
While some lip stains can quickly dry out your lips, this hydrating gloss stain from It Cosmetics drenches your lips in a healthy dose of moisture while adding a gorgeous flush of color. It glides on like a lightweight serum and lasts all day without being sticky or tacky!
Yves Saint Laurent Rouge Pur Couture Vernis à Lèvres Glossy ($42)
If you're a huge fan of lip gloss but wish it was longer-lasting, YSL glossy stain offers the best of both worlds! Use one coat for a natural shine–or bump up the drama, and apply two coats for full coverage and more intense color.
Shop this post…