Affiliate linksIf you're on the hunt for a great liquid eyeliner that won't break the bank, you've come to the right place. Eyeliner is one of those products you can never really have enough of. Whether it's a subtle swipe or a thick, dramatic wing, eyeliner adds an unmistakable oomph. And liquid eyeliner is an every-woman staple!
Since it's a product prone to multiples, I like to purchase mine at the drugstore. I know how long it can take to make sure your liner wings are exactly even, so there's no point in wasting your $25 eyeliner in perfecting the feline flick.
And even you are an expert in the art of the winged eye, why spend a pretty penny when you can find outstanding liquid eyeliners under $10 at your local drugstore?
From thin microbrushes to slim & flexible felt tips that deliver an even stroke of rich color, there is an option out there that is both easy-to-apply and perfectly accentuating. And some of these liquid eyeliners even come in multiple colors!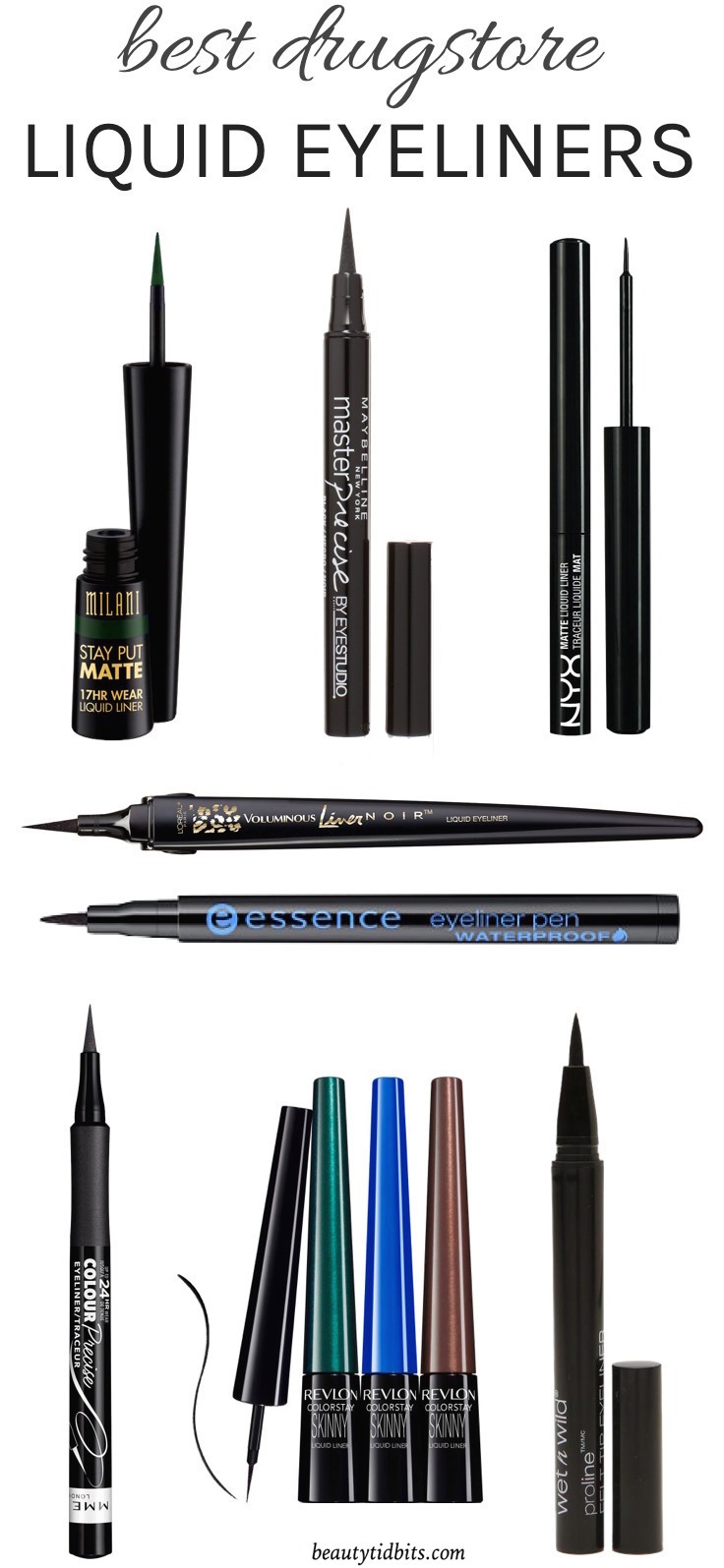 Whether you want razor-thin lines, winged cat eyes or bold, dramatic lines, here are the best drugstore liquid eyeliners perfect for everyone from beginners all the way to experts!
Milani Stay Put Matte 17HR Wear Liquid Eyeliner ($7.99) – This new eyeliner from Milani is highly pigmented and dries down completely matte. It has an ultra thin felt tip applicator so you'll be able to flick your cat eye with ease. The humidity and sweat-resistant formula is really dependable and sticks around even when the tears flow! It comes in four matte shades, green being my favorite!  
Maybelline Eye Studio Master Precise Ink Pen Eyeliner ($6.29) – True to its name, this felt pen style liquid eyeliner has a precise ultra-fine elongated tip that draws a sharp, thin line without tugging or dragging on skin. It delivers rich color that sets quickly and really goes the distance, lasting all day but I don't find it to be completely waterproof so those with allergies or watery eyes might want to skip this one.
NYX Matte Liquid Liner ($6.99) – When they say "matte," they mean it. This is one of my top favorites because of the intense, inky black color and the extra-precise brush tip that allows me to get the liner exactly where I want it.  It's perfect for creating a sharp flick for a dramatic wing, with bold black pigment that that won't smudge or bleed!
L'Oreal Voluminous Noir Liquid Eyeliner ($9.99) – With an ultra-fine tip for easy application, this L'Oreal eyeliner has an incredibly pigmented formula that flows beautifully from the sleek pen. It's not waterproof (which makes it easy to correct mistakes) but stays put all day without smudging or flaking. I would probably skip it during the super hot and humid months but overall it's a fantastic find!
[bctt tweet="Looking for a liquid eyeliner on the cheap? Here's the ultimate list of the best drugstore liquid liners – All under $10″ username="Beauty_tidbits"]
ESSENCE Eyeliner Pen Waterproof ($2.99) – If you want a totally waterproof formula, this Essence eyeliner has you covered! While the slightly thicker felt tip may not give you a super precise cat eye, it's perfect for an everyday casual winged look. It's actually a great drugstore dupe for Urban Decay's Ink for Eyes Waterproof Precision Eye Pen. You won't get the darkest, blackest line as with UD liner but the performance & staying power of the Essence liner is equally good! For under $3, it's absolutely worth picking up!
Rimmel London Colour Precise Eyeliner ($5.49) – This one has a flexible ultra-thin felt tip that's pretty foolproof and great even for liquid liner novices. It provides a smooth and precise application without tugging or dragging so you can easily get really thin, fine lines. And the smudge-proof formula won't end up pulling a disappearing act midway through your day!
Revlon ColorStay Skinny Liquid Liner ($5.99) – "Skinny" is dead-on when it comes to this liquid eyeliner's ultra-slender, tapered brush which allows you to draw an incredibly thin line. It also delivers on the pigmentation front, applies smoothly with a quick dry down and doesn't flake. Of the shades offered, there's a choice of metallic hues of brown, blue or green, and a rich matte black. The metallic shades don't go on as richly as the black one but I still like the color options!
Wet 'n' Wild ProLine Felt Tip Eyeliner ($2.99) – This eyeliner lets you get right to the point with its soft, finely-pointed felt tip that glides on smoothly without skipping or pulling along your lashline. The formula dries quickly, won't fade or flake throughout the day and is fairly smudge proof with an impressive wear time. Not to mention this budget-friendly pick costs less than your Starbucks order!
Which drugstore liquid eyeliner is your favorite? Let me know in the comments!
Shop the post…