Affiliate linksAs promised, I am back today with the second edition of affordable alternatives for high-end skincare products.
In case you missed it, here is PART 1 of skincare dupes that work just as well as their pricey counterparts.
Related: 10 High-End Face Mask Dupes You (And Your Wallet) Will Love!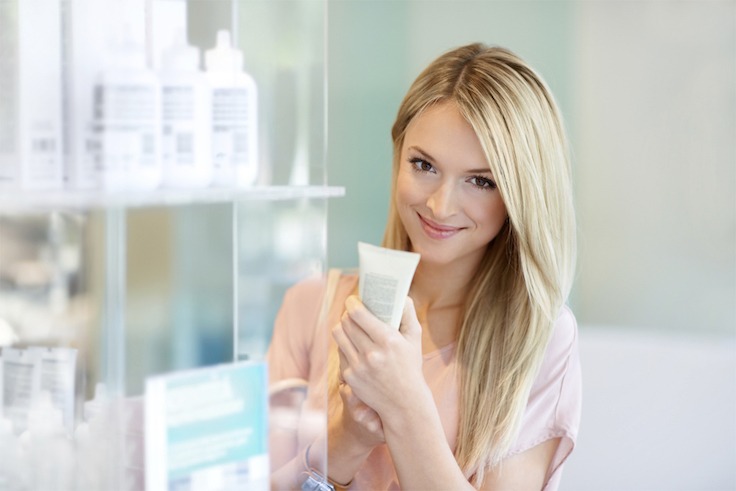 You don't need to spend a fortune to have healthy, glowing skin. If we look carefully at the active ingredients in our high-end skincare favorites, many of them can be replaced by similar products easily available at the drugstores (without the hefty price tags and fancy packaging of course!)
Whether you're looking to protect, brighten, or moisturize your skin, there's no shortage of top-notch skincare options at the drugstores these days. These affordable alternatives allow you to have a great skincare regimen even on a shoestring beauty budget!
However, please note that although these skincare dupes have somewhat similar but not the exact same ingredients as the prestige brands and in some cases, the feel & texture of the formulas can also be slightly different. However, you will still get most of the benefits from the cheaper substitutes.
1. Splurge: Murad Rapid Age Spot and Pigment Lightening Serum ($65)
Save: Alpha Skin Care Dual Action Skin Lightener ($12.99)
Murad's skin-lightening serum contains 2% hydroquinone that reduces the appearance of dark spots, age spots, and hyperpigmentation. The formula also boasts of glycolic acid that exfoliates, helping the active ingredients to penetrate quickly and deeply for faster results. But at $65 for 1 oz, it'll cost you a pretty penny!
You can save your hard-earned dollars with Alpha Skincare's dark spot correcting serum that's just as fantastic (with the same active ingredients) but costs only about $10! It also contains the dynamic duo of 2% hydroquinone for fading dark spots + 10% glycolic acid for exfoliation. You can't beat the difference in price point…this one is a no-brainer!
2. Splurge: Glamglow Supermud Clearing Treatment ($69)
Save: Derma e Purifying 2-in-1 Charcoal Face Mask ($19.50)
Glamglow's potent clarifying mud formula gives you a bright & clear complexion with a blend of AHA and BHA acids plus activated charcoal. It exfoliates and deep cleans pores, lifts away dirt and other skin congestions, and refreshes skin with eucalyptus. So, whether it's acne or dullness you are dealing with, this can be a great detoxifying treatment for oily and problematic skin. But it's hefty price tag can be a deal-breaker!
On the drugstore front, Derma E's charcoal mask provides similar results under $20. This affordable option also contains activated charcoal and natural clays that deeply detoxify skin and decongest pores of excess oils/impurities. It does not contain AHA/BHA acids but uses apricot seed powder for exfoliating action.
You might not find this formula as intense as the Glamglow but it's the most potent clarifying and mattifying mask I've discovered at the drugstore, and it doesn't disappoint! (It also works for spot-treating an early breakout.) That's why I also featured it in the list of best drugstore face masks for acne-prone skin.
3. Splurge: Clinique Moisture Surge Extended Thirst Relief ($39)
Save: Hada Labo Tokyo Skin Plumping Gel Cream ($14.49)
If your skin is on the dry side, you are probably already familiar with Clinique's Moisture Surge cream. Its antioxidant rich, oil-free gel cream formula is super hydrating and does a great job of moisturizing and soothing dry, dull skin. It's quite popular and for good reason but it's $39 (for 1.7 oz) price tag isn't very budget-friendly.

Hada Labo's gel cream is a great and more affordable alternative that does wonders for dry skin. It's also oil-free and lightweight but treats dry skin to a nice mix of antioxidants, and hydrating hyaluronic acid, leaving skin smooth, supple and well-hydrated.
4. Splurge: Josie Maran 100% Pure Argan Oil ($48)
Save: Physicians Formula Ultra-Nourishing Argan Oil ($14.99)
If you are a fan of argan oil, chances are you've probably tried or at least heard of Josie Maran's multipurpose formula that can be used on your face, body, and hair to nourish dry skin and strands.
While Josie's version is a fantastic find, Physicians Formula Argan Oil is almost identical and offers the same moisturizing benefits at one-third the price.
5. Splurge: MAC Strobe Cream ($33)
Save: Pixi Glowtion Day Dew ($22)
Besides being an amazing highlighter, MAC's strobe cream is also a great antioxidant-rich lightweight moisturizer. Packed with potent botanicals, it boosts the look of dull/tired skin while adding a luminous glow with an iridescent pearl finish.
Pixi's Glowtion is essentially the same thing that works as a lightweight, radiance-boosting moisturizer while blurring imperfections and giving a lit-from-within glow. Just like MAC's version, it has a soft, iridescent pearly finish for an ethereal glow.
6. Splurge: Drunk Elephant Virgin Marula Luxury Facial Oil ($72)
Save: Acure Organics Facial Marula Oil ($11)
If you enjoy using face oils, Drunk Elephant's Marula oil is one of the very best options to consider. It's pure 100% marula oil, with no additives or fragrance. Rich in anti-aging antioxidants and omega fatty acids, the lightweight nutrient-rich oil absorbs easily and helps in reducing skin redness, dryness, blotchiness, fine lines and uneven skin tone. But its price tag is definitely in the splurge territory!
Acure Organics version is also 100% pure cold-pressed marula oil, but comes with an easily affordable price tag. Just like Drunk Elephant's one, the formula is lightweight enough to be used on its own, or can be mixed with a moisturizer or serum when you need extra hydration. You can find it easily in health food stores like Whole Foods too. For under $15, this one is a skincare steal!
7. Splurge: Murad AHA/BHA Exfoliating Cleanser ($40)
Save: Neutrogena Pore Refining Exfoliating Cleanser ($6.99)
Murad's Exfoliating Cleanser is a cleanser/scrub hybrid that's designed to smooth skin's texture while washing away dirt and impurities. The formula contains three gentle exfoliating agents (salicylic acid, lactic acid, and glycolic acid) that dissolve dead skin cell buildup. Plus, rounded Jojoba beads polish and smooth skin. A great cleanser overall, but is it worth 40 bucks? I don't think so!
Neutrogena's cleanser is essentially the same thing at a fraction of the price! It also contains alpha and beta hydroxy acids plus exfoliating micro beads that work together to sweep away dead surface skin for a smoother complexion while removing dirt, oil, and makeup.
8. Splurge: First Aid Beauty Facial Radiance Intensive Peel ($40, 1.7 oz)
Save: Pixi Peel & Polish ($24, 2.71 fl.oz)
First Aid beauty's at-home peel features a combination of lactic acid and salicylic acid that smooths and brightens skin by exfoliating dull, pore-clogging dead skin cells. The formula looks like a mud mask because it also contains charcoal and kaolin to help draw out dirt and impurities. Even though powerful, the formula is non-abrasive and contains soothing agents that help reduce potential irritation. Overall, a great product but pricey!
If radiance is what you are after, Pixi's peel also gives you smoother, softer skin with a healthy glow in just 5 minutes! It also contains lactic acid that exfoliates, plus natural fruit enzymes that polish and brighten dull skin, while being gentle. It's like an instant facial in a bottle!
9. Splurge: StriVectin-AR Advanced Retinol Concentrated Serum ($119)
Save: Alpha Skin Care Enhanced Wrinkle Repair Cream ($16.99)
Designed to reduce the appearance of wrinkles and fine lines, Strivectin's advanced serum combines stabilized retinol with several other anti-aging ingredients to fade away your aging concerns. It has a silky texture and non-irritating fragrance-free formula that's suitable for all skin types. Basically, it's a well-formulated retinol serum that delivers on its promises but over-priced.
Alpha Skincare's Wrinkle Repair cream offers the same benefits of potent retinol plus antioxidants vitamins C and E for a fraction of the price! It comes in a stable packaging to keep the light- and air-sensitive ingredients effective for a long time and is gentle enough for all skin types. For the price, you really can't beat this skincare dupe!
10. Splurge: Clinique Acne Solutions All-Over Clearing Treatment Oil-Free ($23)
Save: Clean & Clear Persa-Gel 10 Acne Medication ($4.99)
Clinique's acne treatment contains 2.5% benzoyl peroxide and the lightweight oil-free lotion formula is gentle enough to apply all over the face. It also contains several good-for-skin ingredients, including green tea and soothing plant extracts. Overall, a top-notch option for acne-prone skin and doesn't irritate even dry, sensitive (yet acne-prone) skin like mine.
But if you are on a budget, Clean & Clear's Persa-Gel is an effective acne treatment that contains maximum-strength (10%) benzoyl peroxide. It's very potent and should be used only on the affected area. The high-potency formula can be potentially irritating and drying though, so it's best used for stubborn cases of acne.
11. Splurge: First Aid Beauty FAB Skin Lab Resurfacing Liquid 10% AHA ($55)
Save: Pixi Overnight Glow Serum ($24)
First Aid beauty's formula is a potent, yet non-irritating leave-on exfoliating treatment with a 10% Concentration of 4 Alpha-Hydroxy Acids that smooth & brighten dullness and uneven skin texture. Designed with sensitive skin in mind, it contains soothing agents along with antioxidants and ceramides to nourish skin. It's a well-formulated exfoliant indeed, but with a steep price tag!
Pixi's version offers the same exfoliating & brightening benefits but costs a whole lot less! Formulated with 10% glycolic acid plus antioxidants vitamins A, C & E, this concentrated exfoliating gel smooths skin's texture and helps fade sun spots over time. It's also enriched with cucumber & aloe vera extract to calm skin.
Do you know of any other skincare dupes? If so, please share with us!!
Shop this post…

Image 1: source