Soft, healthy-looking skin seems like such a challenge in the winter. With its frosty sub-zero temperatures and low humidity, winter puts a strain on the skin, making it look dull, dry and flaky.
In addition to the dreary weather outdoors, your skin also is under assault from the dry, heated air indoors which sends already-dry skin into a tailspin. And for those of us with naturally dry skin, winter is the worst…the freezing dip in temperatures magnifies everything that makes dryness so uncomfortable!
The good news is, there are a few easy things you can do to beat the winter skin blues! Try these dry skin hacks to avoid those winter beauty bummers and keep your skin smooth, supple and oh-so-comfortable all winter long!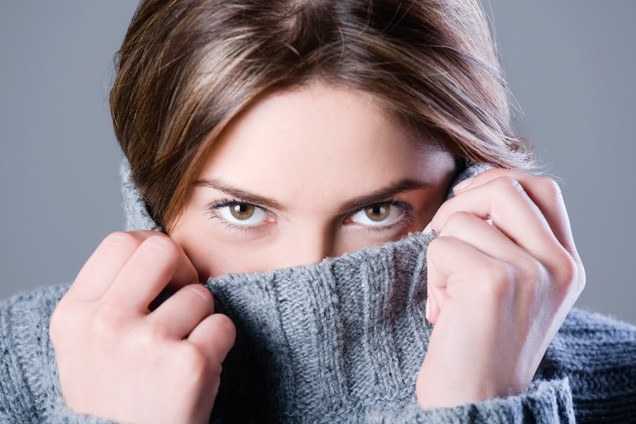 1. Exfoliate (but don't go too crazy)
During cold winter months, cell turnover is sluggish so exfoliation is a must! If you don't exfoliate, the dead skin cell buildup on the surface not only makes your complexion dull but also prevents your moisturizer from absorbing, making it way less effective. But make it a point not to overdo on exfoliation—doing it more than once or twice a week can irritate or dry out your skin further.
Avoid traditional granular scrubs (with large beads or grains) that can irritate or inflame your skin and choose a gentle sugar scrub instead. Since sugar dissolves as it exfoliates, it's hard to overdo it. Always moisturize once you're done! Moisturizers are most effective after dead surface cells have been sloughed away.
2. Maximize Your Moisturizer
In the winter months, stash your body lotion in your shower so you can apply it quickly right after you finish washing up and towel dry. Slathering on moisturizer to slightly damp skin, before you step out of the steam, helps lock in the moisture and keep your skin comforted and well-hydrated.
For heavy-duty hydration with a lightweight feel, try Eucerin Advanced Repair Lotion that repairs very dry, rough, flaky skin with a fast-absorbing, non-greasy formula. Enriched with ceramides and glycerin, it provides long-lasting moisture to help skin recover from winter weather abuse. And I love that it's free of any fragrance, dyes and parabens…great for sensitive skin!
3. Ditch the Soap and Irritants
Harsh surfactants found in many antibacterial or deodorant soaps can further dry out and irritate winter skin. Switch to a creamy, hydrating soap-free cleanser for your face (and body) that will help remove dirt and impurities without stripping your skin of its natural moisture and making it feel tight and itchy.
Also, avoid skincare products with moisture-zapping, irritating ingredients like denatured alcohol, menthol, eucalyptus and camphor that could dry out and potentially irritate your skin.
4. Shorten Your Shower Time
Hot water and dry skin are not friends. Keep your shower warm, not hot. Yes, it's tough to do in the winter months, but this makes a big difference. Long, steamy hot showers can feel relaxing but the hotter the water the more drying, so turn down the heat as much as you can. And try to limit your shower time to no more than 10 minutes.
5. Double Up On Moisture
Here's a cool trick for preventing dry patches: supplement your moisturizer with a hydrating serum. Like layering a fitted T-shirt under your cardigan, a hydrating serum layered under a creamy moisturizer gives your skin an extra layer of insurance against harsh winter elements and helps to keep the hydration in all day long.
Look for one with a healthy dose of vitamins and antioxidants, such as vitamins C and E to nourish as well as protect your skin. The more moisture, the better when it comes to winter skincare!
In addition to these skin-saving winter beauty hacks, today I am also sharing a few easy at-home remedies to soothe sore muscles…thanks to Eucerin Prepare to Repair video series!
In this video series, fitness instructor Kirsten Trued takes you through several simple stretches you can do at home to help repair sore, exhausted muscles which take a beating from the hustle and bustle of everyday life.
You will also get some great skincare tips from dermatologist Dr. Debra Jaliman to help repair your skin and keep it looking healthy. Take a look…
To see more tips from fitness instructor Kirsten Trued and Dr. Debra Jaliman, check out the rest of the Eucerin Repair Video Series here
Hope you found this post useful!
Now let's hear from you! Do you have any favorite skincare tips to share with us? Any skincare hacks that you swear by? Share your thoughts in the comments section below!
This post has been sponsored by Eucerin but all opinions are my own.