Affiliate links Vitamin C has long been known for its health benefits as an immunity booster, but it also happens to be a superhero when it comes to anti-aging skincare. In fact, few ingredients in skin care have as much solid evidence as to their effectiveness as Vitamin C.
UPDATED POST: The Best Affordable Vitamin C Serums 2023
It's a powerful antioxidant that stimulates collagen production, combats the harmful free-radicals generated from sun exposure, pollution or smoking, heals sun damage, fades dark spots and fights wrinkles. The result: brighter, clear skin, fewer fine lines and wrinkles and a more even skin tone.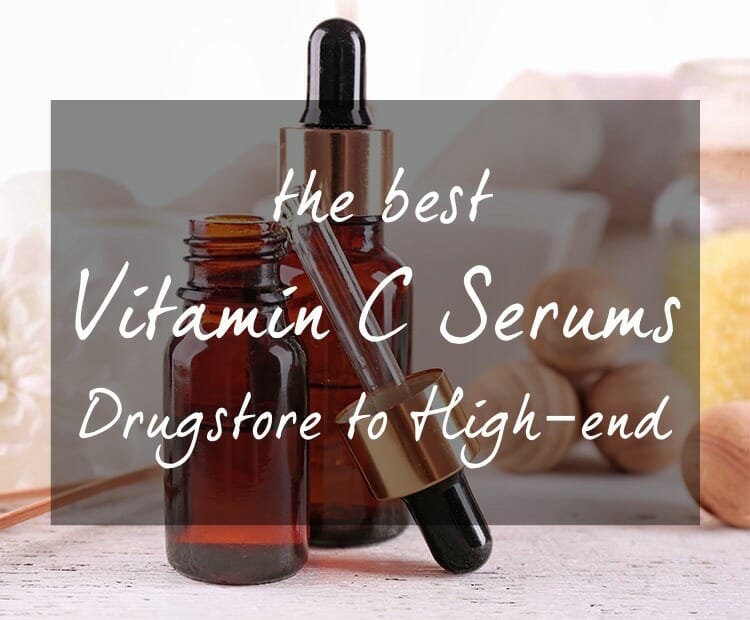 "I tell every patient the basic fundamentals of an anti-aging routine include a sunscreen, a potent, well-proven antioxidant serum like vitamin C and a retinol," says dermatologist Dr. Annie Chiu. So, even if you have a minimal skincare routine, this tried-and-true wrinkle fighter and radiance booster should be an important part of your daily beauty regimen!
But with so many vitamin C serums out on the market, how are you supposed to choose the best one?
One of the most important things to look for when choosing a vitamin C serum is that the product is packaged in an opaque or dark-colored bottle or tube to keep Vitamin C stable (that's because Vitamin C loses its antioxidant potential when exposed to air and light.)
While Vitamin C really is a multitasker, a great antioxidant serum should also be formulated with a mix of other beneficial ingredients like Ceramides or hyaluronic acid (for moisture), soothing botanicals and other antioxidants like Ferulic acid and vitamin E, which are known to increase the efficacy of vitamin C. All of the serums listed below meet this criteria so you get the best bang for your buck!
Pro tip: Always apply your sunscreen/moisturizer with SPF directly after applying a vitamin C serum in the morning. Layering an antioxidant serum underneath SPF product adds a second line of defense against UV damage and makes your sunscreen more effective. But remember, Vitamin C serum is NOT a substitute for sunscreen…it just helps skin better withstand sun exposure.
Ready to boost your antioxidant intake?
Here are the best vitamin C serums that are really worth the splurge! All of these serums have a cosmetically elegant, lightweight texture that's suitable for all skin types.
Best Vitamin C Serums That Give You The Most Bang For Your Buck
1. SkinCeuticals C E Ferulic ($162)
Possibly the most buzzed-about vitamin C serum ever but it really lives up to the hype! This antioxidant powerhouse features a synergistic combination of 15% pure L-ascorbic acid (vitamin C), vitamin E and ferulic acid. And the super-concentrated formula remains effective for about 72 hours after absorption.
Packaged in a dropper, the fragrance-free serum has a light-as-water texture suitable for all skin types (including acne-prone). No wonder it's the reigning champ when it comes to Vitamin C serums!
However, if you have rosacea or very sensitive skin, such high concentrations of vitamin c can be potentially irritating and it's better to start with relatively lower strength formulas (like the drugstore options below.)
2. Drunk Elephant C-Firma Day Serum ($80)
Enriched with 15% antioxidant complex of L-ascorbic plus ferulic and vitamin E, this gel-like serum is cool to the touch and comes in an opaque, airless pump packaging that prevents vitamin c from losing its efficacy. The highly potent formula is also loaded with several nourishing botanicals, fruit enzymes and peptides, making it a complete anti-aging treatment for all skin types.
This one is my favorite in the high-end category as it drastically improves multiple signs of aging while being gentle on my dry, sensitive skin! Also cruelty-free.
3. Paula's Choice Skincare RESIST Super Antioxidant Concentrate Serum ($38)
This concentrated (and very reasonably-priced) serum isn't only jam-packed with stabilized vitamin C but also contains an impressive blend of several other powerful antioxidants and peptides. Fine lines, dark spots and wrinkles won't stand a chance against this multi-tasking superhero!
The fragrance-free formula is ideal even for those with sensitive skin and soothes any redness for a more evenly toned complexion. In fact, this gentle serum is a great anti-aging option for those whose skin cannot tolerate retinol! It's absolutely worth every penny, especially if you have sensitive skin (like mine) that gets irritated easily.
4. Dr. Dennis Gross Skincare Hydra-Pure Vitamin C Brightening Serum ($95)
While most vitamin C serums are applied in the morning, this highly concentrated formula (with 18% Vit C) is designed to be used at night. It helps fade dark spots and discoloration as you sleep while also diminishing pesky fine lines and wrinkles. Even more impressive, this serum also removes the undesirable effects of heavy metals and unhealthy minerals on your skin! It's gentle enough for all skin
Even more impressive, this serum also removes the undesirable effects of heavy metals and unhealthy minerals on your skin! It's gentle enough for all skin types, and is packaged to ensure full potency. Also cruelty-free.
If you are looking for more affordable (yet effective) options, below I've rounded up the best drugstore Vitamin C serums that pack anti-aging power at a price that's nice! You can easily pick any of these up at your local Target or Walgreens for $25 or less (most of them are also easily available at Amazon prime…even better, right?)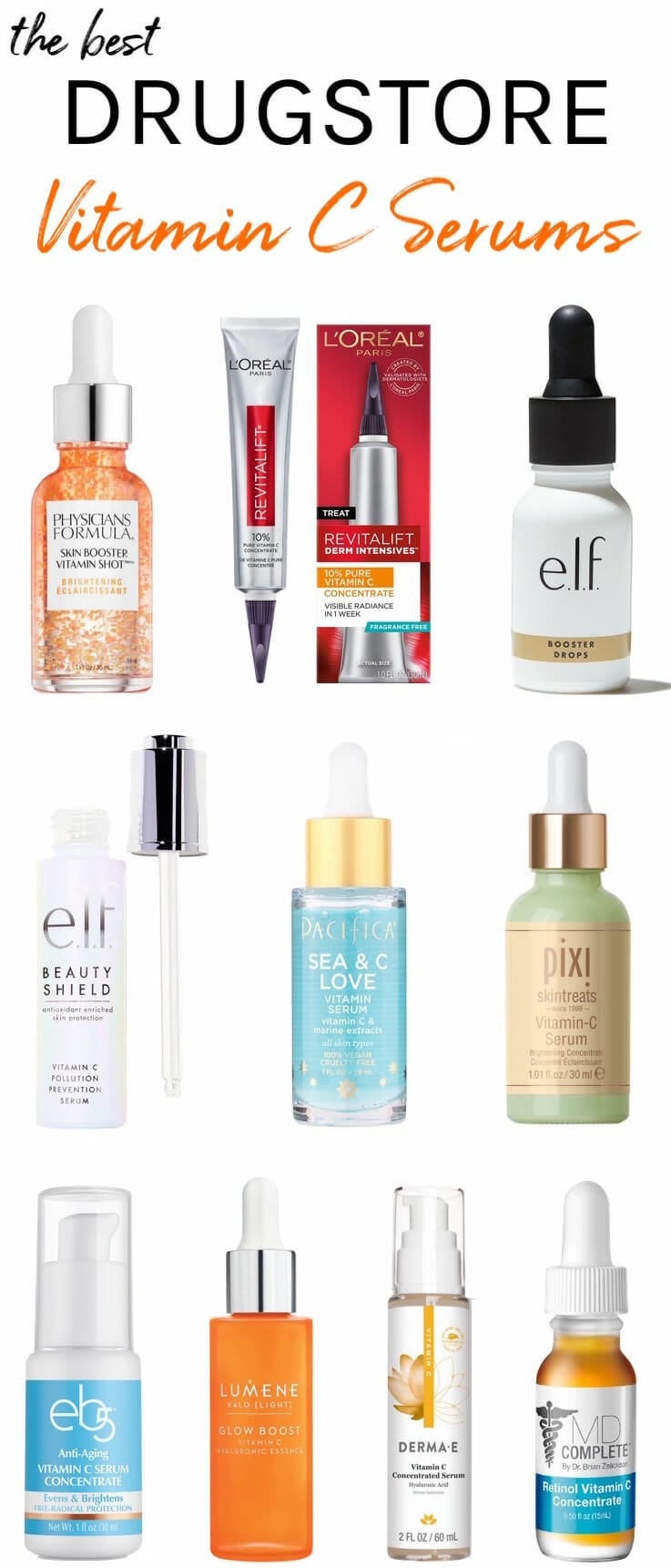 Best Drugstore Vitamin C Serums
1. Physicians Formula Skin Booster Vitamin Shot Brightening ($12.99)
This powerhouse serum targets uneven skin tone and dark spots with a potent combination of skin-brightening Vitamin C, niacinamide, acetyl glucosamine and licorice extract. Not only does it work wonders on sun damaged but also offers a light dose of moisture with skin-plumping sodium hyaluronate!
The oil-free formula has a lightweight, silky-smooth serum texture that soaks in quickly and layers beautifully under makeup. Vegan, Cruelty-free and fragrance-free.
2. Bliss Bright Idea Vitamin C + Tri-Peptide Collagen Protecting & Brightening Serum ($24.99)
This potent spa-grade serum is powered with a high concentration of ultra-stable vitamin C (3-O-ethyl ascorbic acid) along with palmitoyl tripeptide-5 that work synergistically to brighten skin, diminish the look of dark spots and combat fine lines & wrinkles. Plus, it has skin tone-evening licorice extract, antioxidant-and fatty-acid-rich squalane and vitamin E.
Cruelty-free and vegan, the lightweight non-comedogenic formula has a gel-like texture that absorbs quickly and layers perfectly under moisturizer and makeup.
3. L'Oréal Paris Revitalift Derm Intensives 10% Vitamin C Concentrate ($16)
This latest launch from L'Oreal is packed with 10% Pure Vitamin C to get your skin looking brighter and smoother in a matter of weeks! It's silky, gel-cream texture is suitable for every skin type and layers easily under moisturizer and makeup.
To maximize potency and stability, this Vitamin C serum is formulated without water and packaged in an air-tight metal tube to keep it protected from oxygen and light exposure. It's fragrance-free, paraben-free and does not clog pores.
4. e.l.f Antioxidant Booster Drops ($10)
Loaded with antioxidants vitamin C, Niacinamide and vitamin E, this fragrance-free booster makes it easy to add a brightening boost to your favorite moisturizer or foundation! With a water-light texture, these concentrated drops can be used on it own or mixed into other skin care products.
5. e.l.f. Beauty Shield Vitamin C Pollution Prevention Serum ($16)
Formulated with a healthy dose of antioxidants Vitamins C and E as well as pomegranate extract, this weightless serum brightens up your skin while protecting against the effects of pollution and other environmental aggressors. Plus, it has hydrating hyaluronic acid to boost skin moisture.
6. Pacifica Sea and C Love Vitamin Serum ($16)
Along with beloved vitamin C, this brightening serum packs an anti-aging punch with a combination of kelp, red seaweed, green algae, hyaluronic acid, turmeric and green tea. Not only does it fend off skin-aging free radicals and reduce discoloration but also helps fight the damaging affects of blue light from our phones and computers.
7. Pixi Vitamin-C Serum ($24)
This brightening serum contains a generous mix of potent antioxidants including Vitamin C, E and Ferulic Acid that work synergistically to ward off the effects of free radicals & sun damage and even your skin tone for a smoother, clear complexion. The formula also contains an impressive mix of natural fruit extracts, plus hydrating panthenol and Sodium Hyaluronate. Paraben-free and cruelty-free.
8. eb5 Anti-Aging Vitamin C Serum Concentrate ($20)
Formulated with 3 stable forms of vitamin C to brighten and even skin tone, this serum also contains sweet almond oil to soothe and calm skin. Plus, it has vitamin E and green tea extract to protect your skin from the elements.
It can be used in the morning and evening alone or in combination with your favorite facial moisturizer. Available at Walgreens, Target and Amazon.com
9. Lumene Valo Glow Boost Essence ($23)
This brightening essence treats skin to Arctic Cloudberry extract and Vitamin C to help revitalize dull, tired-looking skin and imparts a soft glow. Plus, it also contains pure arctic spring water and hyaluronic acid to nourish and hydrate, making your skin look smoother and radiant with daily use. It's available at Walgreens and Target.
10. Derma E Vitamin C Concentrated Serum ($19)
This high-potency serum packs the power of stable non-oxidizing Vitamin C along with anti-aging Probiotics, and antioxidant-rich Rooibos and green tea to help brighten skin while reducing the appearance of fine lines & wrinkles. Plus soothing aloe, hyaluronic acid and vitamin E provide essential hydration with an elegantly light texture. It's also vegan and cruelty-free. Available at Target, Walgreens and Ulta Beauty.
11. MD Complete Retinol Vitamin C Concentrate ($28.99)
This concentrated serum is like a high-potency multivitamin for your face! Along with vitamin C, it also contains dermatologist levels of Retinol plus natural fruit seed extracts (cranberry, pumpkin, tomato, raspberry) to refine skin tone, texture and radiance.
And unlike most serums it is not diluted with water.  Just massage 2-5 drops onto your face before applying moisturizer or other skincare products.
12. Andalou Naturals Turmeric + C Enlighten Serum ($16)
With turmeric extract and Vitamin C as the star ingredients, this serum helps protect against free radicals and sun damage while improving skin's clarity, tone and texture.
The formula also contains various other good-for-your-skin ingredients like hyaluronic acid, vitamin E, rosehip oil, evening primrose, white tea extract, and sea buckthorn oil, making it a great option for combination to dry skin that needs a little extra moisture. You can also find this serum at Ulta Beauty and Whole Foods Market.
Do you have a favorite Vitamin C serum? If not, which of the above Vitamin C serums will you be trying out first?
Shop this post…