Press sample Covergirl TruBlend Matte Made Foundation is a brand new matte makeup release coming to drugstores this summer. This liquid foundation features a truly extensive shade range including 40 shades that match over 99% of skin tones. YES, 40 shades catering to every skin tone from the fairest to the darkest!
Not only is this Covergirl's most inclusive foundation ever, but it also promises to be a comfortable matte formula that isn't drying or cakey, absorbs oil and minimizes the appearance of pores for a flawless finish. It's also said to be transfer-resistant and offers up to 12 hours of wear. That's a tall order indeed!
The Covergirl TruBlend Matte Made Foundation lineup is divided into 4 numbered ranges for easy navigation: Light (L), Medium (M), Tan (T) and Deep (D) as well as warm, cool and neutral undertones call-outs to help you find your perfect match. I really like this numbered system!
I found the perfect match for my light-medium skin tone (with neutral undertones) in the shade M30, Honeyed Bloom.
As someone with dry skin, I usually stay away from totally matte finish foundations but the promise of a comfort matte without a tacky or tight feel lured me into trying out this new launch! Also, I figured this would be great for the hot and humid summer months when I like a more matte look.
So, let's take a look if it really lives up to its claims and goes the distance….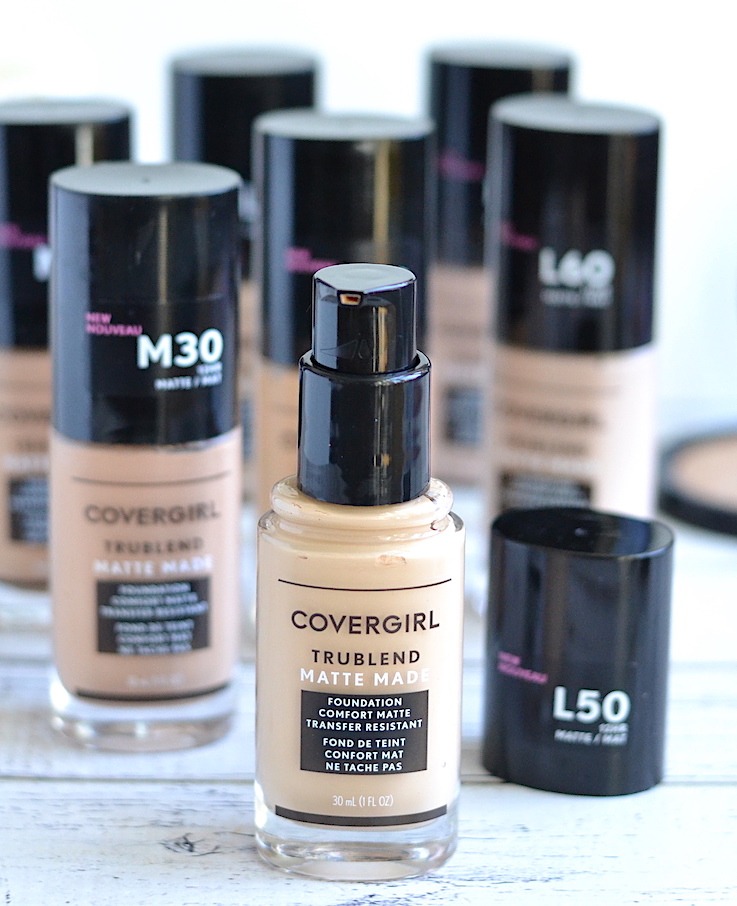 Covergirl TruBlend Matte Made Foundation comes in a glass bottle with a pump which is always a plus! Texture-wise, the formula is really lightweight, goes on very smoothly and is pretty easy to work with. I like that it doesn't dry down and set super quickly (unlike some matte foundations I've tried before), giving me enough time to blend easily for an evenly smooth finish.
This foundation offers great medium coverage that's easy to build up. It takes care of any redness, discoloration and minor imperfections, evening out my skin tone beautifully. I do need a concealer for my acne scars and dark spots though if I am going for a full coverage look.
As promised, the finish is matte and stays matte all day. It looks pretty natural and doesn't feel drying or cakey on my naturally dry skin. Also, as long as I've moisturized and prepped my skin first with a smoothing or hydrating primer, the foundation doesn't cling to my dry patches or settle into my (large) pores and fine lines.
When it comes to wear time, this foundation stays put without fading or creasing almost all day…I got a good 9-10 hours before the foundation started looking worn out. I don't use a setting powder but if you do use one, that might help it last longer!
Here are the swatches of all the shades I have in the Medium (M) lineup:
So, the Covergirl TruBlend Matte Made Foundation did work well for me but being a dry skin gal, I can't say much about its oil-control properties. That's why I asked my lovely friend Rachel to test it out because she has very oily skin that's also acne-prone.
On her oily skin, this foundation didn't really tick all the right boxes. She loved the matte finish, coverage and also that the formula is transfer-resistant (didn't end up on her white shirt while taking it off!) But when it comes to oil-control, the foundation wasn't too much help.
For the wear test, she did use a shine controlling primer to prep her skin but didn't set with a powder after applying her makeup. The foundation kept her skin shine-free for about 5-6 hours but after that, she needed to use a blotting paper.
That said, she still felt that this foundation did a better job keeping unwanted shine away (for longer) on her super oily skin than most of her other foundations. Her only quibble was that it isn't very acne-friendly…she found the formula less comfy/breathable on days when she had active breakouts.
Bottom Line
If you want a long-lasting matte finish foundation with a lightweight feel and great medium coverage that won't slide off during the day, Covergirl TruBlend Matte Made Foundation has you covered!
Not to mention, it comes in 40 different shades which makes it easy to find the perfect match for your skin tone…that's definitely a stand out factor for a drugstore foundation!
For under $10, Covergirl TruBlend Matte Made Foundation is well worth trying…it really lives up to its claim of being a stay-put comfort matte formula! You can purchase this foundation at Amazon.com for $8.49 and it will be available at drugstores starting June.
Check out the swatches of all the 40 shades in the Covergirl TruBlend Matte Made Foundation range below!