Press sample CoverGirl has rolled out a new Active Makeup line designed for the "everyday athlete", busy women who are more active and on-the-go than ever before!
The CoverGirl Active Makeup products are sweat-proof, humidity-proof, transfer-proof and meant to last through even the most intense parts of your day (workouts included!)
The high-performance Active Makeup collection includes a sweat-proof mascara and liquid eyeliner, a long-wearing oil-free foundation with SPF, and a setting mist to seal your makeup look.
I don't always wear makeup to the gym but still like to look a little polished and put together, especially if my skin is having a bad day. I have been testing out the new CoverGirl Active Makeup products not only at my Zumba class but also for everyday wear when I am out and about!
And for a thorough gym wear test, I had my lovely friend and AMAZING Zumba instructor Rachel try these products too to see if they can really stand up to a super intense sweat sesh! I like to call it 'the real test by Rachel'!
So, let's get started…
Covergirl Outlast Active Foundation SPF 20 ($10)
Available in 17 shades, this is described as a sweat-proof, transfer-proof and humidity-proof foundation with up to 24hr wear and also contains SPF 20. Formulated with a blend of flexible, water-proof polymers, it's oil-free and won't clog pores. Suitable for all skin types.
First off, this foundation has a slightly thick consistency but it applies smoothly and feels lightweight on the skin. The formula also blends pretty easily and gives me a solid medium coverage in just one layer. I don't feel the need to add another layer at all, especially if I am going for a workout!
The coverage is great with a smooth, natural matte finish. It is worth mentioning that on my dry skin, I find the finish a little too matte if I don't use a hydrating primer first. The formula isn't drying nor does it accentuate my dry patches, but I still feel like it blends so much more smoothly when I've applied a primer.
Now coming to the longevity part.
Does this foundation last through a rigorous workout? Yes, it actually does for the most part! Of course, my makeup doesn't look completely intact after 60 minutes of non-stop (sweaty and supercharged!) Zumba fun but it holds up quite impressively.
As expected, I usually get a lot of redness after workout but when wearing this foundation, the redness on my face is much less noticeable. After the class, my skin looks pretty good with a bit of natural glow…not at all like the typical post-workout hot mess! Not to mention, the foundation doesn't crease or pool in my smile lines.
And for everyday wear, it lasts remarkably well for 10+ hours on my skin with only minor fading by the end of the day.
As for Rachel, she also really liked the great coverage and natural finish of this foundation. With her super oily skin though, the formula didn't quite go the extra mile in terms of staying put after a strenuous workout. For her, the coverage was fairly long-lasting and redness definitely less noticeable. But, overall she wasn't exactly thrilled like I was!
Covergirl Lash Blast Active Mascara ($6.99)
This is described as a volumizing mascara that's sweat-proof, smudge-proof and clump-proof with easy application. Suitable for contact lens wearers, it comes in 4 shades from a black brown to extreme black.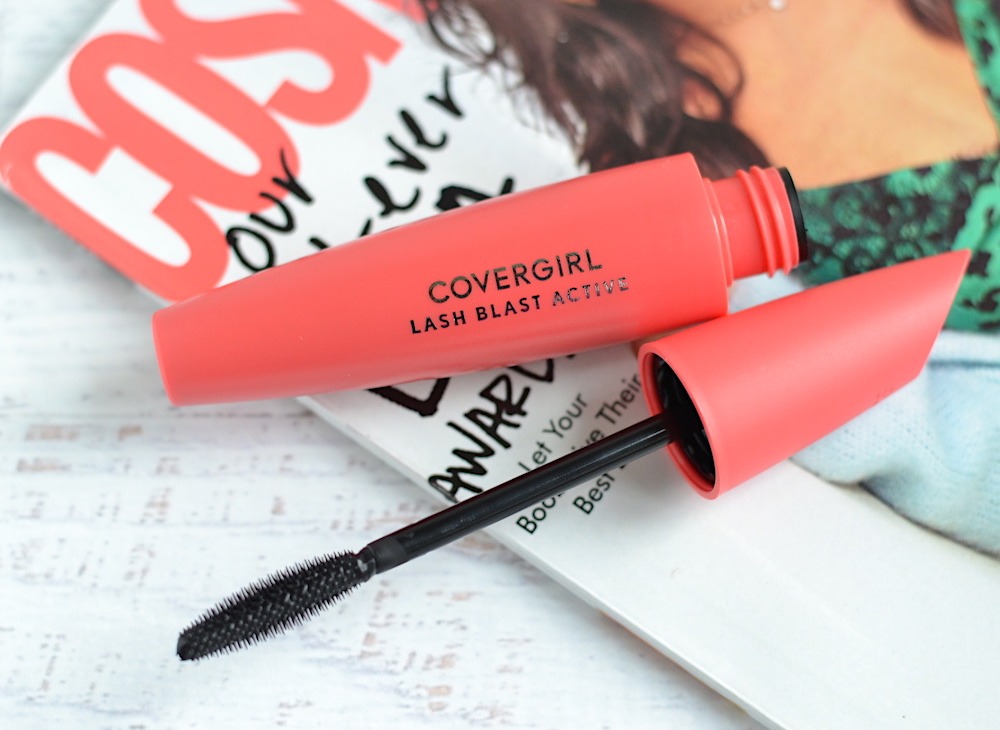 This mascara really lives up to its long-wearing claims! It goes on smooth, not clumpy, lengthens & separates the lashes nicely and stays put throughout a sweaty workout without flaking or smearing.
Seriously, it doesn't budge and won't drip down your face when you are working up a sweat! This mascara actually lasted through two hour-long workouts for Rachel! Not to mention, it washes off easily with makeup remover and water, unlike a lot of waterproof mascaras that can be hard to remove.
CoverGirl Active Get in Line Liquid Eyeliner ($7)
This is a sweat-proof and water-proof liquid eyeliner with a creamy formula that feels lightweight. It comes in 3 shades – Ink Black, Gray All Day and Amber Intensity.
Just like the mascara, this eyeliner won't budge no matter how much you're sweating! It applies easily and dries down fairly quickly. Once dry, this stuff stays on and doesn't smudge or transfer…it looked exactly the same after our class! This one also comes off easily with a makeup remover without any hassle.
Bottom Line
Whether wearing makeup to the gym is your thing (or not!), the new CoverGirl Active Makeup has got you covered! With all-day staying power & lightweight comfort, the long-lasting makeup line is perfect for anyone with a busy, on-the-go lifestyle.
And the Covergirl Active Makeup collection is also gym-approved…we put the sweat-proof products to the test and they survived through all the sprints, squats and cardio moves! Aside from the fact that CoverGirl is now cruelty-free, the best part is that all the products in the Active Makeup collection are under $10.
The new CoverGirl Active Makeup products are now available for purchase at Amazon.com and will be available soon at drugstores nationwide.
What will you be trying first from the Covergirl Active Makeup collection?