PR sample Have you heard the news? Urban Decay has re-launched their best-selling Vice Lipstick with a brand new look and formula!
With an ALL-NEW upgraded packaging and 100% vegan formula infused with antioxidant-rich aloe vera and avocado oil that leaves lips feeling nourished, Vice Lipsticks come in three moisturizing, vibrant finishes: cream, matte, and shine.
The new Urban Decay Vice Hydrating Lipsticks collection includes 35 Los Angeles-inspired shades from sheer pink and everyday nudes to bright orange and bold red designed to complement every skin tone.
RELATED POST: NEW Urban Decay Vice Plumping Shine Balms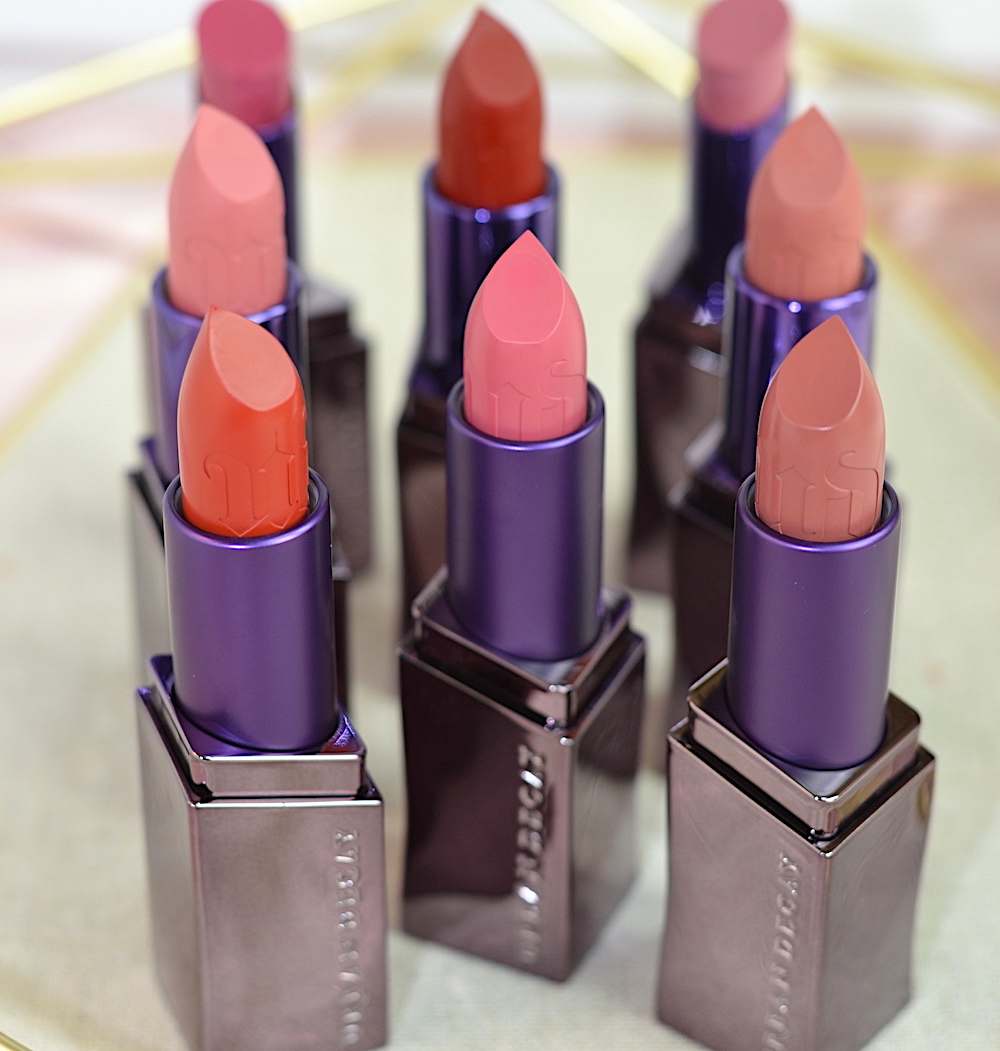 New Urban Decay Vice Hydrating Lipsticks
First up, I really like the new packaging. It's well-made, sleek and modern with an edgy look, just like most Urban Decay products. The formula is just as beautiful! It comes in three finishes: cream, matte, and shine. I tried 3 shades in each finish and all of them have a comfy, hydrating feel and coverage as promised.
Let's start with the MATTE lipsticks. These are so creamy and glide on smoothly without any dragging or skipping. I'm loving the soft velvet-matte finish with a lightweight feel! Although not super hydrating, the formula wears comfortably without leaving my lips looking or feeling dry. And that's a big plus for someone like me who typically avoids matte lipsticks as they can be drying.
The pigmentation is fantastic too. All three shades have a rich, nearly opaque color payoff in a single swipe, and the formula is also easily buildable if you want more intensity. Here's me wearing the matte shade 'The Big One' It's a beautiful warm-toned red that would be perfect for fall/winter.
The longevity is excellent and these shades leave a stain behind as they fade (they are mask-proof too!) Here are the swatches of 3 matte shades I have – The Big One (warm brick red), Art Walk (medium rose pink) and What's Your Sign (nude pink)
Now let's get to the CREAM finish shades. These are also creamy smooth and comfy with a hydrating satin finish, and richly pigmented. The formula is not incredibly long-lasting but the staying power is pretty impressive at about 6 hours.
Here are the swatches of cream shades – Liar (medium neutral nude), Naked (rose nude) and Olvera (warm blood orange)
Last but not the least are the SHINE finish shades. They have a lightweight, moisturizing formula that feels almost like a lip balm and glides on effortlessly with a glossy finish.
I was pleasantly surprised with the pigmentation of these shades. I thought it would be quite sheer but the color-payoff is pretty good in a couple of swipes! No need for multiple coats here and the color lasts really well too.
Here are the swatches: Local (sheer mauve pink), Love Trap (sheer deep plum) and The 405 (sheer bright cherry red)
The new Urban Decay Vice Hydrating Lipsticks are available now at SEPHORA, Ulta Beauty, Nordstrom and UrbanDecay.com for $19 each.