The new Maybelline Dream Urban Cover Foundation is a lightweight full coverage foundation that has broad-spectrum SPF 50 and is enriched with antioxidants to protect against pollution.
Available in 16 shades, Maybelline Dream Urban Cover Foundation has been specifically formulated to protect skin from harmful environmental aggressors while covering imperfections and evening out skin tone.
Maybelline claims this to be the ultimate foundation for summer because of its high SPF and ultra-lightweight texture. Well, as great as makeup infused with SPF is, it should never be a substitute for actual sunscreen (unless you are piling on layers of foundation!) That said, it's great to squeeze in some extra SPF for summer!
Now let's get to the texture part! The Maybelline Dream Urban Cover Foundation does have a thin, very lightweight formula indeed. It goes on smoothly, blends easily and sets to a soft demi-matte finish on my dry skin (prepped with a hydrating primer first).
And it stays matte on my skin all day, without looking overly matte or flat. However, if I don't use a smoothing primer first, the finish of this foundation is a bit too matte for my liking.
My preferred application method is with a brush as it blends in the product more evenly but I found this foundation blends well even with fingertips (easier when travelling!)
Despite the super lightweight texture, the foundation provides medium to full coverage as promised. And you do not need much to get good coverage. From redness to discoloration, it covers most of the imperfections and still has a pretty natural-looking finish.
Now that the weather is warmer, I don't add another layer to make it completely full coverage but the formula is easily buildable if you need a bit more for your problem areas. Here's a swatch of the shade Warm Nude 128 (it turned out to be a nearly perfect match for my light-medium skin tone)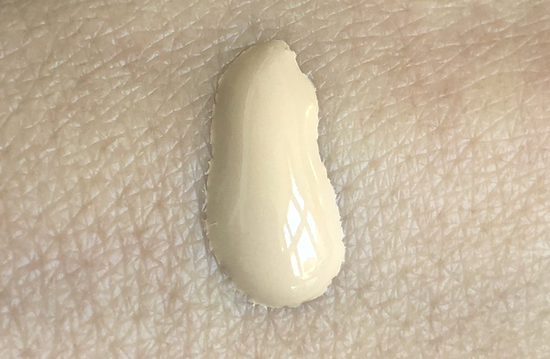 This foundation also excels in terms of wear time. It holds up really well during a normal day without creasing and does not look dry or cakey. Except for minor fading towards the end of the day, this foundation is long-wearing indeed (at least on my dry skin) The longevity might be different for oily skin types though!
Another thing that deserves a mention! Apparently Maybelline Dream Urban Cover Foundation is a drugstore dupe for IT Cosmetics CC cream SPF 50.
What do I think about that? Well, this new Maybelline foundation does seem to be inspired by the IT Cosmetics cult favorite product – considering the similar packaging, built-in SPF 50 and the inclusion of antioxidants. But that's where the similarities seem to end! (You can read my IT Cosmetics CC Cream review in full here.)
The Maybelline Dream Urban Cover foundation has thinner, more liquidy consistency and much less hydrating than IT Cosmetics CC cream. Coverage-wise, the two are comparable but I feel like IT Cosmetics CC cream is a bit more full coverage than the Maybelline foundation. Also, IT Cosmetics one has more of a satin finish whereas Maybelline's version has a soft matte finish (which actually makes it more suitable for a variety of skin types)
Last but not the least, IT Cosmetics has a whole LOT of good-for-your-skin ingredients as compared to just a few antioxidants in the Maybelline foundation. In fact, Maybelline's formula has alcohol listed among the first five ingredients and that's not a good thing as it can trigger skin irritation or dryness.
So, if you are looking for a truly skincare-focused foundation, IT Cosmetics CC cream is the clear winner. That said, IT Cosmetics version is much more expensive at $39 (whereas Maybelline is only $10.99)
To conclude, Maybelline Dream Urban Cover foundation is not an exact dupe for IT Cosmetics CC Cream but it's a nice affordable alternative! If we were not comparing these two formulas, the Maybelline foundation certainly has its own merits. Another advantage: Maybelline has a better shade selection. In fact, my only complaint from Maybelline is the inclusion of alcohol.
Bottom Line
With its super lightweight texture and medium-to-full coverage that stays put all day, Maybelline Dream Urban Cover Foundation really lives up to its complexion perfection promise. It has a natural-looking matte finish with added skincare benefits of antioxidants plus SPF 50 to boot! Not to mention, it comes with an affordable price tag under $11.
Maybelline Dream Urban Cover Full Coverage Foundation SPF 50 is available in 16 shades at Ulta Beauty and Amazon.com for $10.99