Today's post features some of my favorite new beauty finds! I'm always testing out new stuff but only a few stand out from the rest and manage to secure a spot in my beauty routine.
From a skincare-infused primer to a hydrating mineral sunscreen that'll amp up your glow without the greasiness, here are some of the latest drugstore delights you need to check out!
Now let's dive into the details for each one…
elf Power Grip Primer + 4% Niacinamide ($10)
This is a sticky gel-based face primer enriched with 4% Niacinamide to help even out skin tone and brighten while gripping makeup. Suitable for all skin tones, the translucent formula goes on completely clear and creates a dewy finish.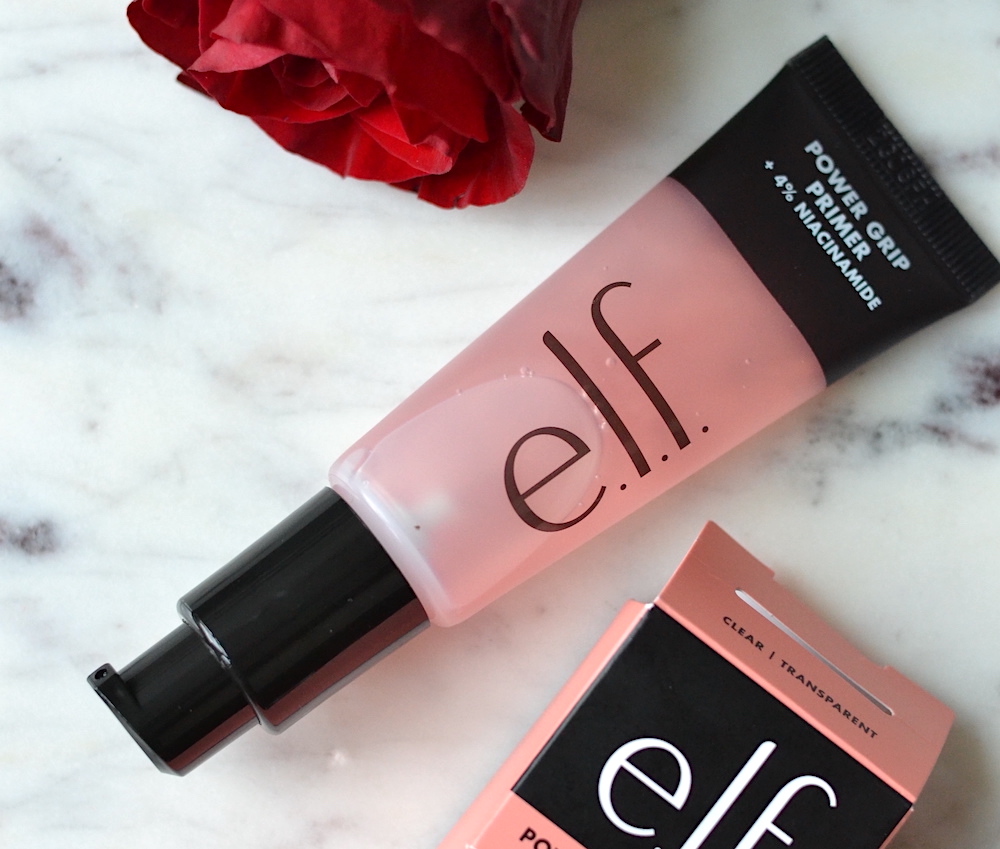 I have naturally dry skin and love trying out hydrating primers with a dewy, glowing finish, so when I saw this new elf primer at Ulta beauty I couldn't resist picking it up!
True to its claims, it really does grip makeup and helps it last long, and gives me a dewy finish. However, the formula is sticky AF and initially I was not sure if I am going to like this primer!
When I first pump it out from the tube, it does feel very sticky on my fingers but the good thing is once I've finished applying on my face, it doesn't feel heavy/tacky or too sticky on my skin and I can just easily apply my foundation on top. I don't feel any stickiness for the rest of the day, so it's all good! Check out my Instagram reel below to see the texture and finish on the skin…
View this post on Instagram
I think this is a great primer especially for those with normal to dry and combination skin. Not to mention it also contains skin-loving Niacinamide (4%) plus Sodium Hyaluronate, glycerin and vitamin E which are all great hydrating ingredients.
I haven't tried the original Power Grip primer so can't compare the stickiness or finish. Let me know if you have tried both and what do you think in the comments below!
Pacifica Glow Baby Super Lit SPF 30 Lotion ($20)
This antioxidant-packed hydrating mineral sunscreen (20.8% Zinc Oxide) with broad spectrum SPF 30 has a tinted formula with brightening mineral pigments to eliminate white cast. Can be used daily under makeup or on its own for a healthy, hydrated glow.
Key Ingredients
Antioxidant Vitamin C: Helps to brighten skin tone
Antioxidant Vitamin E: Protects skin from free radical damage
Apple Cell Extract: Effective in reducing the appearance of fine lines
Kakadu Plum: Superfood with the highest natural source of vitamin C
I really like this sunscreen! It's hydrating but not heavy or greasy and blends quickly without any white cast. It leaves my skin feeling hydrated with a satin finish and also wears well under makeup. The sheer tint is perfect for my light-medium skin tone, blends seamlessly and evens out my skin tone slightly. Check out my Instagram reel below to see the texture…
View this post on Instagram
I just wish though that the formula was fragrance-free! To me, it smells like those orange crème wafers. Thankfully, it's not a strong scent and fades away in a few seconds after applying, so it's not a deal breaker for me. But if you are sensitive to fragrance in skincare, this sunscreen might not be your jam!
Overall, a great product that I will recommend especially for those with dull, dry skin! The formula is free of parabens, phthalates, mineral oil, silicones or talc.
Cocokind Ceramide Recovery Balm ($21.99)
This ceramide-powered balm is a dry skin savior! It locks in moisture while minimizing any signs of dryness and irritation. The formula creates an occlusive layer to help prevent moisture loss while strengthening the natural skin barrier. Perfect for dry, dehydrated and sensitive skin.
Key Ingredients:
Ceramides – reinforce a healthy skin barrier function
Squalane – Hydrates skin and seals in moisture to prevent water loss
Oat kernel oil – soothes and replenishes, leaving skin soft and smooth
Plus it contains other nourishing ingredients like sunflower seed oil, grape seed oil, shea butter vitamin E and glycerin. This multi-purpose balm can be used all over – think dry spots on your body, feet, cuticles and even nighttime slugging! Perfect to protect skin from winter dryness.
It has a fragrance-free formula with a thick emollient texture. I've been using it on my dry hands and feet every night and also on my face when I use retinol in my PM routine (love how it saves my skin from the drying side effects of retinol) It's also great to use after an exfoliating peel or treatment to soothe skin. Although my skin is naturally dry, it's also acne-prone but thankfully this balm hasn't caused me any breakouts. Also, it's mineral oil-free, petrolatum-free, and lanolin-free.
Covergirl Clean Fresh Color Correcting Serum Moisturizer Primer ($14.99)
This is a multi-tasking product designed to color correct skin tone, brighten, soothe and calm skin while prepping it for makeup. The formula is infused with hydrating Avocado & Ceramide Complex + 1.8% Niacinamide to strengthen skin's natural moisture barrier.
This pink-toned color correcting primer has a very lightweight formula that just glides on my skin and dries to a natural matte finish. It does help improve the look and wear of makeup. Paired with this primer, my foundation applies smoothly, evenly and lasts longer too. Check out my Instagram reel below to see the pink tint and texture…
View this post on Instagram
As someone with dry skin, I usually opt for a hydrating primer with a dewy finish. So, this is not my ideal formula as I don't find it moisturizing, but I will be using it in summer when my skin isn't so dry. It does a good job as a primer and I would recommend it to those with normal to combination and oily skin. Also, I like that it's fragrance-free and suitable for sensitive skin.
Shop this post…