Affiliate links Maybelline Dream Radiant Liquid is a new hydrating foundation that offers medium coverage with a natural, radiant finish. Available in 20 shades, the formula is infused with hyaluronic acid and collagen to smooth skin while providing up to 12 hours of hydration. It promises to be the perfect foundation for dry skin!
With my dry skin, I need a good hydrating foundation all year round but come winter (and the extra dry spell) it becomes even more of a necessity. I have to work extra hard with my makeup to achieve the perfect glow, but the new Maybelline Dream Radiant Liquid Foundation makes it easy to get glowing!
This foundation has a creamy yet lightweight texture that blends very easily. The formula feels lightly hydrating but not at all heavy, greasy or tacky. I love its satiny, soft dewy finish that looks very natural and skin-like, making my complexion look radiant with a healthy glow. The finish isn't too dewy but just enough to give my skin a natural-looking glow!
Many foundations accentuate my flakes and dry patches especially during winter time but not this one. It provides long-lasting moisture and keeps my skin hydrated with a touch of luminosity. Also, I had no issues with it oxidizing as the day goes on.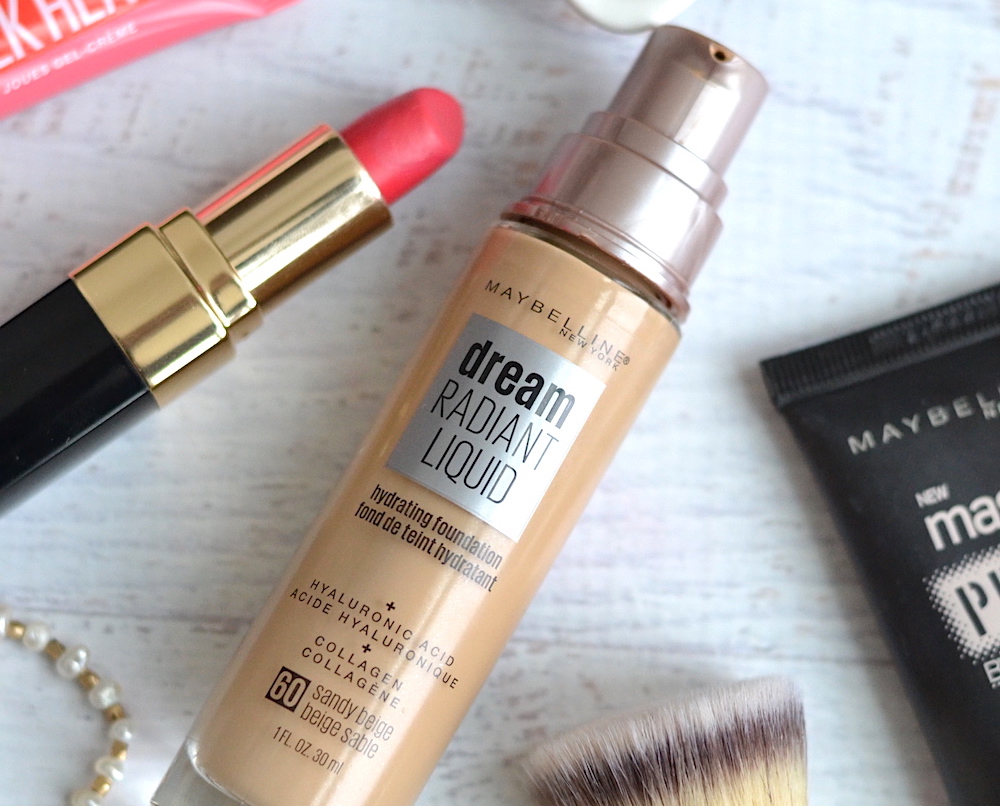 Maybelline Dream Radiant Liquid Foundation also excels in the pigmentation department. True to its claims, the formula provides solid medium coverage that's easily buildable. I find that one to two pumps is all I need to conceal most imperfections (using a makeup brush gives me the best results) and layering doesn't make it look cakey or overly done up!
As for the longevity, this foundation fares quite well staying put for a good 8-9 hours. I don't set it with powder and the coverage still holds up through the day.
Maybelline Dream Radiant Liquid actually reminds me a lot of my favorite Fenty Hydrating Foundation in terms of texture, finish and coverage. It's not an exact dupe but definitely an amazing affordable alternative at less than one-third the price!
The only drawback is that the shade range is not as extensive as some of the other foundations, including drugstore brands (which offer 40-50 shades). This foundation comes in only 20 shades. Sandy Beige (60) turned out to be a nearly perfect match for my light-medium skin tone so I am not complaining much, but still feel like there should be more shades available!
Along with the foundation, I also purchased the new Maybelline Cheek Heat Gel-Cream Blush ($5.99). It is described as a lightweight water-based gel cream blush infused with colorful pigments that create a fresh and luminous cheek flush. Available in six shades, the oil-free formula promises a natural looking soft, dewy finish.
I got the shade 20 Rose Flush (peachy pink) and really like it! This cream blush adds a sheer pop of color with a subtle dewy finish. I just squeeze 1 – 2 dots onto fingers, tap along the cheekbones and then blend. A little goes a long way!
The formula is easy to layer and can be toned up or down. And the best part is it lasts almost all day! This is perfect for anyone who wants a sheer, natural flushed look. It's so easy to use and the compact tube is cute and travel-friendly.
Bottom Line
Maybelline Dream Radiant Liquid Hydrating Foundation is a winner all around! This is exactly my type of foundation: feels lightweight and comfortable, great medium coverage and gives my skin a natural-looking glow! What's not to love? It's one of the best drugstore foundations for dry skin with a hydrating formula that's perfect for winter weather and beyond!
Available at Ulta Beauty, CVS and Amazon.com for $10.99