Affiliate links Revlon Super Lustrous Glass Shine Lipsticks is a new line of moisturizing lipsticks that promise to provide luscious, vibrant color with a glossy finish.
Available in 25 glossy shades ranging from nudes, pinks & reds to browns and plums, the new Revlon Super Lustrous Glass Shine Lipsticks (paraben-free) are infused with hyaluronic acid, aloe and rose quartz to deliver intense hydration.
Being a long-time fan of the original Revlon Super Lustrous Lipsticks, I couldn't resist trying out this new shiny, glossy version of the classic! Not to mention, lately I feel like I have hoarded too many matte lipsticks in my makeup collection so that was another good excuse to get my hands on these new lippies!
I purchased 3 shades – Beaming Strawberry (pink lemonade), Glazed Mauve (mauve) and Dazzle Me Pink (dragonfruit pink)
Read on for my review and swatches!
Revlon Super Lustrous Glass Shine Lipsticks have a lightweight, buttery-soft texture that applies very smoothly. I love how the formula is truly moisturizing and just melts onto my winter-worn dry lips! It feels so nice and hydrating without being heavy. All it took was one swipe and I was hooked!
True to its name, this lipstick has a glossy finish that makes lips look super smooth and plump. The shine factor is lovely, minus the sticky feel of a gloss!
All the three shades I tried have a great color payoff. Unlike some glossy lipsticks that are too sheer, these are nicely pigmented with rich color that doesn't feather or bleed.
Here are the swatches: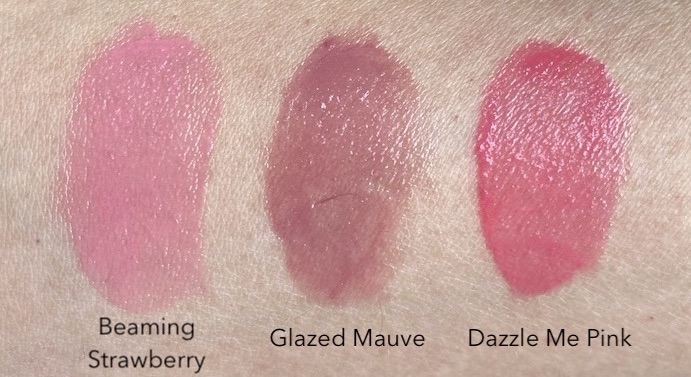 The only downside is that this lipstick isn't very long-wearing (but that's typically the case with most glossy lipsticks.) The glossiness lasts for only about an hour before fading away and then the color lasts for another 2 hours or so. I really don't mind reapplying though because of the decadent, buttery feel of these lipsticks.
Bottom line? Revlon Super Lustrous Glass Shine Lipsticks provide major moisture plus color with a healthy dose of shine! Although not long-lasting, this glossy lipstick is such a hydrating treat for dry lips. Available now at Walmart, Ulta Beauty, Amazon.com and CVS for $9.99 each.
Revlon SkinLights Prismatic Highlighter is another one of the latest launches by the brand. Available in 3 shades, this powder highlighter promises 'Pure glow without the glitter—just plenty of prismatic sheen'
I bought the shade Twilight Gleam (soft rose gold). It's beautifully textured to show off the elevated design! True to its claims, this highlighter has a silky-smooth formula that's easy to apply and blend. I love how it gives my skin a gorgeous glow and the formula is easily buildable without being frosty.
There's barely any fallout and it also holds up really well through the day without fading. The highlighter has the perfect amount of shimmer (not glitter) for a nice dewy sheen. If you have large pores like me though, make sure to blend well to avoid a chalky finish. Overall, it's a lovely drugstore highlighter well-worth picking up! Available at Amazon.com and CVS for $11.99