Affiliate links If I had a dime for every time I heard someone complain about their large pores (myself included!), I'd have about 1 million dimes. Seriously!
Despite being diligent with your daily skincare routine, you may still be struggling with clogged pore problems and that's so frustrating!
If you are looking for the best ways to make large pores smaller, you've come to the right place! But before we delve into the best treatment for large pores, let's first talk about what causes your pores to get bigger.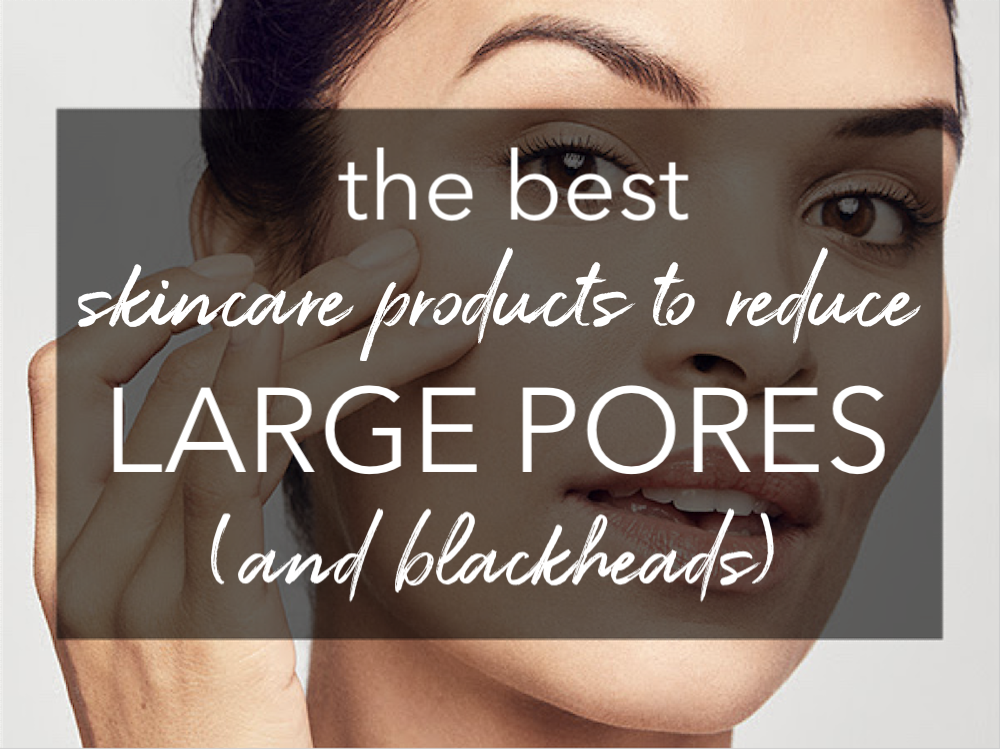 What Causes Enlarged Pores and Blackheads
The problem begins when your oil glands make too much oil inside the pores. This excess oil mixes with dead skin cells and gets trapped in the pores, forming a clog which eventually stretches out the pores and makes them look bigger. And when this accumulated oil clog is exposed to air, it oxidizes, creating blackheads.
The truth is you can't modify your natural pore size. But if your large pores are clogged, you CAN bring them back to their original, smaller size.
How To Make Large Pores Smaller?
By keeping them clear (through exfoliation) of any impurities or dead skin cells that could clog and enlarge them (also causing blackheads and breakouts.) And of course, by cleansing your skin day and night – get that makeup off, no matter how tired you are!
So exfoliating regularly is the key to preventing your pores from becoming clogged (and bigger!) While physical exfoliants like facial scrubs, Clarisonic brushes, muslin cloths can help, they only work on your skin's surface layers and can't unclog your pores.
When it comes to reducing large pores, a leave-on exfoliant with Salicylic Acid (a BHA i.e. beta hydroxy acid) is your best friend. Even exfoliants with Glycolic Acid can't get inside your pores and unclog them.
Clogged Pores Need Salicylic Acid
Salicylic acid is a multi-tasking skincare superstar that works wonders not only on large pores, blackheads and whiteheads but is also an amazing acne-fighter (it's commonly found in over-the-counter acne treatments!) That's because it exfoliates not just on the skin's surface but also penetrates deep inside the pores to dissolve all the crap that's clogging them up.
But don't let the word "acid" scare you. Salicylic acid is completely non-abrasive, and in fact it has soothing and calming properties that help reduce redness and inflammation (acne bumps are inflammations). It's truly a skincare savior for those with oily, acne-prone skin
Alright, now let's dive deeper into the best pore minimizing products that address the root of the problem and clear out clogged pores, without irritating skin.
Best Treatment For Large Pores: Salicylic Acid Exfoliants
1. Paula's Choice Skin Perfecting 2% BHA Liquid ($29)
This is a cult favorite and best-seller for a reason. It really works! One of the best treatment for large pores and blackheads, it features high-strength salicylic acid (2%) and antioxidant green tea in a lightweight liquid texture that goes on like a toner.
Lightly soak a cotton pad and apply it all over your face (excluding the eye area). Initially, it can feel slightly tacky. Wait for it to fully absorb before applying a moisturizer or sunscreen on top.
If you prefer a gel format, Paula's Choice Skin Perfecting 2% BHA Gel is the same formula in a water-light gel.
2. COSRX BHA Blackhead Power Liquid ($16)
This gentle, leave-on exfoliant is not just for blackheads – it also reduces large pores while fading discoloration and acne scars. It contains 4% betaine salicylate (a derivative of sugar beets) which is approximately equal to 2% salicylic acid—in a silicone-free clear gel that leaves no residue. It is also meant to be used all over your face – just apply a thin layer, avoiding the eye area.
Plus, it's more hydrating thanks to inclusion of hyaluronic acid and Niacinamide (another amazing ingredient that improves skin tone & texture and shrink large pores). If your skin is on the drier side and sensitive, you will love it as much as I do (it's the least drying BHA option!)
3. The Ordinary Salicylic Acid 2% Solution ($5.30)
This is a no-frills, straight forward formula with a super affordable price tag! It gives you 2% salicylic acid in a sheer gel. Salicylic acid is all you get here – no extras. But for the price, can you really complain?
4. Paula's Choice Skincare RESIST Daily Pore-Refining Treatment 2% BHA ($32)
If you are struggling with large pores, oily skin and wrinkles—all at the same time—this ultra-light, leave-on liquid exfoliant is your best bet! With 2% salicylic acid plus antioxidants and peptides, it targets multiple signs of aging and majorly reduce pore size.
If you have really stubborn clogged pores that need some serious help, try this super-charged pore-refining treatment with 4% BHA that can also be used as a spot treatment for acne and blackheads.
On the other hand, if you have super-sensitive skin or struggle with rosacea – try Paula's Choice Calm Redness Relief 1% BHA Lotion that contains soothing plant extracts, like green tea, oats and licorice to reduce redness.
5. Drunk Elephant T.L.C. Framboos Glycolic Night Serum ($90)
If you have dull, dry and congested skin showing signs of aging and sun damage, Drunk Elephant Glycolic serum is the way to go. It has both Glycolic acid (12%) and Salicylic acid (1%), plus antioxidants so you have all bases covered in terms of smoothing skin texture. It's an all-rounder for aging skin with large pores!
6. The Inkey List Beta Hydroxy Acid ($10.99)
New at Sephora, this is another affordable treatment for large pores and blackheads that gets the job done fast! It features 2% Salicylic Acid along with zinc (that helps reduce excess oil) and hydrating hyaluronic acid. Touted as an an alternative to The Ordinary, this new brand is budget skincare worth your bucks!
NOTE: If you start using one of the above leave-on BHA exfoliants, you don't necessarily need to use a cleanser or toner with salicylic acid. In fact, salicylic acid needs to stay on the skin for hours to work its magic so a cleanser that will be rinsed off quickly won't have any benefit in terms of reducing large pores.
Minimize Pores With Niacinamide
Another effective ingredient to make large pores smaller is Niacinamide (vitamin B3). Niacinamide is actually an amazing multi-tasker that hydrates and brightens skin, soothes redness, fades dark spots and acne scars. You name it, it does it!
How does it help to shrink large pores? Niacinamide has been found to help balance sebum (oil) excretion rate and also improve elasticity to tighten up the skin around pores, making them look smaller. And it's gentle so even extra-sensitive skin types can reap its benefits without the risk of irritation!
Best Treatment For Large Pores: Niacinamide Serums
Paula's Choice 10% Niacinamide Booster ($44)
Packed with a whopping10% Niacinamide, this serum booster improves uneven skin tone and texture, tightens pores and reduces fine lines. With a water-like weightless texture that's suitable for all skin types, it also contains an impressive mix of antioxidants including Vitamin C.
The Ordinary Niacinamide 10% + Zinc 1% ($5.90) – This budget-friendly serum gives you the best bang for your buck with a concentrated dose of Niacinamide along with Zinc which is a particularly good combination for oily, acne-prone skin.
Revolution Skincare Blemish And Pore Refining Serum 10% Niacinaminde + 1% Zinc ($7)
Formulated with the skin-soothing combination of zinc and Niacinamide in high doses, this one also tackles large pores and breakouts at an affordable price point. The gentle, weightless serum layers seamlessly under makeup and other skincare products. Cruelty-free
Good Molecules 10% Niacinamide Serum ($6)
Another affordable serum that does a great job of reducing pore size, smoothing and brightening skin with a potent concentration of 10% Niacinamide. Great for dry skin types, it also hydrates nicely and is fragrance free.
Use Retinoids To Reduce Large Pores
If you've got large pores, a long-term (but very effective!) approach is to start using a product with retinoids. Retinol is a proven anti-aging power player that can practically solve any skincare woe from fine lines and wrinkles to hyper pigmentation.
Retinol's super power lies in its ability to accelerate cell turnover (skin's natural exfoliating process) and stimulate collagen production, which makes skin look younger and smoother. And when skin is firm and tighter, pores look smaller. It's an ongoing thing!
Prescription-strength creams work best, but you need to start with lower-strength retinol to help the skin build tolerance and avoid potential irritation. Use the product two to three times a week, and then increase the dose and frequency gradually.
Drunk Elephant A-Passioni Retinol Cream ($74, it's pricey but AMAZING!)
The Inkey List Retinol Serum ($9.99)
DERMAdoctor Picture Porefect Pore Minimizer ($42)
Want more options? Here are some of the best retinol creams and serums under $50 that are gentle and effective.
Looking For A Quick Pore Reducing Fix?
If you want instant gratification, oil-absorbing face masks like those with charcoal and clay can be a great solution to "de-gunk" pores! Formulated with a blend of charcoal and clays like kaolin and bentonite, these masks not only soak up skin's surface oil but also draw out pore-clogging debris (oil and dirt) which makes large pores look smaller temporarily.
Here are some of the best face masks for large, clogged pores and oily skin:
Clinique Pore Refining Solutions Charcoal Mask ($28)
Sand & Sky Australian Pink Clay Porefining Face Mask ($49)
Origins Clear Improvement Active Charcoal Mask to Clear Pores ($26)
SEPHORA Collection Clay Mask Green ($8)
L'Oreal Paris Detox & Brighten Pure-Clay Mask ($6.65)
Urban Skin Rx Purifying Pumpkin Pore Detox Mask and Scrub ($17.99)
BOSCIA Charcoal Pore Pudding Intensive Wash-Off Treatment ($38)
Last but not the least, here are some of the best cleansers for oily, congested skin that will be a great addition to your pore-minimizing and blackhead-busting skincare routine. Gentle and effective, they remove dirt, makeup and excess oil to leave your skin looking clean & fresh but not dry or tight.
Clean & Clear Daily Pore Cleanser ($5)
Clinique Blackhead Solutions 7 Day Pore Cleanse & Scrub ($24)
The Inkey List Salicylic Acid Cleanser ($9.99)
Garnier Nutritioniste Clean + Blackhead Eliminating Scrub for Oily Skin ($8.48)
Neutrogena Pore Refining Exfoliating Cleanser ($6)
Clinique City Block Purifying Charcoal Clay Mask + Scrub ($28)
Ditch Those Peel-off Pore Strips
In case you are wondering why I didn't mention pore strips to get rid of blackheads, that's because pore strips do more harm than good. Not too long ago, I used to be an avid user of Biore pore strips but later found out that pore strips might actually make them bigger in the long run.
No doubt, there's something oddly satisfying about pulling off that strip to see all the gunk, but those blackheads always come back right? When you rip the strip off, it stretches the pore and can irritate or tear skin, which means that over time you will end up seeing more blackheads, not fewer.
So, there you have it…the ULTIMATE No-BS guide to reducing large pores and keep them from coming back! Now that you know all about the best treatment for large pores and blackheads, you can minimize your pore size with the right combination of skincare products AND consistent use.

Shop this post…