PR sample Urban Decay All-Nighter Setting Spray is one of the brand's most iconic makeup products. This longtime bestseller is a cult-favorite among beauty lovers and for good reason! It makes sure your makeup won't budge, no matter what!
And now Urban Decay has expanded the All Nighter family to include two new additions. Yes, now there are two new ways to get your All Nighter Fix and keep your makeup looking selfie-status approved!
Say hello to the NEW Urban Decay All Nighter Face Primer and All Nighter Ultra Matte Setting Spray.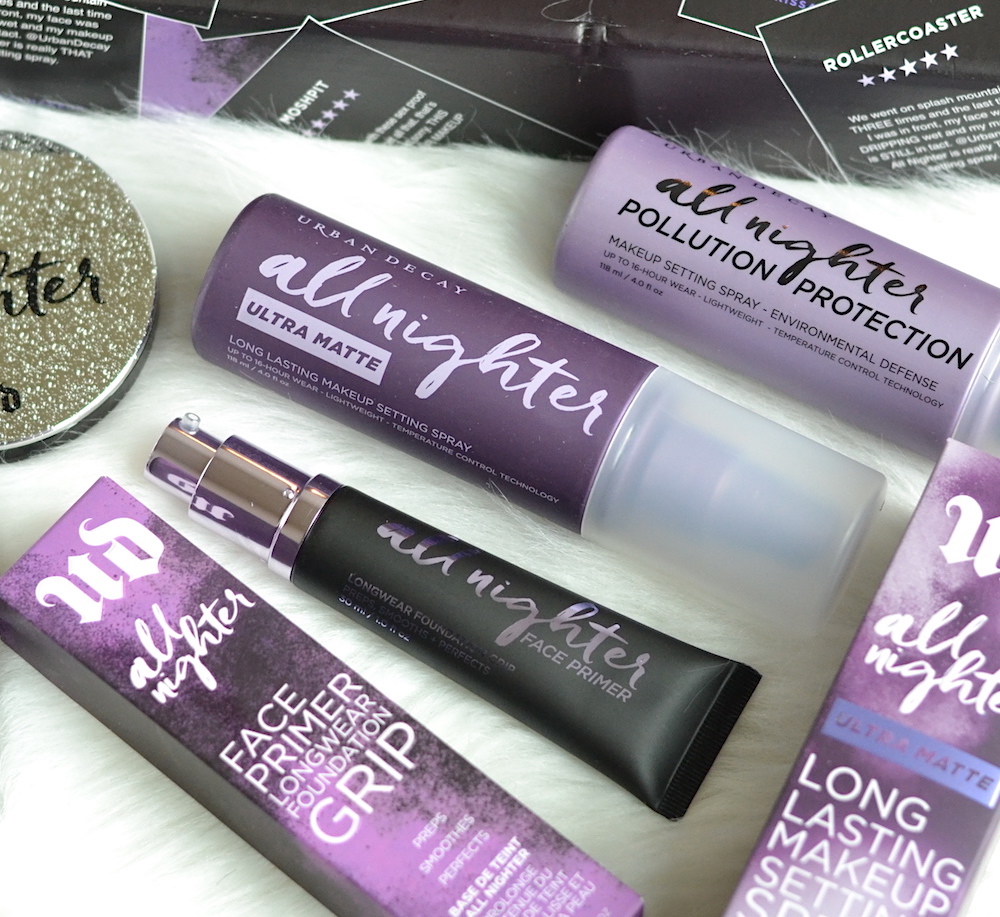 Let's talk about the Urban Decay All Nighter Primer ($36) first. It is described as a smoothing and hydrating primer that grips foundation into place and boosts its staying power so it looks fresh for up to 8 hours.
This primer promises to prep skin, giving it a lifted feel and a hit of hydration (its ingredient list includes hyaluronic acid) It's also designed to reduce the look of fine lines and erase the appearance of pores.
Does it really live up to its claims though? Keep reading to find out…

Urban Decay All Nighter Primer goes on sheer, silky soft to the touch and melts into skin without that too-slick silicone texture sitting atop my face. It makes my skin feel very smooth while adding a light dose of hydration.
As suggested, I use it over clean, moisturized skin with fingertips. I was actually expecting this primer to have a totally matte finish but was pleasantly surprised to see that it has more of a satin finish (not shiny or glowy) that doesn't matte-out my skin's natural look.
It does a great job of smoothing my skin's texture and creates a satiny base that holds onto makeup well. The formula is really lightweight so it doesn't feel like I'm wearing an extra layer under my makeup.
When it comes to pore-blurring, this primer doesn't 'erase the appearance of pores' as promised (no product can truly make them disappear anyways when you have pores as big as mine!) However, I can attest that it smooths and minimizes the look of my pores so they're definitely less noticeable under foundation. Overall, this primer gets my wholehearted seal of approval!
The newly released Urban Decay All-Nighter Ultra Matte Setting Spray ($33) locks makeup in place while absorbing oil on the skin's surface and controlling shine for an ultra-matte finish that lasts up to 16 hours. No more makeup meltdowns!
While the original All Nighter setting spray delivers a more natural, skin-like finish, this new Ultra Matte version mattifies skin and sets your look to keep makeup looking shine-free all day without any touch-ups. This one is just perfect for those with combination to oily skin! I have dry skin and don't really need a setting spray every day, but I think this one will be great to sweat-proof my makeup in the summer.
For an extra-mattifying effect and more shine reduction, Urban Decay suggests using it before and after applying makeup. You can also wear it alone on makeup-free days to keep shine at bay.
Pro -tip from Urban Decay: If you see white droplets on your skin after you spray, that's just the kaolin clay and ultra-mattifying effect at work! Shake the bottle 5 times to activate the formula, then prime it by pressing fully down on the pump and spraying it in the air a few times. This ensures even and translucent application.

There's also one more setting spray in the All Nighter lineup – Urban Decay All-Nighter Pollution Protection Setting Spray ($34) This one is infused with a blend of minerals including zinc, magnesium and copper, that protect skin against free radicals.
This setting spray provides the same finish and performance as the as the original All-Nighter, but the only difference is the inclusion of extra minerals to shield against environmental damage.
Bottom Line
I am loving the latest additions to the Urban Decay All Nighter lineup. The new All Nighter Face Primer is super smoothing and provides the perfect base that my foundation practically glides over (and stays put!)
The Urban Decay All-Nighter Ultra Matte Setting Spray has a kaolin clay-infused, vegan formula that knocks out oil and shine while setting your makeup in place. Just perfect for oily skin!
Urban Decay All Nighter products are available at Sephora, Macy's, Nordstrom and Ulta Beauty
Shop this post…