You've probably seen the phrase 'skin cycling' all over your TikTok or Instagram feed. Skin cycling routine is all the rage these days, so I thought I'd give you my take on it.
But first, what exactly is skin cycling? How does it work? And most importantly, why would you want to follow this skincare trend?
What is Skin Cycling?
Skin Cycling is a 4-day night-time skincare schedule that helps maximize the benefits of your skincare products, by alternating 'treatment' nights and 'recovery' nights in your routine. This way you get the most out of your active ingredients without irritating or drying out your skin.
Skin cycling routine is perfect for all skin types, whether you have dry or super oily skin. It's especially great for those with sensitive skin as it allows your skin to recover in-between using powerful anti-aging active ingredients, preventing any potential irritation or redness that may occur. So, it's a simple and strategic way to keep your skin healthy & happy!
While the term "skin cycling" is new — it was created by Whitney Bowe, MD, a New York City–based dermatologist— the concept has been around for a while. This method has been trusted and recommended by dermatologists and estheticians for years!
How Skin Cycling Works
The classic skin cycling routine is a four-night cycle — the first is exfoliation night, the second night features retinol, and the third and fourth are recovery nights where you focus on hydration and repairing your skin barrier. Once you finish the cycle, you repeat the process.
Now let's get into the details of my skin cycling routine…
NIGHT 1: EXFOLIATION
This step resurfaces dull, congested skin to improve uneven skin tone and texture while reducing hyperpigmentation, fine lines and pores for a smoother & brighter complexion.
1. Cleanser: Any gentle cleanser will do, so use your favorite! Mine is CeraVe Hydrating Cream-to-Foam Cleanser ($17)
2. Chemical exfoliant: Choose something with AHA's (like glycolic and lactic acid) and/or BHA (salicylic acid) at a strength that works for your skin. BHA is better for oily, acne prone skin types and curbs excess oil while reducing the appearance of large pores and blackheads.
One of my top favorites is the Drunk Elephant T.L.C. Framboos Glycolic Resurfacing Night Serum that contains a blend of 10% AHA and 1% BHA along with soothing plant extracts. It gives skin an overnight glow!
Featured below are some of my other favorite exfoliating serums, I usually alternate between these products.
3. Hydrating serum: I have dry skin so I like to incorporate a hydrating serum and the Inkey list Polyglutamic Acid serum ($14.99) is fabulous!
4. Moisturizer: Finish your skincare routine with a moisturizer of your choice. I love the Biossance Squalane + Omega Repair Cream ($60) that does a great job at soothing and nourishing skin without being greasy and provides long-lasting moisture.
NIGHT 2: RETINOL
The second night of skin cycling routine is focused on retinol, which is a well-known powerful anti-aging ingredient. It helps firm skin, reduce the appearance of fine lines & wrinkles while also helping to fade dark spots and discoloration from sun damage.
1. Cleanser: Again, any gentle cleanser is fine, so use your favorite! Here I have featured the It Cosmetics Confidence in a Cleanser that works well for me.
2. Hydrating Serum: I make sure to use a hydrating serum first before retinol (as retinol can make skin feel dry, flaky) The serum helps hydrate while providing a buffer between your skin and retinol product. I really like the Axis-y Aqua Boosting Ampoule, it's great and affordable too!
3. Retinol: I use the Drunk Elephant A-Passioni cream ($74) that contains 1% retinol along with peptides and soothing plant oils to moisturize and minimize irritation. This one is my all time favorite! I apply a small pea size and dot it all over my face, and then massage it gently into my skin. You only need a small amount so don't be generous with your retinol serum or cream!
It's important to choose a retinol % that suits your skin (see my retinol tips for best results). If you are a retinol beginner or have sensitive skin, start with something low (like 0.1% to 0.3%) to prevent irritation and then gradually move up to a higher concentration. Shown below are some other great retinol options…


4. Intensive Moisturizer: The last step is to add a generous layer of a moisturizer to keep your skin well-hydrated! On retinol nights, I like to use a rich cream or a thicker moisturizer to lock in all the moisture and give my skin extra hydration! One of my favs is the Kiehl's Ultra Facial Overnight Hydrating Face Mask with 10.5% Squalane that keeps my dry skin nourished.
For oily/acne-prone skin, use a moisturizer suited towards your skin type. Some good options are CeraVe Facial Moisturizing Lotion, Skinfix Skin Barrier Restoring Gel Cream and e.l.f. Holy Hydration! Hydro-Gel Moisturizer.
NIGHTS 3 and 4: RECOVERY
The 3rd and 4th nights in skin cycling are meant to serve as a repair & recovery period for your skin, and keep your skin barrier healthy and protected. So, hold off on the exfoliating acids and retinoids, and use products that are healing, nourishing and hydrating.
Look for products that contain ingredients like ceramides, omega fatty acids, peptides, glycerin, colloidal oatmeal, caprylic/capric triglycerides, allantoin, squalane, Hyaluronic acid, and emollients like shea butter that help skin retain moisture and strengthen the skin's barrier.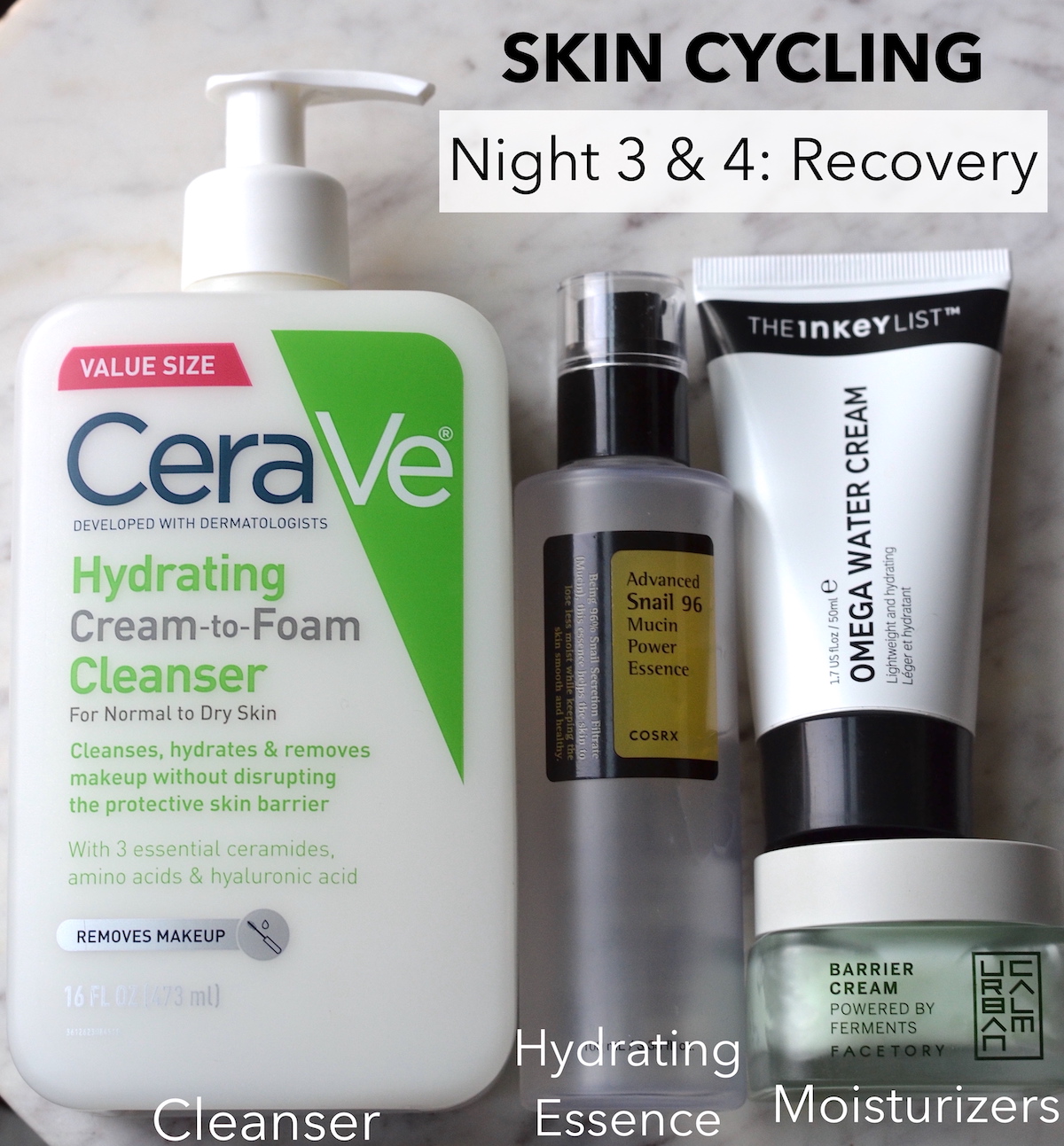 1. Cleanser: Any gentle cleanser will do! Again, I use my favorite CeraVe Hydrating Cream-to-Foam cleanser.
2. Hydrating Essence/Serum: Use your favorite hydrating serum or essence, or both! I love adding CosRx Snail Mucin essence ($21) to my barrier repair routine because it's very hydrating and soothing. And the texture isn't too sticky or tacky! I am also a big fan of the Cocokind Ceramide Barrier Serum ($21)
3. Moisturizer: The goal is to maximize hydration and repair your skin barrier so I layer 2 moisturizers in this step. Some of my favorite options are the Inkey List Omega Water Cream ($10.99) and Facetory Barrier Cream. Both of these are non-greasy, lightweight, soothing and add a healthy dose of hydration without a heavy feel. Shown below are some of my other favorite moisturizers…

If my skin is feeling extra dry or irritated, I reach for a more intensive moisturizer like the La Roche-Posay Cicaplast Baume B5 ($14.99) or the Cocokind Ceramide Recovery Balm ($21.99) which is also great for night-time slugging!
Last, but certainly not least, always remember to wear sunscreen during the day. It's especially important when using chemical exfoliants and retinoids, as they increase the skin's susceptibility to UV damage.
I hope you found this post useful. Don't forget to save and bookmark this article for future reference!
Want to try skin cycling routine for yourself? Let me know if you have any questions in the comments below! I'd be happy to help.