PR samples Is all of this constant hand-washing leaving your hands dry and chapped? Yeah, mine too!
Stripping soaps, alcohol-based hand sanitizers and plastic gloves all take their toll, leaving hands super-dry and feel like sandpaper. Not cute — and definitely not comfortable, either.
Now that hand soaps are more important than ever, might as well make them skin-friendly and free of harmful chemicals. And even better if they are beautifully packaged, chic and cheerful! Because we could all do with a little hit of happiness every time we wash our hands, isn't it?
Enter Baylis & Harding Goodness Natural Hand Wash Collection!
Baylis & Harding, UK's #1 Décor Display hand wash brand, has introduced Goodness, an affordable and sustainably luxurious vegan collection that is kind to skin and kind to the planet. Launching in the USA for the 1st time, the natural hand wash line is now available exclusively at Target stores and target.com.
Made in England, Baylis & Harding Goodness Natural Hand Wash collection features 4 gorgeously addicting fragrances – Lemongrass & Ginger, Sea Kelp & Peppermint, Rose & Geranium, and Oud, Cedar & Amber.
Formulated with natural & organic extracts and essential oils (for the fragrance), these vegan hand washes have a 95% biodegradable formula that comes in a generous 16.9 oz, 100% recyclable bottle for just $5.99 each.
Baylis & Harding Goodness Natural Hand Wash line is also sulfate free, paraben free, dye free, silicone free, cruelty-free and dermatologist approved (mild & gentle). The formula uses a mild coconut-derived surfactant as an alternative to harsh cleansers like sodium laureth sulfate (SLES) and sodium lauryl sulfate (SLS) which can be irritating to sensitive skin.
In addition to mild plant-based cleansers, this hand wash is made with hydrating Glycerin and Panthenol (a form of vitamin B that moisturizes and strengthens skin). Plus, the formula also contains Allantoin which is known for its soothing and moisturizing properties.
Goodness' gorgeous fragrances include:
Rose & Geranium ​- Two of the most beautifully classic flowers in an English country garden, encased in beautifully minimalist packaging. ​This mood-boosting fragrance blends rose and geranium with ​rich amber and refreshing zesty top notes of lemon. Enriched by essential oils of lemon and geranium.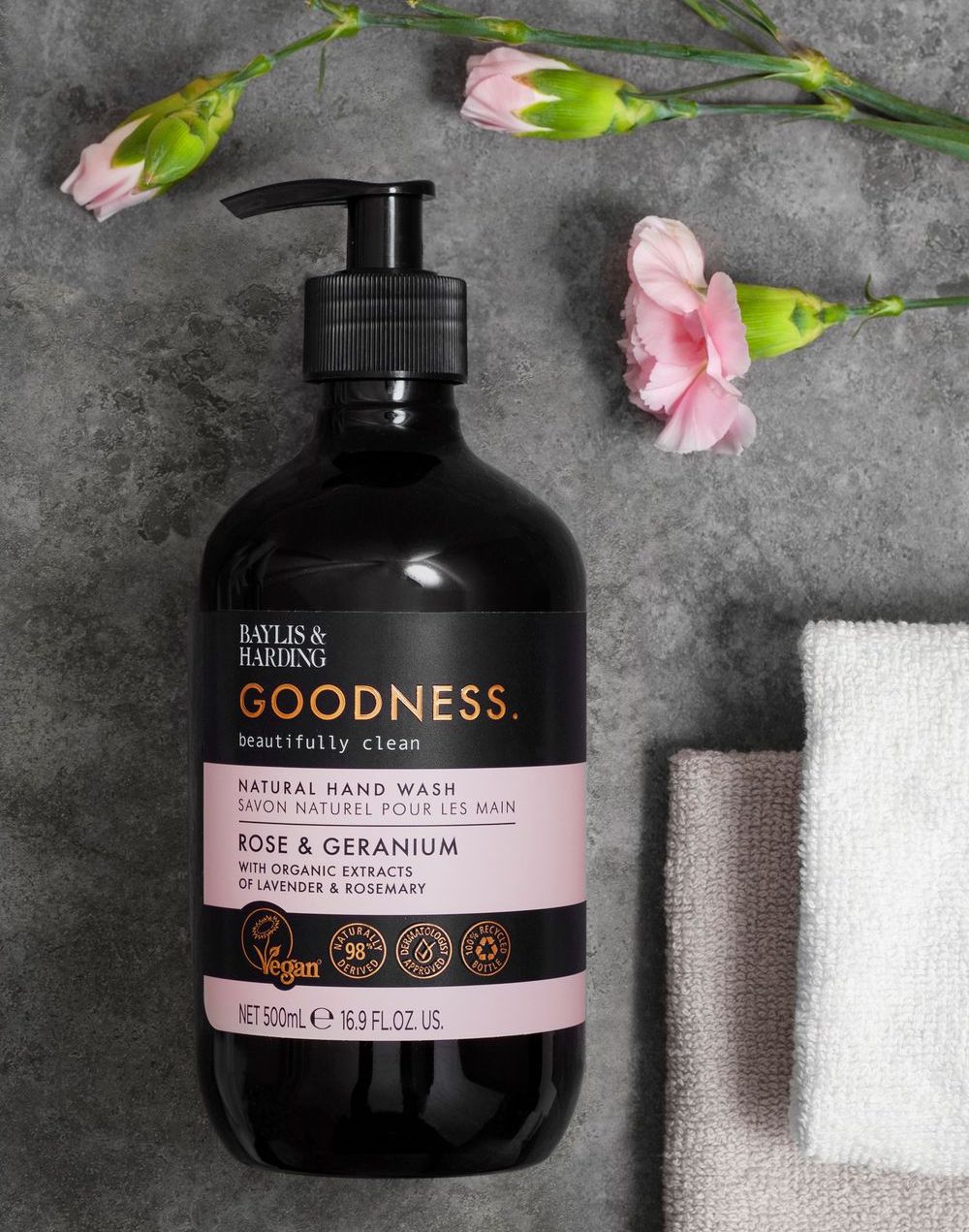 ​Sea Kelp & Peppermint – Refreshing and calming, this blend is a beautiful ​fusion of the ocean meeting an English ​​garden. With simply refreshing top notes of peppermint, green tea and sea salt, coupled ​with sea kelp and underpinned by cedar and ​amber. The beautifully fragranced collection ​is bolstered by the addition of essential oils of peppermint, orange, aniseed and lemon to nourish and enrich the skin.
​Oud, Cedar & Amber – Richly decadent, woody and refreshingly aromatic. An uplifting blend of citrus fruits with herbal ​notes and strong woody undertones add depth to this fragrance. Enriched by lemon, patchouli and sandalwood essential oils, this aromatic experience is not to be missed.
Lemongrass & Ginger – A perfectly matched compilation, with a rich heart of ginger and ​lemongrass, expertly blended with black ​pepper, citrus and bergamot for added ​freshness. Underpinned by nutmeg and ​cinnamon for spicy undertones, this sensory ​explosion is generously enriched by no fewer ​than ten essential oils; lemongrass, lemon, ​lime, orange, eucalyptus, nutmeg, patchouli, ​cedarwood, cinnamon, geranium.
Baylis & Harding Goodness Natural Hand Wash Collection gets a big thumbs up from me!
No nasties. Gentle plant-based formula that hydrates skin white it washes away dirt and germs. Affordable price, and the beautifully minimalist packaging is fully recyclable. Win-win, what's not to love? And, major bonus points for the beautiful fragrances that make you feel good! I am loving them all but the Rose & Geranium one is hands down my favorite!
Baylis & Harding Goodness Natural Hand Wash Collection is available at Target stores and target.com for just $5.99 each…an affordable luxury!
Shop this post…