Affiliate links Of all the skin care woes, acne has to be the hardest to deal with. If you also have acne-prone skin like me, and still battling pesky pimples long after your teen years, either because of hormonal imbalance, stress or any other triggers, you know the struggle is real!
And we have to be extra careful about the products we use in our skincare routine, be it a serum, face mask or moisturizer.
Image credit: Depositphotos.com
Serums are a great way to alleviate and treat acne because they are packed with a highly concentrated, potent dose of active ingredients that help reduce pimples and redness, and fade acne scars. Today I bring you a roundup of the best drugstore serums for acne-prone skin that can tackle your complexion concerns without irritation or dryness (and without a major blow to your bank account!)
These affordable and effective skin-smoothing serums won't clog your pores or feel heavy/greasy but will help treat acne, soothe & calm your complexion, while fading acne scars to improve the clarity and texture of your skin.
In short, they provide all the TLC acne-prone skin needs while being gentle! Keep reading to find out the perfect pick for you…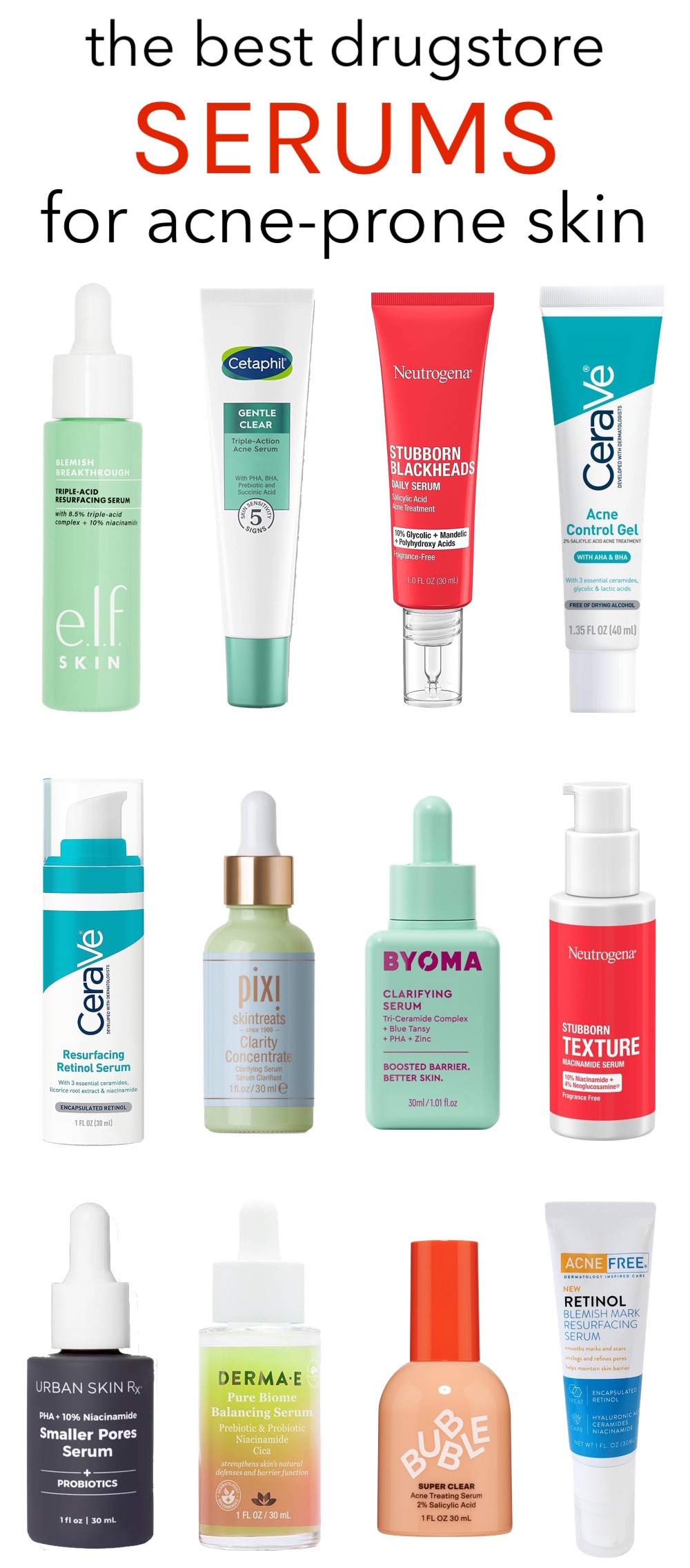 Best Drugstore Serums For Acne-Prone Skin

Cetaphil Gentle Clear Triple-Action Acne Serum ($11.95)
Formulated with blemish-fighting and pore-clearing salicylic acid, Succinic acid and PHA, this milky gel-serum improves the appearance of breakouts in just 3 days. It also contains soothing Niacinamide, zinc and prebiotics to help preserve skin's moisture barrier and give you for smoother, clearer skin. Designed to be gentle on sensitive skin, the formula is oil-free, fragrance free and non-comedogenic.
e.l.f. Blemish Breakthrough Triple-Acid Resurfacing Serum ($14)
Specifically designed for oily acne-prone skin, this night serum is powered by 8.5% triple-acid complex (Salicylic acid, Tranexamic acid and PHA) to clarify clogged pores and help treat blemishes. Plus, it also contains 10% Niacinamide to improve skin tone & texture, control excess oil and soothe skin. Fragrance-free and non-comedogenic.
CeraVe Acne Control Gel ($15.90)
This is a lightweight, hydrating full-face treatment that helps clear acne and prevent new breakouts while minimizing the appearance of pores without drying the skin. In addition to 2% salicylic acid, it contains 5.5% alpha hydroxy acids (a blend of Lactic and Glycolic Acid) for gentle exfoliation to smooth skin plus soothing Niacinamide and 3 essential ceramides that help maintain the skin's natural moisture barrier.
CeraVe Resurfacing Retinol Serum ($14)
Acne marks (also called post-inflammatory hyperpigmentation) and uneven skin tone can be constant reminders of breakouts, even after your acne is under control. Formulated with encapsulated retinol and licorice root extract, this serum helps brighten skin and fade acne scars while smoothing skin texture. Besides its anti-aging benefits, retinol is also an acne-fighter as it helps slough off dead skin cells (preventing pores from getting clogged) and decreases oil production.
In addition, it contains 3 essential ceramides that help restore your skin's protective barrier, along with soothing Niacinamide. Non-comedogenic and fragrance-free.
Neutrogena Stubborn Blackheads Daily Serum ($10.59)
Designed for oily acne-prone skin, this oil-free serum contains 10% glycolic acid which exfoliates to help remove pore-clogging dirt and debris. Plus, it has other exfoliants including 0.5% salicylic acid, 2.5% Mandelic acid and 2.5% Polyhydroxy acid to help clear up and eliminate stubborn breakouts and blackheads. The formula is fragrance-free, paraben-free and oil-free.
BYOMA Clarifying Serum ($15.99)
This gentle-yet-effective serum calms inflammation and balances breakout-prone skin while supporting skin barrier function. It contains a Tri-ceramide complex (ceramides, cholesterol, fatty acids) that works with a potent combo of blue tansy, PHA and zinc to soothe breakouts and gently exfoliate without drying out skin. Alcohol and fragrance-free.
Neutrogena Stubborn Texture Niacinamide Serum ($9.89)
Dealing with acne scars and dullness? Formulated with 10% Niacinamide and 4% Neoglucosamine, this serum improves uneven skin tone and refines texture while reducing dark spots and hyperpigmentation for smoother, brighter skin. The non-comedogenic formula is fragrance-free. Just don't forget to apply sunscreen every morning so you don't see those spots return!
AcneFree Retinol Blemish Mark Resurfacing Face Serum ($14.99)
Powered by encapsulated Retinol, this serum smooths skin while reducing the appearance of acne scars and marks caused by breakouts. It also contains Hyaluronic Acid and Ceramides for a double dose of moisture, plus Niacinamide that helps improve uneven skin tone and refines pores.
Pixi by Petra Clarity Concentrate ($24)
This clarifying serum with a trio of potent acids—Salicylic, Glycolic and Lactic—improves skin's clarity and minimizes the appearance of pores. In addition, the oil-free formula contains hydrating and soothing aloe vera, antioxidant-rich Licorice root extract and Rosemary leaf extract plus Niacinamide and Probiotics to balance skin.
Bubble Super Clear Acne Treating Serum ($17)
This acne-fighting serum uses a powerful combo of 2% salicylic acid and willow bark extract to help clear clogged pores and breakouts while reducing redness and oiliness. The fragrance-free formula is also infused with Neem Seed Oil that has antimicrobial properties. Plus, it contains Squalane to boost hydration and reduce irritation, and Collodial Oatmeal and Cica to soothe irritated skin.
The INKEY List C-50 Blemish Night Treatment ($15.99)
Although not a drugstore brand, the Inkey List products are affordable and effective! This overnight gel treatment targets breakouts and reduces the appearance of redness by morning. Its powerful combination of Vitamin C and Vitamin E helps reduce the bacteria count on your skin, helping prevent and curb breakouts. 2% Salicylic Acid also helps to exfoliate and unclog pores, while Lotus Extract helps to balance oil.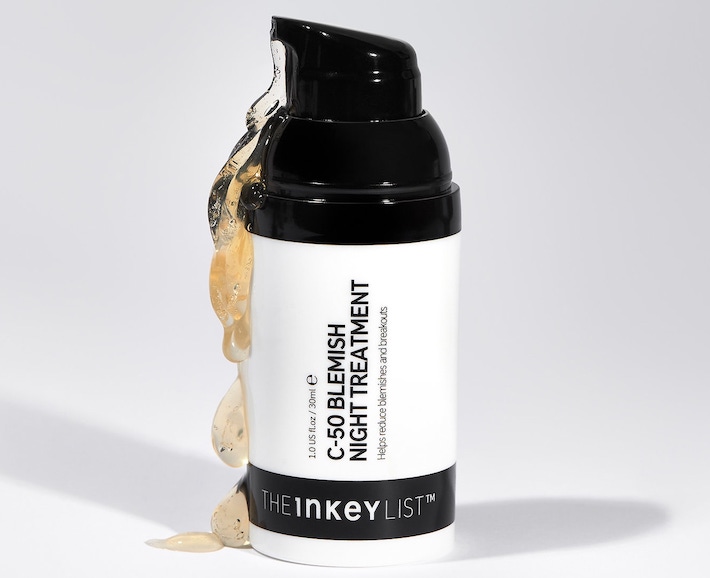 Urban Skin Rx PHA + 10% Niacinamide Smaller Pores Serum ($23.99)
This serum features 10% Niacinamide plus 2% Glycolic Acid and a Polyhydroxy Acid to deliver gentle exfoliation, decongestion, excess oil control and pore-tightening benefits. It also smooths rough skin texture, reduces redness and dark marks for a more even skin tone.
Cocokind Postbiotic Acne Serum ($18.99)
Great for sensitive skin, this serum is powered by 1.5% salicylic acid to clear congestion within pores and reduce breakouts effectively yet gently. Paired with postbiotics that balance good bacteria to keep skin healthy, and beta glucan (20% more hydrating than hyaluronic acid) this serum also hydrates while reducing redness and inflammation for a clear, comfortable complexion.
derma e Pure Biome Balancing Serum ($19.95)
Infused with a blend of fermented Ginseng root-derived Probiotics and Cica, this silky nourishing serum soothes any redness, dryness or irritation to keep your skin hydrated and flake-free. The fragrance-free formula also contains Niacinamide to strengthen skin's barrier and lock in moisture.
So, these are the best drugstore serums acne-prone skin needs for a clear complexion! Which of these will you be trying out?
Shop this post…