Affiliate links If you prefer zinc oxide based sunscreens like me but haven't been able to find a good one that doesn't leave a white cast on your skin, this roundup of the best mineral tinted sunscreens is sure to help you pick your perfect SPF.
Perfect for anyone looking for chemical-free sun protection, these tinted mineral sunscreens are lightweight (never greasy or goopy) and won't leave your skin looking chalky or ashy. Whether you prefer dewy, satin or matte finish, this list has options for every skin tone and type, at all price points!
So, here's the ultimate guide to the best mineral tinted sunscreens that tick all the right boxes in terms of texture, feel and finish (without worry of a white cast!)
Best Mineral Tinted Sunscreens For Your Face
1.First Aid Beauty Weightless Liquid Mineral Sunscreen SPF 30 ($34)
This one is truly an outstanding option for all skin types. Super lightweight with a sheer tint, it has a thin fluid texture that leaves skin feeling nicely balanced (not greasy, nor drying) It feels like next to nothing on the skin with a natural matte finish, which makes it suitable even for combination to oily and acne-prone skin. This is my favorite sunscreen to wear under makeup.
The fragrance-free formula protects with 16.8% zinc oxide and also contains antioxidants (green tea, vitamin C and E, licorice extract) to defend against environmental stressors.
The sheer tint blends in easily on most skin tones, but the color may be a bit dark for fair skin tones (that's not an issue though if you wear this under foundation, as the sheer tint isn't strong enough to come through) Full review here.
2. CeraVe Hydrating Sunscreen Sheer Tint SPF 30 ($14)
Formulated with 10% zinc oxide and 5.5% titanium dioxide, CeraVe tinted sunscreen protects and moisturizes while providing sheer coverage with a healthy glow. It smooths and evens out skin tone while still allowing natural skin to shine through.
The formula is hydrating without being heavy or greasy and has a lovely luminous finish (although you could certainly layer powder on top) It's very wearable in its own and pretty good under makeup. On my light-medium skin tone, the sheer tint blends seamlessly. According to CeraVe, it's a universally flattering tint that's intended to work on all skin tones (see photos here)
Plus, it also treats skin to hydrating ingredients like Ceramides, Niacinamide and Hyaluronic acid. Great for normal to dry and sensitive skin types. This is my current favorite drugstore sunscreen!
3. Supergoop! Mattescreen SPF 40 ($38)
Perfect for oily and combination skin, this tinted mineral sunscreen has a mousse-like velvety texture that absorbs quickly with a weightless matte finish. Not only does it smooth skin but also blurs the appearance of pores and helps provide shine control—whether you use it under makeup or on its own (yet it doesn't feel drying)
True to its claims, it does work well as a matte finish makeup-gripping primer under foundation. It comes in one sheer tint that's best for light-to-medium skin tones, but easily workable for fair and deep skin tones if you're going to apply foundation on top of this SPF.
Besides providing SPF 40 with 17.4% zinc oxide, the formula also boasts of argan oil and antioxidants that protect against blue-light. It's also water-resistant for up to 40 minutes, fragrance-free and cruelty-free.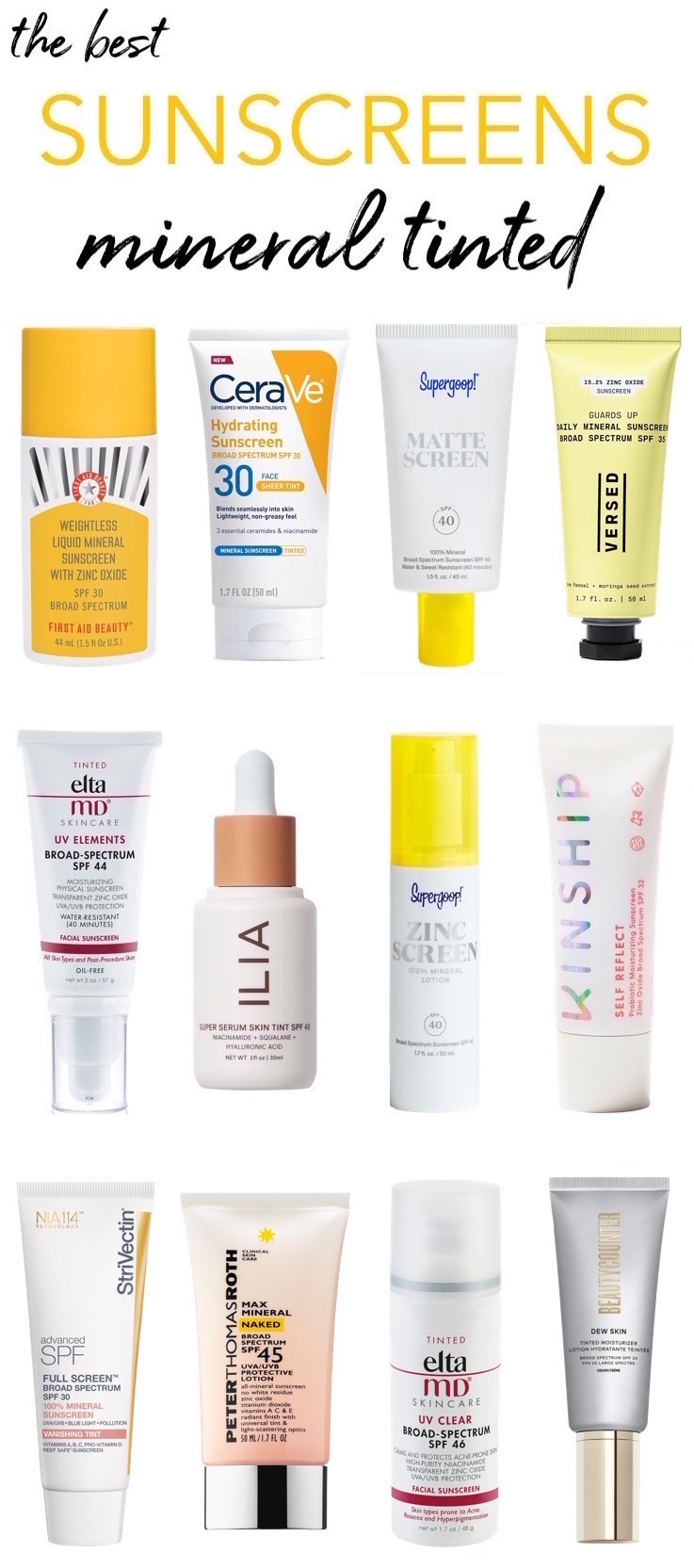 4. Versed Skincare Guards Up Daily Mineral Sunscreen SPF 35 ($21.99)
This mineral sunscreen has a hint of peachy tint that blends into skin seamlessly for both light and dark skin tones. The oil-free, creamy formula is lightly hydrating and absorbs quickly with a natural finish—not too dewy, not too matte. And there's absolutely no white cast!
In addition to its mineral active (15.2% zinc oxide), the formula contains beneficial antioxidants to defend skin from environmental pollutants. Also, it's vegan, cruelty-free and fragrance-free (great for sensitive skin)
5. EltaMD UV Elements Tinted Broad-Spectrum SPF 44 ($35.50)
Enriched with hyaluronic acid, this moisturizing mineral sunscreen comes in a sheer universal tint that blends easily for most skin tones. The lightweight oil-free formula sets to a natural, semi-matte finish and is non-comedogenic (won't clog pores) It also contains antioxidants vitamin C and E to combat skin-aging free radicals.
In terms of protection, this has 10% zinc oxide and 5.5% titanium dioxide, plus 40 minutes of water-resistance. It's gentle enough for even the most sensitive skin types, including post-procedure skin.
6. ILIA Super Serum Skin Tint SPF 40 ($46)
This oil-free skin tint not only offers all-mineral sun protection with 12% zinc oxide but also evens out skin tone beautifully with sheer, dewy coverage. Plus, it combines super active levels of hyaluronic acid, moisturizing squalane and skin-soothing Niacinamide (2%) to help improve and smooth skin texture.
Image credit: Ilia Beauty
With a weightless feel, this serum SPF is very wearable on its own for a natural look. The BEST part is that it's available in an impressive range of 18 shades for fair to deep complexions, so everyone should be able to find their match. It's fragrance-free, vegan and cruelty-free.
7. Supergoop Zincscreen SPF 40 ($42)
This mineral sunscreen has a light pink tint that becomes translucent on all skin tones, eliminating any white cast. It has a lightweight texture that feels moisturizing and absorbs quickly, leaving a slight dewy glow.
With 13% zinc oxide, it provides broad-spectrum SPF 40 and also includes winter cherry, coconut and blueberry fruit extracts that are rich in antioxidants. Free of any irritants or fragrance, this sunscreen also vegan and cruelty-free.
8. Kinship Self-Reflect Probiotic Moisturizing Sunscreen SPF 32 ($25)
Designed especially for acne-prone skin, this sheer tinted mineral sunscreen has been infused with soothing turmeric and Kinbiome (a plant-based probiotic) for a healthy & clear complexion. It contains an impressive concentration of 22.4% zinc oxide for broad-spectrum UVA/UVB protection.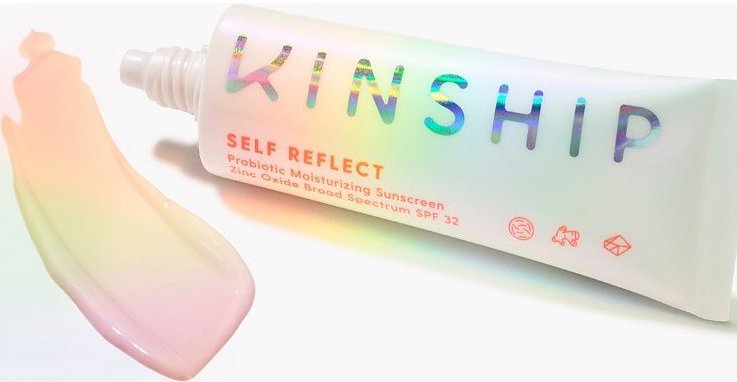 It has a light pinky-beige tint that dries down invisibly on all skin tones with a smooth, pore-blurring finish (even though there are no silicones). It leaves skin moisturized with a subtle glow (no greasiness though) Even sweeter: it smells like a vanilla cupcake. Also, vegan and cruelty-free.
9. Strivectin Full Screen SPF 30 100% Mineral Vanishing Tint ($39)
This tinted mineral sunscreen(16% zinc oxide) is supercharged with a host of good-for-skin ingredients like vitamins A, B, C and D, plus turmeric extract, argan oil and licorice root extract that work together to defend skin against damaging UVA/UVB rays, blue light and pollution.
Lightweight and sheer, it blends easily with a subtle hint of tint (that works well for all skin tones, even for medium to dark skin) With a soft matte finish, it wears well under makeup too. Great for all skin types, especially normal to oily and combination skin. The only drawback is a fairly strong fragrance but it does fade away quickly.
10. Peter Thomas Roth Max Mineral Naked SPF 45 ($38)
If you have been following me for a while, you might know this one is my holy grail sunscreen. It's also a wonderful tinted moisturizer with sheer coverage that evens out skin tone while adding a gorgeous lit-from-within glow. I LOVE it for makeup-free days but it also wears well under makeup without balling or pilling.
It offers superb sun protection (broad-spectrum SPF 45) with mineral actives zinc oxide (19%) and titanium dioxide (1.93%). Plus, the fragrance-free formula provides a healthy dose of hydration and also contains antioxidants vitamin A, C, and E. If you have dry skin like me, this one is sure to please!
It comes in one universal sheer tint that blends in effortlessly on fair to medium skin tones, but for deeper complexions, the tint likely won't be dark enough.
11. EltaMD UV Clear Tinted Sunscreen Broad-Spectrum SPF 46 ($38)
Formulated to calm and protect acne-prone skin, this tinted facial sunscreen contains a good amount of anti-inflammatory Niacinamide along with hyaluronic acid, vitamin E and lactic acid.
Super lightweight and oil-free, it has a cosmetically elegant texture with a natural matte finish and may be worn under makeup too. This one has a mix of mineral and chemical filters with 9.0% zinc oxide and 7.5% octinoxate. The fragrance-free formula is also recommended for rosacea and hyper pigmentation
12. Beautycounter Dew Skin Tinted Moisturizer SPF 20 ($45)
If you're looking for more of a tinted moisturizer than a tinted sunscreen, try this one by Beautycounter. It has a hydrating gel-cream texture with sheer coverage and soft dewy finish.
In addition to 14% zinc oxide, the formula features a blend of black currant seed oil, peony root extract and vitamin C to enhance skin's natural radiance. It comes in 6 shades ranging from Fair to Deep, so most skin tones should be able to find a good match.
Since this one is only has SPF 20, it's best to wear it on top of a more protective sunscreen (or use it on days when you won't be outside for long)
13. Unsun Everyday Mineral Tinted Face Sunscreen SPF 30 ($15.99)
Specifically designed for women of color, this is a great mineral tinted sunscreen for dark skin tones. It blends into skin without a trace and doesn't make dark skin look chalky/ashy.
The medium tinted formula also contains antioxidants and moisture-rich plant extracts for lightweight hydration. Plus, it gets bonus points for being water-resistant for up to 80 minutes and cruelty-free.
The only drawback is that the formula contains only 3% zinc oxide and 3% titanium dioxide, so it's not super protective for days you plan to be outdoors for long. For more olive and deeper skin tones, it also comes in a darker shade that offers sheer coverage with a dewy finish.
14. Cetaphil Daily Facial Moisturizer SPF 20 ($14.50)
Specially formulated for redness-prone skin, this tinted moisturizer with SPF has a lightly hydrating formula with a smooth matte finish. Its neutral tint tones down redness while offering sheer coverage that's just enough to even out skin tone.
Along with mineral actives 10.1% titanium dioxide and 7.8% zinc oxide, it also contains soothing antioxidants that help provide environmental defense. The only downside is that its SPF 20 is on the lower side.
So, these are the best mineral tinted sunscreens that not only protect against harmful UV rays but also even out your skin tone. Have you tried any of these? Do you have a favorite tinted sunscreen that's not on this list?
Shop this post…