Affiliate links As with all good things, summer is officially coming to a close. It's certainly been an odd one, but I'm still sad to see it go. While it still might be some time before we're ready for berry lips and bronze eyeshadow, there are a lot of new drugstore skincare products popping up for fall 2020.
From soothing & brightening serums to nourishing moisturizers and masks, there's something for every complexion concern in this new drugstore skincare lineup for fall!
Read on to check out some of the most exciting skincare launches to put on your shopping list before your next Target or CVS run!
New Drugstore Skincare Fall 2020
1. Pacifica Vegan Collagen Skincare Collection
Pacifica has introduced a new skincare line formulated with vegan collagen (produced through plant-based fermentation process) plus other active ingredients for a healthy, radiant complexion. The collection includes:
Vegan Cream Creamy Gel Cleanser (sulfate-free)
Vegan Collagen Hydrating Milk Tonic (with chamomile and orange flower)
Vegan Collagen Complex Serum (with hyaluronic acid and Japonica Seed Oil)
Vegan Collagen Every Day Lotion SPF 30 (with aloe, flower extracts and hyaluronic acid)
Vegan Collagen Overnight Recovery Cream (with Vitamin C, Vitamin E and antioxidants)
Vegan Collagen Recovery Eye Cream (with hyaluronic acid and caffeine)
Image credit: Pacifica Beauty
2. Aveeno Calm + Restore Skincare Collection
Designed especially for sensitive skin, this new skincare range is formulated with nourishing triple oat complex and calming feverfew to soothe and hydrate. Includes Calm + Restore Triple Oat Serum ($24), Calm + Restore Oat Gel Moisturizer ($24) and Nourishing Oat Cleanser ($11.99)
3. Neutrogena Rapid Tone Repair 20% Vitamin C Serum ($27)
Formulated with 20% pure Vitamin C, this serum helps to visibly reduce the look of dark spots and early signs of aging for a luminous and even-toned complexion. Oil-free and non-comedogenic, the brightening serum comes in biodegradable seaweed-derived capsules. Free of parabens, alcohol, fragrance and dyes.
4. Olay Regenerist MAX Wrinkle Serum ($32)
Crafted with Olay's max concentration of Skin-Energizing Complex with Vitamin B3+ and peptides, this lightweight serum penetrates the surface of skin to visibly reduce wrinkles and smooth texture.
5. L'Oréal Revitalift Derm Intensives 3.5% Glycolic Acid Cleansing Gel ($9.99)
Formulated with 3.5% pure glycolic acid and soothing aloe extract, this cleansing gel removes impurities and makeup while gently exfoliating skin and and prepping it for serum/moisturizer application. Non-drying and designed for daily use.
6. Neutrogena Stubborn Marks PM Treatment with Retinol ($19)
Powered by Retinol SA, this night-time treatment helps reduce acne scars and improve uneven skin tone. It exfoliates skin and speeds up cell turnover while you sleep without over-drying the skin. Fragrance-free, oil-free and non-comedogenic.
7. Yes To Watermelon Super Fresh Facial Cleanser ($8.99)
Formulated with watermelon extract and vitamin C to lightly hydrate and naturally tone skin, this gel texture cleanser transforms into a lather to gently dissolve and breakdown makeup, oil, dirt and impurities leaving skin clean and smooth, never stripped.
8. L'Oreal Revitalift Derm Intensives Night Serum 0.3% Pure Retinol ($29)
This new L'Oreal serum with 0.3% Pure Retinol is a potent formula that helps reduce wrinkles, even deep ones while smoothing texture and moisturizing. This anti-wrinkle serum is fragrance-free, silicone-free and paraben-free.
9. Pacifica Clean Shot BHA/AHA 25% Peel Solution ($12)
Formulated with glycolic acid, vegan lactic acid and salicylic acid, this powerful rinse-off peel helps dissolve dirt & debris, resulting in a more even tone and texture. It also contains other skin-loving ingredients like turmeric, willow bark, basil and azadirachta flower to soothe skin.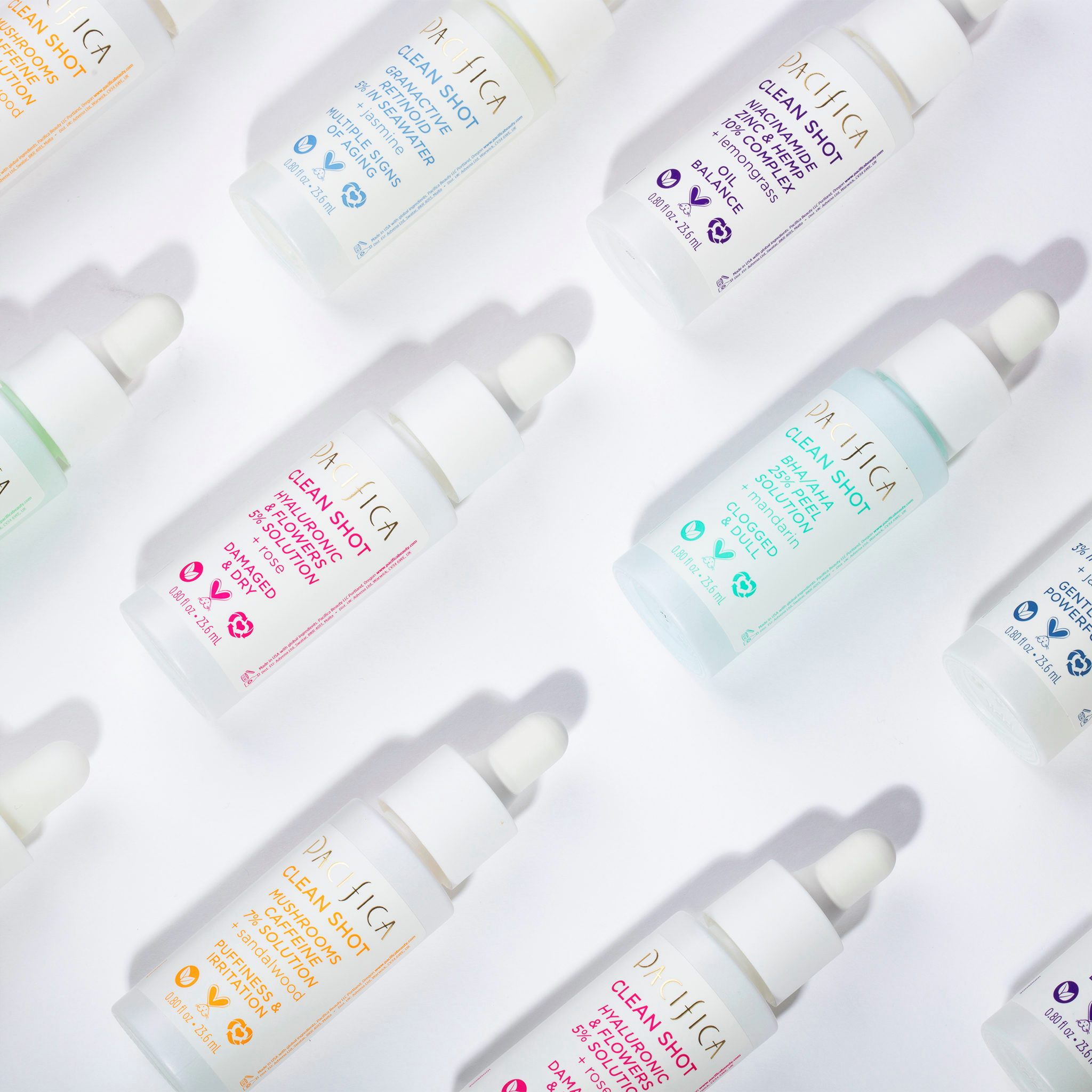 Image credit: Pacifica Beauty
10. Neutrogena Stubborn Acne AM Treatment 2.5% Benzoyl Peroxide($10.79)
Made for acne-prone skin, this daytime treatment with 2.5% micronized Benzoyl Peroxide penetrates pores to kill acne-causing bacteria, reducing breakouts and redness without tightening or over-drying the skin. Can be used on full-face. Fragrance-free, oil-free
11. Olay Regenerist Brightening+ Vitamin C Serum ($29)
Formulated with Vitamins C, B5 and Niacinamide, this powerful serum hydrates, brightens and evens skin tone to make your skin glow with healthy radiance. It's fast absorbing and leaves skin feeling smooth, so you won't be left with any sticky or greasy residue. Made without parabens, phthalates, mineral oil, or synthetic dyes (EWG verified)
12. Neutrogen Skin Balancing Clay Cleanser For Oily Skin ($8.69)
This soap-free face wash for oily skin is formulated with kaolin clay to target pore-clogging dirt and 2% polyhydroxy acid (PHA) to decongest. It conditions skin and absorbs excess oil with every wash leaving it feeling soft and looking matte. There's also a new Purifying Gel Cleanser for combination skin and Moisturizing Milky Cleanser for dry and sensitive skin.
13. Differin Detox + Soothe 2-Step Treatment Mask ($18)
This 2-step, multi-benefit mask is designed to help address acne-related concerns and reduce the appearance of pores and redness. First, a self-warming Kaolin Clay mask draws out impurities and remove excess oil, followed by a leave-on cooling gel with blue tansy oil and licorice extract to soothe and hydrate.
14. Yes To Grapefruit Vitamin C Nourishing Moisturizer ($12.99)
This rich, creamy moisturizer melts into skin and absorbs quickly, leaving skin supple and soft. Formulated with coconut oil, shea butter, cocoa butter and avocado oil, it's ideal for all skin types especially those regularly using alpha hydroxy acids (AHAs) for exfoliation, to nourish and seal in moisture.
15. Olay Regenerist Hydrating Mineral Sunscreen SPF 30, Fragrance Free ($29)
With 17.5% zinc oxide, this new mineral sunscreen protects against broad-spectrum UVA/UVB rays while providing long-lasting hydration. It also contains Niacinamide and Peptides to smooth and improve skin texture. The fragrance-free formula absorbs quickly and leaves no greasy residue.
16. Pacifica Clean Shot Niacinamide, Zinc & Hemp 10% Complex ($12)
Designed for oily, congested and out-of-balance skin, this is a concentrated solution of niacinamide, zinc and hemp seed oil to reduce blemishes and minimize the appearance of large pores.
17. Differin Pore-Minimizing Toner With Witch Hazel ($8.49)
This alcohol-free toner is formulated with witch hazel to reduce excess surface oil without irritation and remove pore-clogging impurities. Suitable for all skin types, paraben-free.
18. Bliss Clear Genius Clarifying Collection
Designed for problematic skin, this new skincare range helps decongest pores, exfoliate dead surface cells and control excess oil production for a clear, calm & smooth complexion without dryness or irritation.
The Clear Genius collection includes a 2-in-1 Clarifying Toner + Serum (with salicylic acid, witch hazel water, niacinamide and zinc PCA), Clarifying Gel Cleanser and Clarifying Liquid Peel (with 10% blend of glycolic, lactic, salicylic and polyhydroxy acids)
20. Daily Calm Lightweight Moisturizer
This is another soothing skincare range designed for irritated, sensitive skin. Each product is formulated with a Calming Phyto-Blend to soothe + support natural skin barrier.
The fragrance-free collection includes Calm On Foaming Cream Cleanser, Calm & POREfect Serum (gently exfoliating, pore-refining serum that improves skin texture), Daily Calm Lightweight Moisturizer (hydrates and strengthens the skin barrier) and Calm & Go Face Mist (soothe redness and irritation)
21. Versed Game Over Acne Drying Treatment ($16.99)
Formulated with 10% sulfur plus bentonite and kaolin clay, this acne spot treatment absorbs excess oil and exfoliates dead cells, thus unclogging pores. The cream formula is easy to apply and stays put, without any mess.
22. Neutrogena Hydro Boost Hyaluronic Acid Serum 17% Hydration Complex ($19)
Formulated with 17% Hydration Complex, this serum contains high & low weight hyaluronic acid to deeply quench your skin. It also contains glycerin, Vitamin B5 and water-magnet trehalose to lock in moisture and provide weightless hydration.
23. eos The Hero Extra Dry Lip Treatment ($3.97)
Made for severely dry lips, this super moisturizing lip treatment has a rich, buttery feel that isn't sticky in the least. Packed with shea butter plus avocado and olive oil, it take your lips from extra dry to extra soft! Available in a natural strawberry extract flavor.
There's also a new eos The Fixer Medicated Lip Ointment ($3.99) which heals and repairs dry lips with an instant cooling relief.
24. L'Oreal Age Perfect Rosy Tone Cooling Night Moisturizer ($20)
Specifically designed for mature dull skin, this cooling night cream refreshes and moisturizes to give you more supple skin overnight. Over time, it firms skin and renews natural radiance.
25. Versed Skincare Doctor's Visit Instant Resurfacing Mask ($17.99)
Doctor's Visit is a weekly resurfacing facial that promises pro-grade results you don't need an appointment for—just two minutes! It features an AHA-BHA Complex: a triple threat of glycolic and lactic acid that dissolve dull, dead skin and help fade dark spots, while salicylic acid minimizes the appearance of pores and redness for brighter, smoother skin.
And that instant glow is all thanks to vitamin C-rich pineapple and papaya enzymes, which clarify, rejuvenate and soften skin. No tingling, no burning, just a post-facial glow in a flash. However, if your skin is on the sensitive side, this mask may not be right for you.
26. Olay Regenerist Retinol 24 MAX Night Serum Fragrance-Free ($32)
Olay's Retinol 24 serum is now in MAX form with 20% more Retinol 24 Hydrating Complex that helps to visibly smooth wrinkles and even skin tone. Contains no fragrance, phthalates, mineral oil, or synthetic dyes
27. e.l.f. Facial Oil Mist ($5)
e.l.f's latest collection includes six facial mists that combine unique blends of essential oils with skin-loving ingredients, infusing wellness and beauty into one product.
Each mist is infused with ingredients that have mood-boosting benefits to help calm & relax your mind and body. The mists are available in Restoring, Soothing, Loving, Balancing, Calming and Energizing.
So, these are some of the new drugstore skincare releases for fall 2020! Which of these products are you most excited about? 
Shop this post