If you love a good drugstore buy like I do, there's some seriously exciting news for you! Versed skincare has just launched a new facial peel (under $20) that promises pro-grade results in just two minutes — without any irritation!
Enter: Versed Doctor's Visit Instant Resurfacing Mask
This weekly resurfacing facial peel features a blend of both AHAs and BHAs (like skin-brightening glycolic acid, texture-smoothing lactic acid, and breakout-clearing salicylic acid), as well as enzymes derived from pineapples and papaya which are packed with the skin-brightening all-star vitamin C.
Product Description
Pro-grade results you don't need an appointment for—just two minutes!
A literal pot of gold featuring a triple-threat of AHA, BHA, and enzyme exfoliation, it tackles hyperpigmentation and boosts cell turnover to reveal a brighter, smoother and clear complexion. The lactic and glycolic acids dissolve dull, dead skin and help fade dark spots, while salicylic acid minimizes the appearance of pores and redness.
And that instant glow is all thanks to vitamin C-rich pineapple and papaya enzymes, which gently remove the outer layer of dead skin cells that trap bacteria and sebum to clarify, rejuvenate and soften skin.
No tingling, no burning, just a post-facial glow in a flash with results that build week after week.
Non-Toxic | Vegan | Cruelty-Free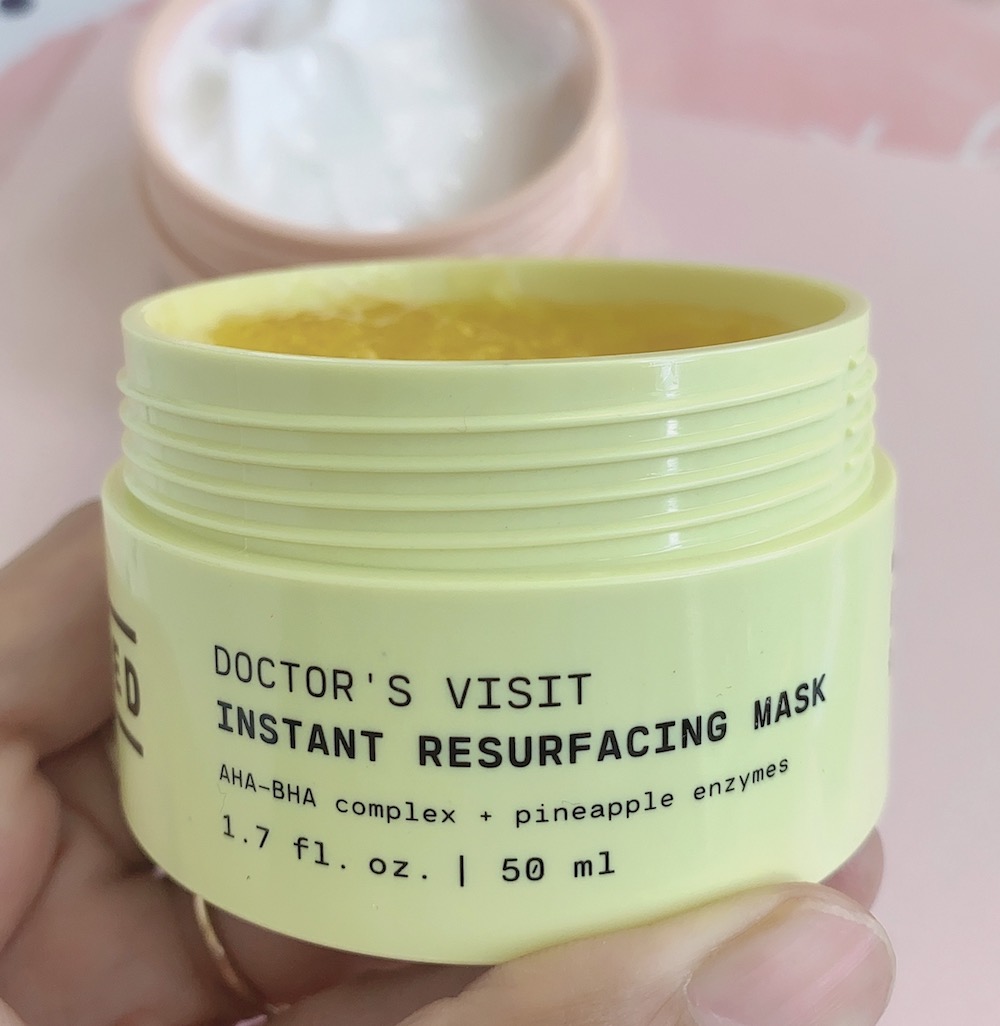 As you might know, I am not new to at-home facial peels. I have tried quite a few different ones, from the cult-favorite Baby Facial from Drunk Elephant to a professional strength intensive chemical peel and more!
The main reason I was drawn to Versed Doctor's Visit Mask (and purchased it as soon as it was released on their website!) is that it needs only 2 minutes to work (instant gratification, yes please!) Not to mention, it also claims "no tingling, no burning" which I found to be true!
Versed Doctor's Visit Mask has a lumpy jelly texture that applies easily like a light gel (check out the bouncy texture in my Instagram video below!) You just need to apply a thin, even layer to clean, dry skin and then rinse with cool water after 2-3 minutes.
True to its claims, this facial peel is gentle and doesn't cause any discomfort or stinging, unlike some of the other glycolic acid peels I've used. It doesn't bother me at all while on my face, nor does it leave my skin red or irritated.

As suggested, I just leave this mask on for 2-3 minutes and that's all it needs to work its magic! It gives me super-smooth, softer skin with a healthy glow in a flash!
The directions clearly state NOT to leave it on for more than 3 minutes, and avoid using other acid-based products or retinol for 24 hours before and after each use.
If you are new to facial peels, you might experience slight tingling with this product. And skin may look slightly pink afterwards, but don't freak out—that's normal and should subside quickly.
View this post on Instagram
However, if your skin is on the sensitive side, Versed Doctor's Visit Mask may not be right for you. A more mild option like The Shortcut Overnight Peel would probably be better.
I have been using the Versed Doctor's Visit Mask for 3 weeks now and I have definitely noticed an improvement in my skin's texture and clarity. My skin feels and looks brighter, smoother and supple. I can see the difference with glowing results every time and absolutely NO irritation!
Bottom Line
Versed Doctor's Visit Instant Resurfacing Mask delivers on all counts for a gentle yet effective and affordable facial peel. 2 minutes is all you need to see a difference and get a healthy glow, without any irritation or discomfort!
If dullness, dark spots and uneven skin texture are on your skincare woes list, this mask is a must-try for healthier, glowy skin! Cheers to Versed for this amazing and affordable skincare savior! Available at Target and versedskin.com for $17.99