Affiliate links Glycolic acid is one of the best known exfoliants that not only sloughs off dead skin cells to reveal smoother skin but also brightens & hydrates skin while boosting collagen production.
What is Glycolic Acid?
Glycolic acid is an alpha-hydroxy acid (AHA) that exfoliates the skin. Naturally derived from sugar-laden fruits like pineapple, papaya, or sugarcane, it has the smallest molecular size of all AHAs so it penetrates the skin more easily to work its skin-smoothing magic.
Related: Best Drugstore At-home Peels For Acne Scars
Why You Would Want to Use Glycolic Acid
The most notable benefits of glycolic acid include renewing skin tone & texture, increasing skin's moisture levels, fading hyperpigmentation and reducing wrinkles. Additionally, glycolic acid stimulates the production of collagen in your skin, which accelerates healing and fades any acne scars or discoloration.
Simply put, glycolic acid makes your skin softer, smoother, brighter and younger-looking!
Yes, glycolic acid is truly a hard-working hero that works wonders for all skin types, but especially perfect for dull, sun-damaged skin. Not to mention, AHAs pack a punch against acne too! Glycolic acid infused serums work well for acne-prone skin since they don't scrub away and irritate acne like physical exfoliators (scrubs, brushes etc) do.
Just keep in mind that when using glycolic acid, it's super important to slather on your sunscreen, as Alpha Hydroxy Acids (AHAs) can make your skin more sensitive to UV rays. So if you forget your SPF, you'll be more prone to get sun damage…kinda ironic but that's the way it is! In any case, its positives far outweigh the negatives so just wear your sunscreen and you're good to go!
If you're just starting out or your skin's very sensitive, start with a smaller concentration (like 5% glycolic acid) a couple of times a week. And then slowly upgrade to a higher strength formula when your skin gets used to it!
While we're on the subject, don't bother with facial cleansers containing glycolic acid. AHAs like glycolic acid needs to stay on your skin for a longer period of time (so it can absorb) to smooth and brighten your complexion. Your skin won't benefit much by using a face wash that needs to be rinsed off before AHAs can begin to work.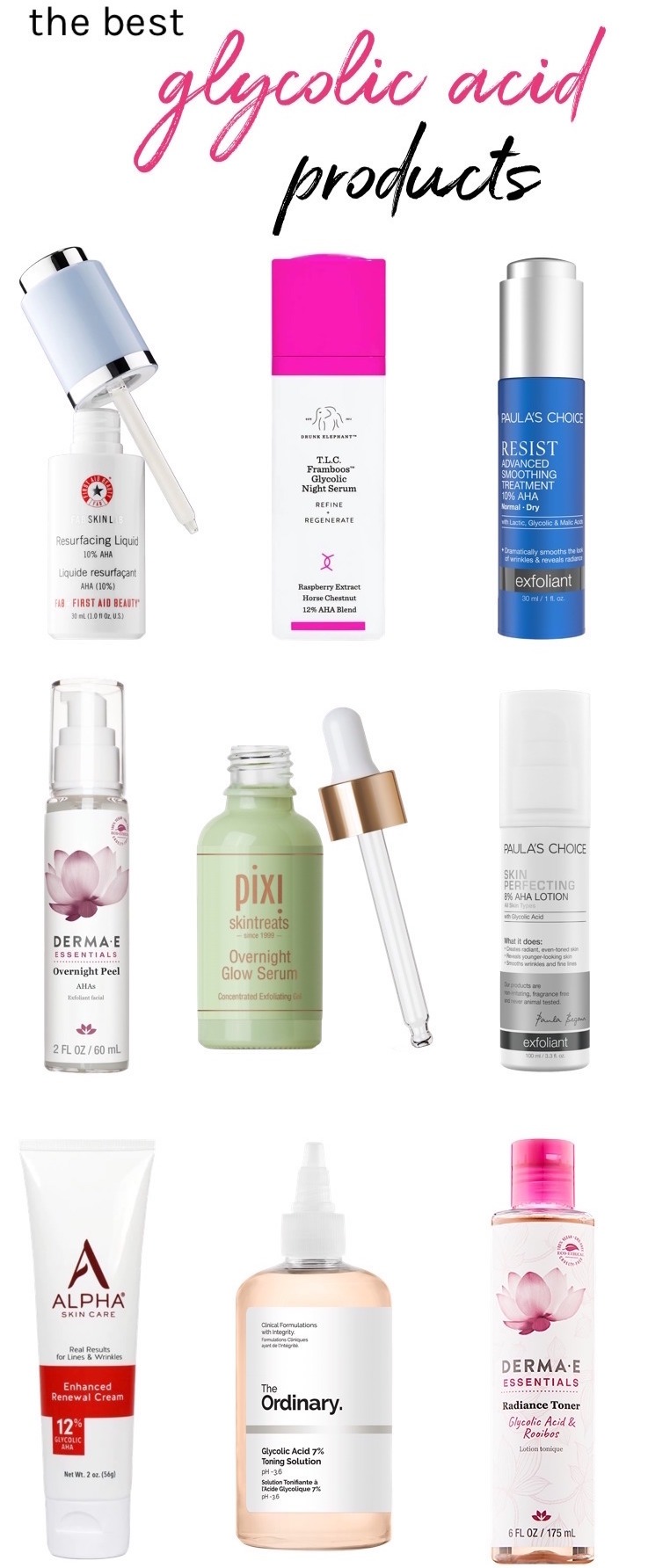 Here are some of the best glycolic acid products that will take your skin from dull and drab to fab, without being harsh or irritating!
1. Drunk Elephant T.L.C. Framboos Glycolic Night Serum ($90)
Coming in at the top of the list, this Night Serum is truly outstanding when it comes to glycolic acid exfoliants!
With a combination of 12% glycolic acid, 1% salicylic acid plus an impressive mix of antioxidants, it's an amazing super-charged exfoliating gel that treats everything from sun damage and discoloration, to fine lines and uneven skin tone/texture including acne scars or dark spots. It also works well to reduce blackheads and breakouts while decongesting clogged pores. You can read my rave review here.
With a gel-light texture, the formula layers easily under a moisturizer without leaving a residue behind. Because it's so potent, make sure to start with just 1-2 times/week, and gradually work up to every other night.
If your beauty budget allows, this serum is absolutely worth the splurge! But if you are looking for something affordable yet just as effective, Alpha Skin Care Intensive Rejuvenating Serum with 14% AHA ($18) is a great drugstore skincare dupe for Drunk Elephant T.L.C. Glycolic Night Serum.
2. First Aid Beauty FAB Skin Lab Resurfacing Liquid 10% AHA ($55)
Powered by a multi-acid AHA blend of glycolic, lactic, tartaric and malic acids that work together synergistically, this is another amazing leave-on exfoliant that gives you picture-perfect smoothness!
Perfect for anyone with uneven texture, dark spots and dull skin, the fragrance-free fluid formula absorbs instantly and feels weightless on skin. It's gentle enough for all skin types, even sensitive skin (thanks to its skin-soothing complex with hyaluronic acid, antioxidant vitamins C + E, aloe, colloidal oatmeal and ceramides)
3. Derma E Overnight Peel ($14)
If you are new to glycolic acid, this lightweight lotion is the perfect place to start. Don't be scared by the word 'peel' in the name! Infused with a skin-brightening, non-abrasive blend of 5% glycolic acid and fruit acids, this is one of my favorite dugstore exfoliants because it's hydrating and gentle on your skin! I also listed it in my drugstore skincare routine for dry, acne-prone skin.
Slather it on clean skin before bedtime and leave on overnight (it takes the place of your night moisturizer) and wake up with a fresh, glowing face! It tackles the damage done by the sun, pollution and acne while you catch up on your beauty sleep.
4. Paula's Choice RESIST Advanced Smoothing Treatment 10% AHA ($36)
Formulated with a potent blend of glycolic, lactic, malic, and tartaric acids (all AHAs), this concentrated exfoliating cocktail efficiently exfoliates away the layers of visible sun damage, evens skin tone and smooths rough texture.
The silky non-greasy serum also boasts of anti-aging peptides, ceramides, and antioxidants making this a skin-smoothing, yet non-irritating powerhouse treatment. It's suitable for all skin types. If using it every day feels like too much for your skin, scale back to once every few days.
For those with normal to dry or very dry skin, Paula's Choice Skincare SKIN PERFECTING 8% AHA Lotion ($29) is a much better option. This hydrating yet lightweight moisturizer packs a punch with 8% glycolic acid plus anti-aging antioxidants and nourishing plant extracts to smooth and revitalize dull, uneven complexion without any irritation.
5. Pixi Overnight Glow Serum ($24)
As the name suggests, this serum works while you sleep to exfoliate and soothe your skin for a more even & radiant skintone. Formulated with 10% glycolic acid plus Vitamins A, C and E, it hydrates, brightens and fades acne scars and dark spots from sun damage while smoothing fine lines. Cucumber & aloe vera are extracts are also included to calm skin.
6. Alpha Skincare Enhanced Renewal Cream 12% Glycolic AHA ($16.99)
Infused with a 12% concentration of glycolic acid, this exfoliating face cream is a potent yet non-irritating, leave-on exfoliant. It also contains anti-aging antioxidants and skin-plumping peptides to soften and smooth fine lines and wrinkles. Its lightweight, non-greasy lotion texture makes it a great choice for all skin types.
7. The Ordinary Glycolic Acid 7% Toning Solution ($8.70)
Infused with 7% glycolic acid, several amino acids, glycerin, aloe vera, ginseng root and soothing antioxidant-spiked plant extracts, this is another bargain beauty buy well-worth adding to your skincare routine!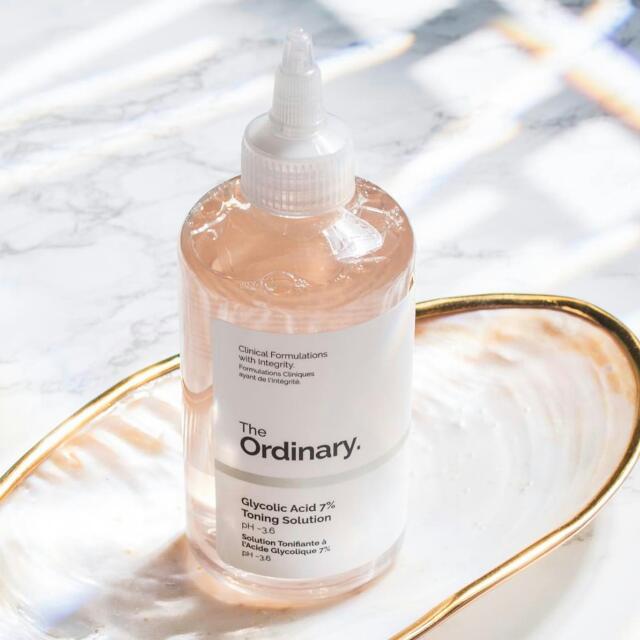 Suitable for all skin types (and especially congested, acne-prone skin), this alcohol-free AHA toner is great for anyone wanting to improve skin texture, radiance and clarity without over drying. More to love, the Ordinary Glycolic Acid 7% Toning Solution is actually a great skincare dupe for Pixi Glow Tonic ($15) for almost half the price!
8. Derma E Radiance Toner ($14)
True to its name, this gentle alcohol-free, exfoliating toner helps to tone, tighten and brighten for a soft, super smooth complexion. Along with glycolic acid to smooth skin's texture, it also contains hydrating hyaluronic acid plus a soothing blend of botanicals including chamomile, cucumber and rosehip extracts help to rejuvenate skin for a fresh, radiant complexion.
9. Alpha Skincare Renewal Body Lotion 12% Glycolic AHA ($16.99) – If you have dry, dull or uneven skin from the neck down, this skin-smoothing body lotion can make a significant difference! Formulated with 12% glycolic acid, it goes beyond regular lotion formulas to exfoliate blotchy, sun-damaged skin. It's a great head-to-toe hydrating + exfoliating treatment that's gentle and affordable!
Do you have a favorite glycolic acid serum or treatment that you swear by? If not, which of the above glycolic acid products will you be trying first?
Shop this post…