My skin is dry, no matter what time of the year it is! But the super cold winter months tend to leave my skin feeling flaky and sahara-desert-dry. Not surprisingly, I make sure to get an extra healthy dose of hydration to help my skin deal with harsh winter weather.
That's where these super hydrating serums come in to dew up my dry skin…
Silky-smooth and lightweight yet loaded with a high concentrations of potent ingredients, these ultra-hydrating serums penetrate more deeply into the skin for maximum moisture boost.
In addition to super hydrating skin plumper hyaluronic acid, these serums contain soothing and anti-aging actives like antioxidants, ceramides, peptides and Niacinamide to address other complexion concerns like redness, uneven skin tone/texture and fine lines. Win, win for your skin!
So, let's take a look at some of the best hydrating serums for dry skin that pack a majorly moisturizing punch for soft, supple skin that glows (and solve your winter skin woes!) All of these serums layer easily under a moisturizer and SPF in the morning or a night cream if you are applying before bedtime.
Keep reading to find your new favorite…
Best Hydrating Serums For Dry Skin
1. Naturally Serious Supercharge Anti-Oxidant Moisture Serum ($36)
Formulated with hyaluronic acid, ceramides and shea butter, this serum revitalizes the look of stressed, dehydrated skin. Besides being hydrating, this serum also protects skin from environmental aggressors with a blend of antioxidants (pomegranate, goji berry, grape seed, green tea, red tea and white tea) that help combat the effects of pollution and free radical damage.
Plus, it also contains white birch, caffeine and apple extract to revive a dull complexion. This milky serum has a lightweight formula that feels soothing and moisturizing. It leaves my dry skin happy and hydrated! Vegan, cruelty-free and paraben-free, it's now available at good'ol Target.
2. The A Method 24K Gold + Snail Growth Factor Serum ($196)
Created by Washington D.C. celebrity dermatologist Tina Alster, MD, this serum combines the hydrating power of Snail Mucin with the skin brightening properties of pure 24K Gold Leaf to keep skin smooth, supple and radiant.
Snail Secretion Filtrate has healing and regenerative properties that naturally stimulate collagen and elastin production beneath the skin to firm, tighten, improve tone and texture in sun-damaged skin. As for 24K Gold, it has long been recognized for a multitude of benefits in skincare with antioxidant and anti-inflammatory properties that reduce redness and protect skin from free radicals.
This serum is luxurious in every aspect from the packaging and texture of the formula to how silky it feels on my skin! Also, I love its soft soothing scent, but it doesn't linger around. It gives my skin a good dose of much-needed moisture with a healthy glow (btw there is no gold shimmer or sparkles in the serum!) And a little goes a long way!
Yes, it's pricey but if you are looking for an indulgent treat for your skin, this one is the perfect pick with a luxe feel factor! Also available at Amazon.com
3. So Supple Organics DEWY Ultra Hydrating Treatment ($29)
If you are looking for an all-natural option, this one is sure to please! This super lightweight serum hydrates, soothes and reduces inflammation leaving skin feeling smooth and soft. The ingredients are organic aloe vera, rose water, hyaluronic acid, glycerine and organic rose-hip seed oil. Simple but effective!
Despite the name of this serum, the finish isn't overly dewy which makes it a good lightweight hydrator for all skin types. And it's fragrance-free as well. I also love the all-natural GLOW Brightening Serum from this brand!
4. cbdMD Botanicals Fountain of Youth Dynamic Serum (500 MG CBD) $47.99
This CBD serum delivers hydration and anti-aging benefits with a broad-spectrum CBD formula (Cannabidiol, Cannabigerol, Cannabinol) that's THC-free and made in the USA.
The other key ingredients are hyaluronic acid, Vitamin C, chamomile extract, Niacinamide, vitamin E, rosehip seed oil and jojoba oil to nourish and protect skin. This serum has a lightweight lotion texture with a soft citrusy scent and absorbs quickly with a moisturizing feel. Cruelty-free, vegan and paraben-free.
5. Peter Thomas Roth Water Drench Hyaluronic Glow Serum ($68)
The newest addition to the PTR Water Drench collection, this deeply hydrating serum with 75% Hyaluronic Acid Complex helps plump the look of skin with moisture for a healthy glow. It also contains Malachite and a 5% Ceramide Complex that help smooth the look of fine lines and wrinkles.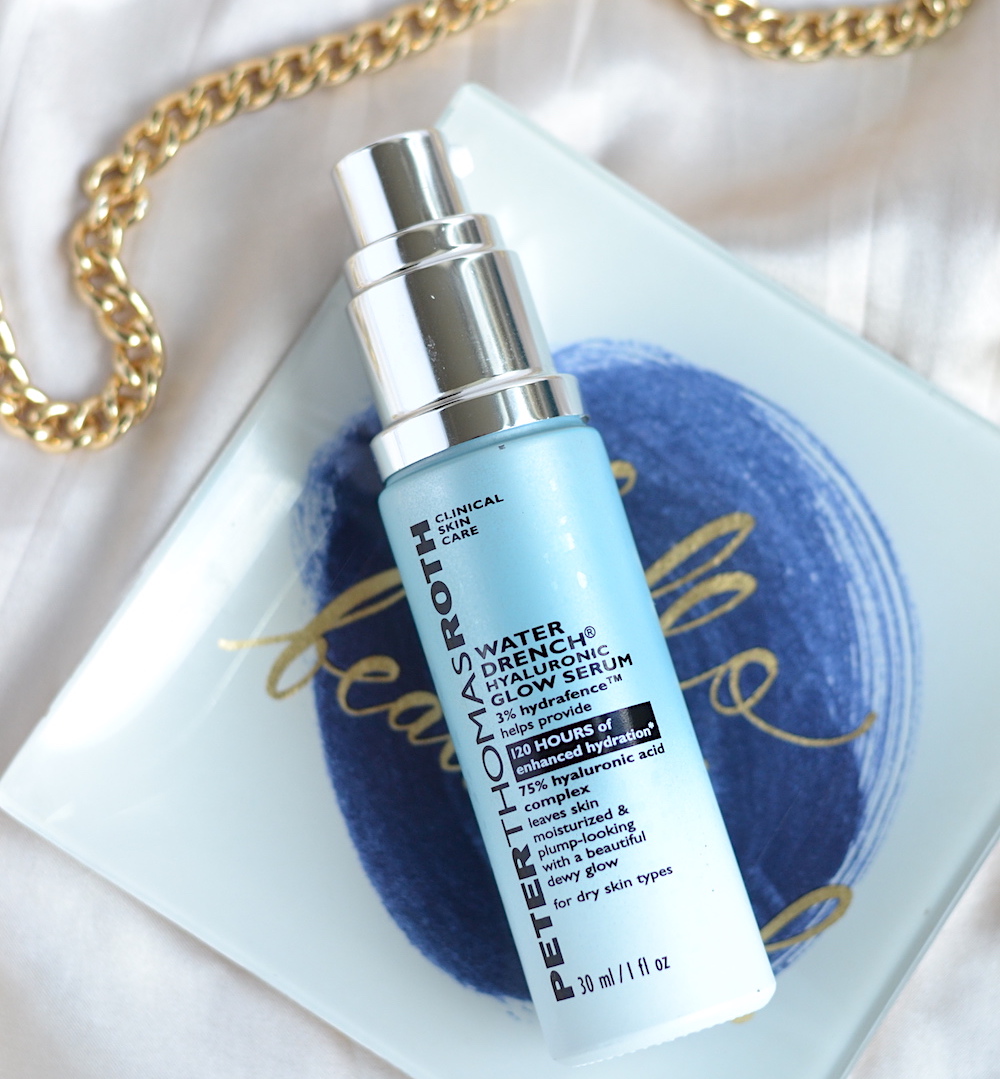 This hydrating serum has an elegantly lightweight emulsion-like texture that just glides on my skin with a silky feel! Once it's all worked in, it leaves my skin looking smooth and notably hydrated.
6. Timeless Skincare Coenzyme Q10 Serum ($17)
This serum contains 2% concentration of Coenzyme Q10, a powerful naturally occurring antioxidant that energizes skin cells to re-build collagen & elastin for firmer, smoother skin. Along with that, it has an 8% concentration of Matrixyl 3000 that also helps to increase collagen synthesis.
And for hydration, the formula boasts of 1% Hyaluronic Acid that increases & retains moisture. It has a very lightweight and hydrating milky texture with a smooth, velvety feel. Great for all skin types.
You can get this serum in the Timeless Skincare Pollution Solution Kit or buy it individually for $17 at Amazon.com
7. The INKEY List Hyaluronic Acid Hydrating Serum ($7.99)
For intensive hydration at an affordable price point, this hydrating serum by the Inkey List is a great choice for all skin types! It's formulated with multi-molecular weight hyaluronic acid (2%) plus a Matrxyl 3000 peptide that work together plumping and firming your skin.
It has a lightweight liquid texture that absorbs instantly without any tacky or sticky feel. Also, fragrance-free.
So, these are my recommendations for the best hydrating serums for dry skin (at every price point!) These serums would be a welcome addition for anyone with dry skin like me or if you just want to amp up the hydration ante during winter!
Some of the products mentioned above were provided for editorial consideration, but my love for these is real!
Shop this post…