Affiliate links If you have dry skin like me, you know the struggle is real when it comes to finding the right foundation that not only feels lightweight and comfortable but also makes your complexion look luminous.
Now that we are in the middle of winter (aka dry skin season!), it's the perfect time to talk about the best drugstore hydrating foundation for dry skin.
I need a good hydrating foundation all year round but come winter (and the extra dry spell!) it becomes even more of a necessity. I am all about moisturizing makeup with a glowy finish that can take my complexion from dull & dry to dewy!
So, if you're looking for long-wearing dewy drugstore foundations that give your skin great coverage and a healthy glow, you've come to the right place!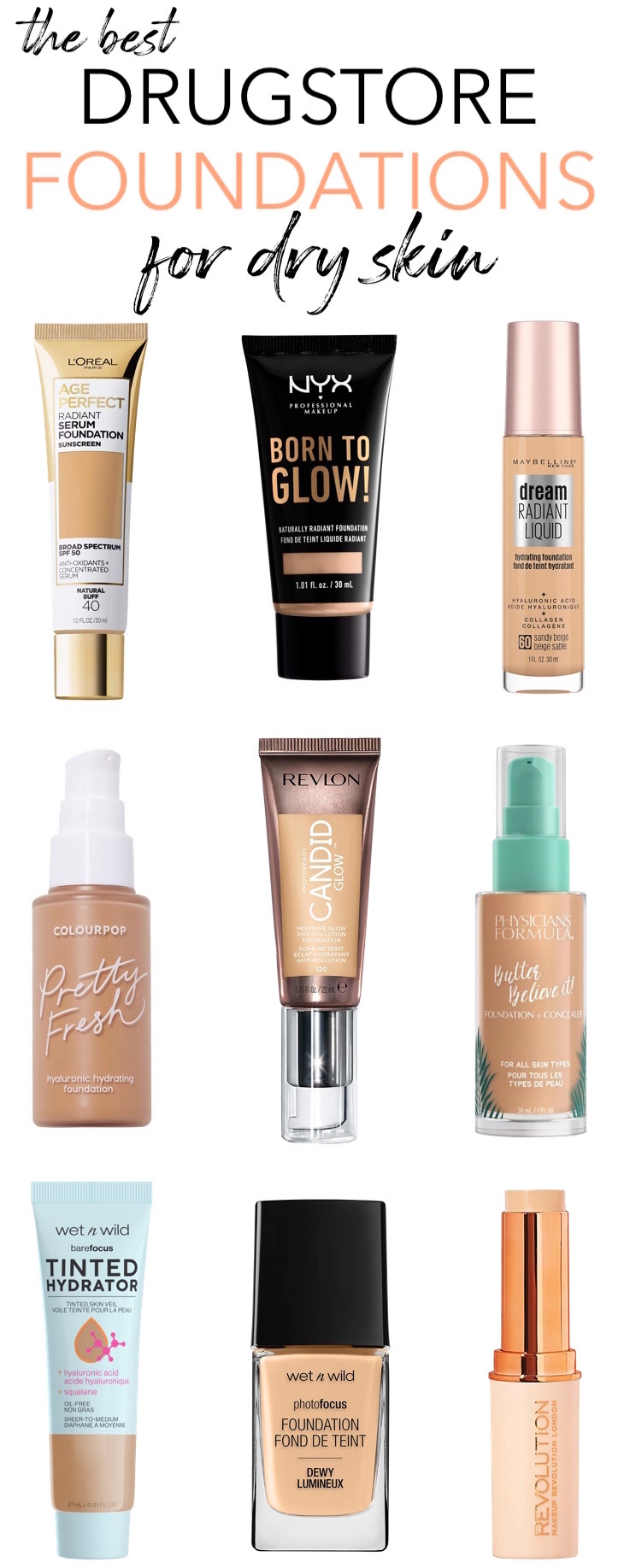 Whether you have naturally dry skin or just want an affordable foundation for winter weather, read on to find the best drugstore hydrating foundations for dry skin (all under $15!) These hydrating foundation formulas won't accentuate flakes or dry patches and keep your skin looking dewy smooth through the day.
Best Drugstore Hydrating Foundations For Dry Skin
L'Oréal Age Perfect Radiant Serum Foundation ($11.97)
Specially designed for mature skin, this serum foundation is infused with glycerin, Niacinamide and hyaluronic acid to provide long-lasting moisture. Besides being hydrating, the lightweight formula offers buildable medium coverage with a dewy finish that looks natural and skin-like.
And true to its claims, it doesn't settle into lines or accentuate skin texture and wears well without creasing or fading. Although geared towards mature skin, this L'Oreal foundation is a great pick for anyone with dry skin. Plus, it has SPF 50 for an extra dose of sun protection!
NYX Born to Glow Naturally Radiant Foundation ($8.60)
Available in an inclusive range of 45 shades, this hydrating foundation has a creamy-liquid texture that blends like a dream with buildable medium-to-full coverage and satiny radiant finish. The formula is also long-lasting and wears comfortably without looking cakey and doesn't emphasize pores or skin texture.
If you want lightweight yet substantial coverage with a natural-looking luminous finish, this budget-friendly foundation is sure to please! Not to mention, it's fragrance-free, cruelty-free and vegan. And the NYX Born to Glow Radiant Concealer ($9) is just as amazing!
Maybelline Dream Radiant Hydrating Foundation ($9.58)
Made for dry skin, this Maybelline foundation provides beautiful radiant finish leaving skin with a lit-from-within-glow. Infused with hyaluronic acid and collagen, the lightweight formula feels lightly hydrating and offers solid medium coverage that stays put. It comes in 20 shades for fair to deep complexions.
ColourPop Pretty Fresh Hyaluronic Hydrating Foundation ($16)
Infused with coconut water & hyaluronic acid for hydration, this oil-free foundation delivers medium-buildable coverage with a healthy, skin-like finish. Available in an extensive range of 42 shades, it enhances skin beautifully while being long-wearing and hydrating. Fragrance-free and cruelty-free. I also love the Pretty Fresh Hydrating Primer to prep your skin for extra hydration!
Revlon PhotoReady Candid Glow Foundation ($8.97)
If you prefer more natural-looking, light coverage foundation that just evens out skin tone and blurs imperfections with a lightweight hydrating feel, this might be your perfect pick! It's not as glowy as the name implies but has a soft dewy finish that gives skin a healthy radiance.
Infused with moisturizing prickly-pear oil and vitamin E, the fragrance-free creamy formula is easy-to-blend with sheer-to-light coverage buildability. It comes in only 16 shades but they are adaptable for a wide range of skin tones because of the sheerness.
Wet n Wild Bare Focus Tinted Hydrator Tinted Skin Veil ($5.99)
Formulated with hydrating hyaluronic acid and vegan squalane, this is more like a tinted moisturizer but with buildable, light-to-medium coverage and a satin semi-matte finish that looks natural. The oil-free formula feels comfortably hydrating on the skin without being greasy and is also long-lasting. Available in 12 versatile shades, it's fragrance-free, cruelty-free and paraben-free.
Physicians Formula Butter Believe It! Foundation + Concealer ($11.99)
Infused with a blend of plant-based butters, this creamy foundation just melts onto skin providing buildable medium-to-full coverage that lasts all day. It has a natural satin finish that isn't really glowy or dewy but other than that it checks all the right boxes for dry skin with its hydrating formula. The only drawback is that its highly fragranced which can be irritating for your skin.
Wet n Wild Photo Focus Dewy Foundation ($5)
Designed especially for dry skin, this fragrance-free foundation has a lightweight moisturizing formula that delivers great medium coverage with a natural dewy finish. Available in 20 shades, it also does an admirable job holding up through the day and doesn't crease, fade or emphasize pores. Vegan and cruelty-free.
Makeup Revolution Fast Base Stick Foundation ($9)
This is a great stick foundation that glides on smoothly and blends easily, providing medium buildable coverage with a natural dewy finish. Available in 18 shades and a range of undertones, it's creamy yet comfortably lightweight and just melts into skin.
It doesn't adhere to dry patches nor does it settle into fine lines and wears well through the day without a cakey or heavy feel. Portable and sleek too! This one is actually a great dupe for Hourglass Vanish Seamless Finish Stick
So, these are the best drugstore hydrating foundation for dry skin that are perfect for winter weather and beyond! Hope you find this list useful.
PS: I always moisturize and prep my dry skin with a hydrating primer before applying any foundation. Not only does it moisturize skin but also acts as a barrier, prohibiting your skin from absorbing the newly applied foundation and seeping into pores. The result? Longer wear and a more even, smoother finish. No matter which foundation you end up trying, I would recommend not to skip using a primer first for best results!
Shop this post…