Talking about two iconic hair oils today! Gisou vs Kerastase Elixir Ultime…which one is the best for dry, damaged hair? What's the difference between these two hair oils and what makes them so special?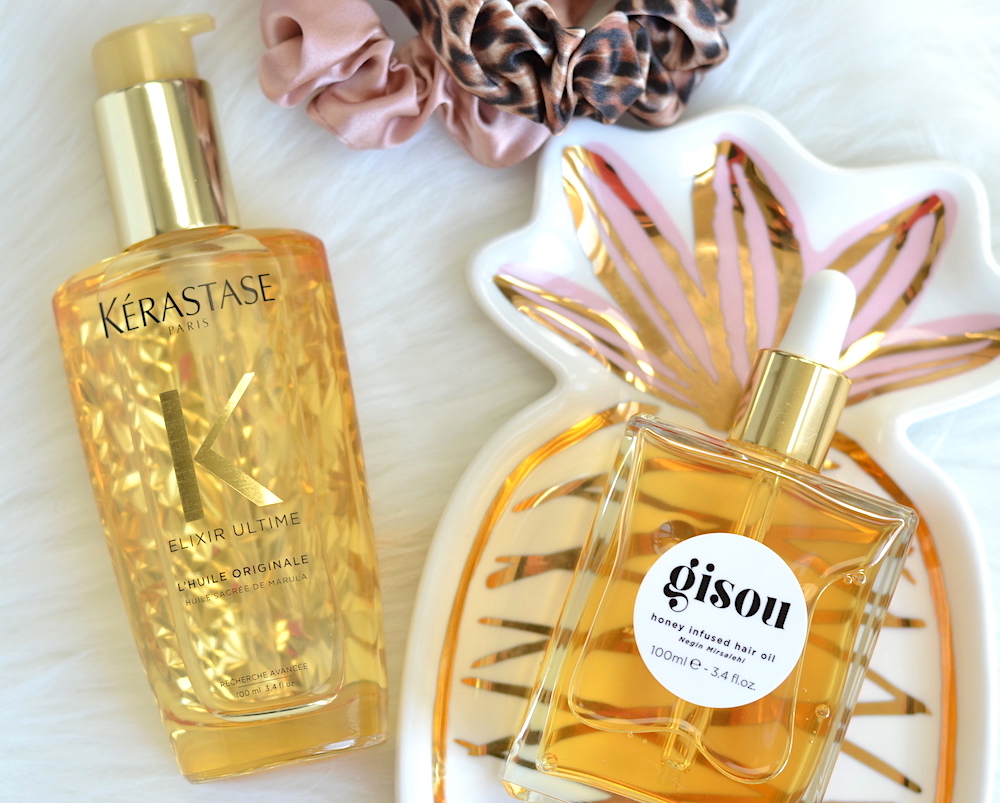 Before we start with the comparison, just a quick backstory on my hair. I have thick, wavy to curly long hair that's very dry, unruly and frizzy. Not surprisingly, I love super smoothing and hydrating haircare products that can help keep my dry, damaged and rebellious locks as well-behaved as possible!
Both these hair oils have been a part of my haircare routine for more than a year now. This comparison is based on my personal experience with these products and what I feel like works best for my hair type.
How do I use these hair oils?
I use them right after washing my hair. Since I have pretty long and thick hair, I divide my hair in two sections and use 3-4 drops of the oil on each side. I add just a little more as needed, especially on the extra dry areas.
To apply, I put a few drops of the oil in my hand, warm it up by rubbing my hands together, and then run it through my damp, towel-dried hair mainly focusing on mid-lengths and ends. Sometimes, I also use a bit of oil after blow drying to smooth out the ends and tame fly-aways.
Kérastase Elixir Ultime Oil Serum is a blend of four precious hair oils that add hydration and shine while fighting frizz. It's said to be suitable for all hair types and textures.
Here's the full ingredient list:
Cyclopentasiloxane, Dimethiconol, Zea Mays Germ Oil / Corn Germ Oil, Argania Spinosa Kernel Oil, Sclerocarya Birrea Seed Oil, Camellia Oleifera Seed Oil, Pentaclethra Macroloba Seed Oil, Caprylic/Capric Triglyceride, Linaloo, Alpha-isomethyl Ionone, Limonene, Coumarin, Benzyl Alcohol, Phyllanthus Emblica Fruit Extract, Tocopherol, Parfum / Fragrance.
Gisou Honey Infused Hair Oil is formulated to deeply nourish and repair dry, damaged hair. It contains Mirsalehi honey which maintains natural moisture balance for stronger, shiny, healthy hair. This one is also said to be suitable for all hair types and textures.
Here's the full ingredient list:
Dimethicone, Dimethiconol, Trisiloxane, Mirsalehi Honey, Prunus Amygdalus Dulcis (Sweet Almond) Oil, Cocos Nucifera (Coconut) Oil, Argania Spinosa Kernel Oil, Passiflora Incarnata Seed Oil, Tocopheryl Acetate, Parfum (Fragrance)*, Gardenia Taitensis Flower Extract, CI 47000 (Yellow 11), Tocopherol, CI 26100 (Red 17), Coumarin, Hexyl Cinnamal, Limonene, Linalool.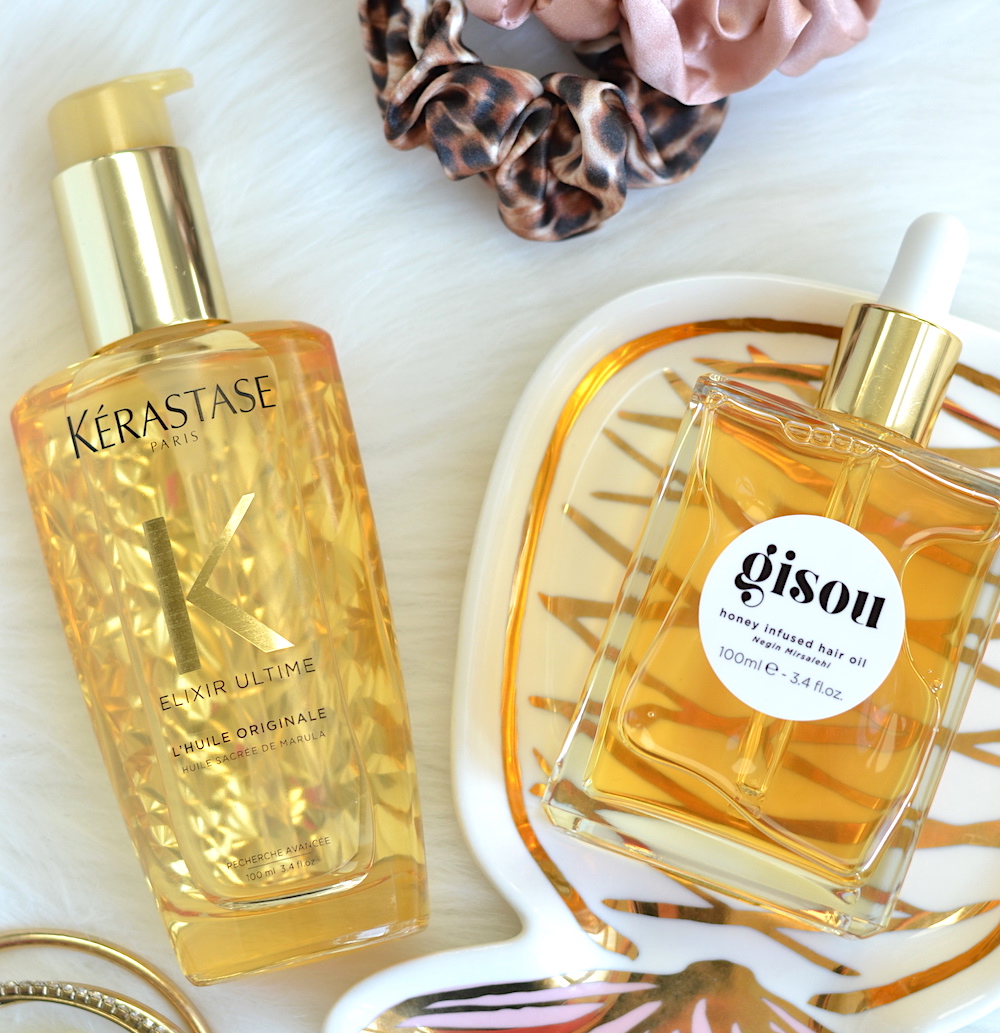 Gisou vs Kerastase
First off, the basic similarities between the two hair oils
They are lightweight but have a bit of silicone-y feel, which is because both of these contain silicones as the first two ingredients.
Both do a great job of adding smoothness, shine & moisture, which makes my hair so much more manageable, softer and a lot less frizzy.
They don't leave a greasy finish or oil buildup and work well without weighing down my hair (unless I go overboard on the amount used!) A little goes a long way with both.
Both of these can be used on dry or damp hair, and either before or after blow-drying/styling (as a finishing product to control frizz, smooth)
Both of these look luxurious, packaged in beautiful glass bottles
As I mentioned above, both of these oils contain silicones – Cyclopentasiloxane, Dimethicone and Dimethiconol, which is important for many to know. I know there are some people who completely avoid them, but I like silicones in my haircare (not too much of course!) because of their smoothing properties.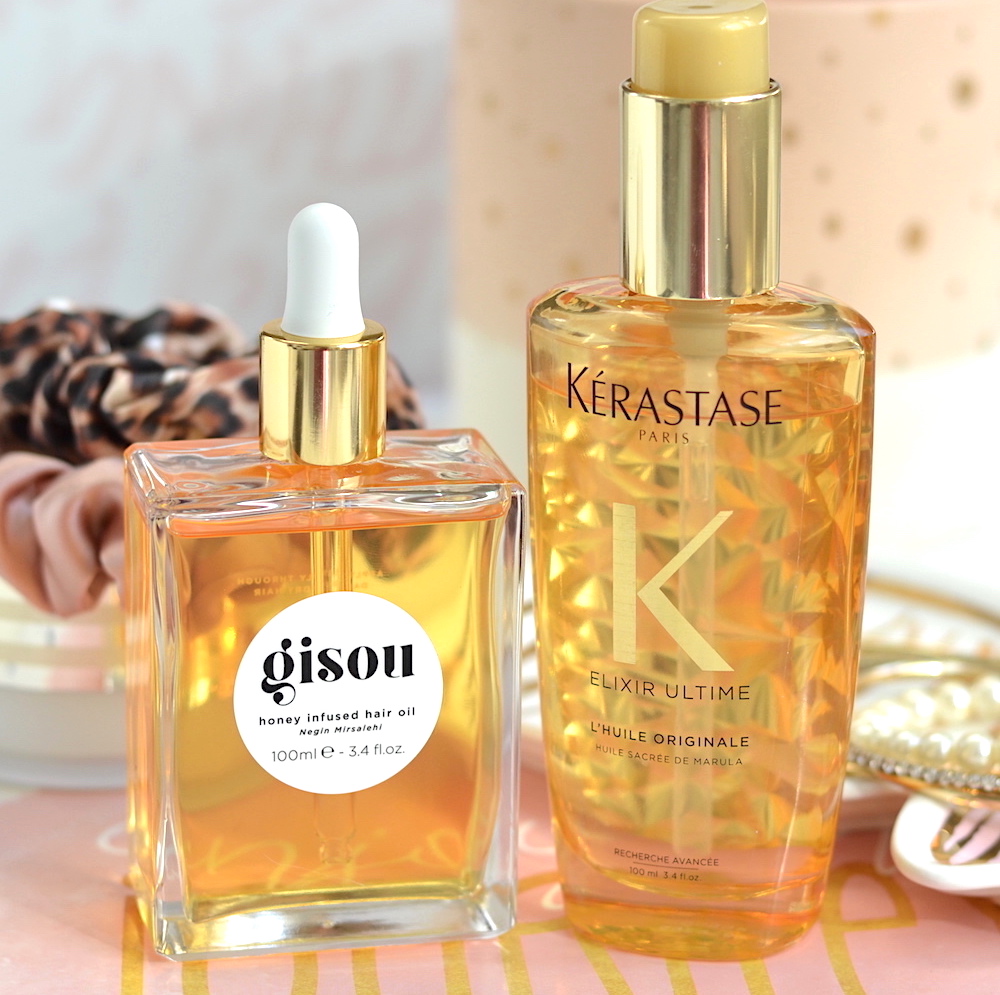 Now let's talk about the differences
The consistency of Gisou is a bit more viscous and a bit thicker than Kerastase. True to its name, the Kerastase formula has an oil serum texture. Regardless of the texture difference, they are both lightweight and won't leave hair feeling greasy or oily.
Gisou has a beautiful honey-infused, soft floral fragrance whereas Kerastase has more of a woody, spicy floral scent that's noticeable but not at all strong or overwhelming. I prefer the Gisou one but wish it wasn't so subtle!
The Key ingredient in Gisou is honey (it's the third ingredient) which is a natural humectant and hydrates deeply. Plus, it has sweet almond oil, coconut oil and argan oil. On the other hand, Kerastase has a blend of five oils including argan, camellia and marula oils to nourish and smooth.
Gisou comes with a dropper to dispense the oil whereas the Kerastase one has a pump. I find the pump to be a much better option. It's not at all messy as compared to using the dropper (which I can be clumsy with!) However, this is completely a personal preference.
Kerastase claims to provide heat protection when used before blow-drying/styling. On the other hand, Gisou can be used as a pre-styling product but doesn't mention anything about being a heat-protectant.
Gisou retails for $87 (3.4 oz) whereas Kerastase is $51 (3.4 oz) so that's a difference of $36.
Personally, I feel that Gisou is a wonderful product but a bit overpriced and definitely a splurge. I guess maybe it's the marketing hype and the product being positioned as a covetable and luxurious indulgence, which it is! As much as I love Gisou, I am not 100% sure if I will re-purchase it (especially at full-price!)
For Gisou, it's worth mentioning that once I accidentally put a lot more than intended and it left my hair looking greasy and weighed down. That was an error on my part of course, and ever since that time I am always careful with the amount used.
I have been using the Kerastase oil for about 2-3 years now and might have gone overboard once or twice with it as well but the greasiness/weighing down was a bit less as compared to Gisou.
Bottom Line
Overall, I think that both these hair oils are very comparable when it comes to controlling frizz and leaving my hair softer, smoother and shiny. To compare, I applied Gisou on one side of my towel-dried hair and Kerastase on the other, and honestly I couldn't tell any major difference between the two sides after blow-drying my hair.
So, I don't have a clear winner in this case. Both of these oils are a fantastic option for anyone with dry, damaged and unruly hair that needs a lot of TLC.  If you want to splurge on Gisou, the gorgeous golden hued oil is sure to please (but even if you don't, you are not missing out on something spectacular!)
Hope you found this comparison post useful.
Have you tried either of these hair oils? Do you have a favorite? Would love to hear your thoughts in the comments below!