PR sample Kerastase Chronologiste Regenerant is a new haircare collection designed to revitalize hair and scalp. Formulated with a combination of powerful ingredients including Abyssine, Hyaluronic Acid and Vitamin E for renewed bounce and volume, this new range is all about nourishing hair back to its youthful state.
Kerastase Chronologiste Regenerant range targets the six dimensions of aging for both scalp and hair: dryness, sensitivity, slackness, dullness, brittleness and thinning. Each product in the line is designed with the skinification of hair in mind and features revitalizing actives that serve as anti-aging ingredients in top skincare formulations.
The Trifecta
Hyaluronic Acid: known as the most powerful hydrating ingredient and capable of holding 1000x its weight in water, hyaluronic acid brings a plumping effect to hair and scalp. In doing so, your hair also appears fuller and the scalp is less scaly and dry.
Vitamin E: a natural antioxidant that keeps external aggressors from devitalizing the hair and scalp, and preventing damage from UV light, pollution and free radicals.
Abyssine: a molecule that's extracted from the deep abysses of the ocean, this ingredient thrives in extreme conditions. It has amazing regenerative properties, helping hair and scalp bounce back from damage sustained over time.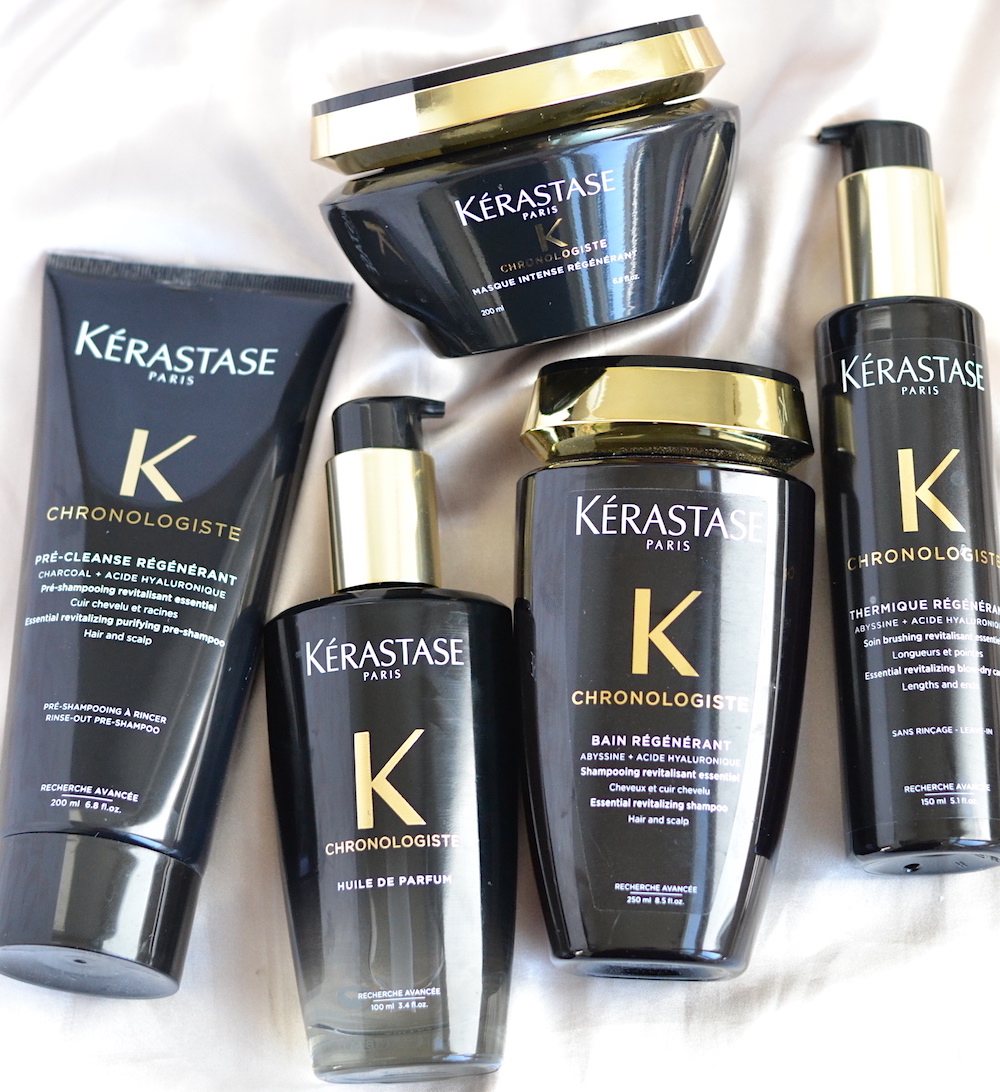 The new Kerastase Chronologiste Regenerant collection is actually an improved, revamped version of the original Chronologiste range with all new formulas and textures that completely invigorate hair from scalp to tip. And the entire range is beautifully fragranced for a luxurious, sensorial experience!
Now let's take a look at each product…
Kerastase Chronologiste Pré-Cleanse Régénérant ($46)
This is a purifying pre-shampoo treatment to removes impurities and pollution particles for a balanced scalp and revitalized hair. It contains a blend of hyaluronic acid, abyssine and charcoal for deep cleansing.
To use, apply to a wet scalp and roots before shampooing. Massage and then rinse thoroughly. It is recommended to use once a week to exfoliate and clarify the scalp.
This is the first time I've tried a clarifying pre-shampoo treatment (I've only used hydrating ones before) and I really like it! It's a great product that helps get rid of the excess oil and styling products buildup to detoxify the scalp.
It's not at all drying and gets the job done without leaving my scalp or hair stripped. It has a black-colored, creamy texture that's easy to apply…no scrubby particles! Check out the video on Instagram below to see it in action!
View this post on Instagram
Kerastase Chronologiste Bain Régénérant Shampoo ($38)
Infused with the trifecta of key ingredients mentioned above, this shampoo is designed to gently cleanse and revitalize dull and brittle hair needing deep nourishment.
It lathers well and rinses out easily without leaving my hair feeling dried out or stripped. And a little goes a long way! That said, I won't be using this one regularly because I prefer sulfate-free shampoos and this one isn't.
Kérastase Chronologiste Thermique Régénérant Blow-Dry Primer 
This is a refining and smoothing leave-in primer that protects hair against heat up to 450°F/230°C and provides frizz control even in 80% humidity. Just apply 2-3 pumps to damp towel-dried hair (focusing on lengths and ends) before blow drying or heat styling to protect them from heat-damage.
This is essentially a leave-in conditioner that hydrates and smooths hair texture while providing thermal defense. The formula is very lightweight so it doesn't weigh down hair. It does a good job of reducing frizz and leaving hair softly refined.
Kerastase Chronologiste Intense Régénérant Hair Mask ($70)
This is a deeply nourishing mask to revitalize and soften dry, dull, or damaged hair. Besides the three key ingredients (hyaluronic acid, abyssine, and vitamin E) found in this range, it also contains ceramides and gluco-lipids to add moisture, softness and shine.
I am a huge fan of the Kérastase hair masks because they are incredibly smoothing & hydrating and this one is no exception! It has a rich, lavishly creamy formula that adds so much softness to my hair without leaving them feeling greasy or looking flat. While I have a handful of hair masks in my shower, this one from Kérastase is truly a luxurious treat for my tresses!
Not to mention, this mask has a lovely scent which makes it an indulgent experience. And a little goes a long way, which is great because this mask costs a pretty penny! So, if you want to pamper your hair, I'd say it's worth the splurge.
Kerastase Chronologiste L'Huile De Parfum Fragrance-In-Oil ($72)
The Chronologiste L'Huile De Parfum is a hair fragrance suspended in a super lightweight oil. The fragrance has a blend of tea rose, light woods and musk for a soft, sensual scent.
To use, just apply 1or 2 pumps on dry hair and leave-in. It smooths and delicately scents hair leaving a luxurious, long-lasting fragrance. It's perfect to use after a blow-dry for a finishing touch of shine and fragrance.
This is my most favorite hair fragrance ever! The scent is simply divine and lingers on without being strong or overwhelming. And I love that it's a fragrance-in-oil (with hydrating argan oil as the base) instead of hair fragrance mist or sprays that are alcohol-based which can be drying. The fragrance bottle is so beautiful too!
The Kerastase Chronologiste Regenerant range products are available for purchase at Sephora and kerastase-usa.com
Shop this post…