PR sample Burt's Bees Goodness Glows Miracle Balm is a new multi-purpose beauty balm for dry skin from head-to-toe.
Formulated with shea butter and a natural plant-derived emollient (squalane), this soothing and moisturizing balm can be applied to dry skin on your face, lips, cuticles, elbows, or anywhere you'd like to instantly hydrate or smooth.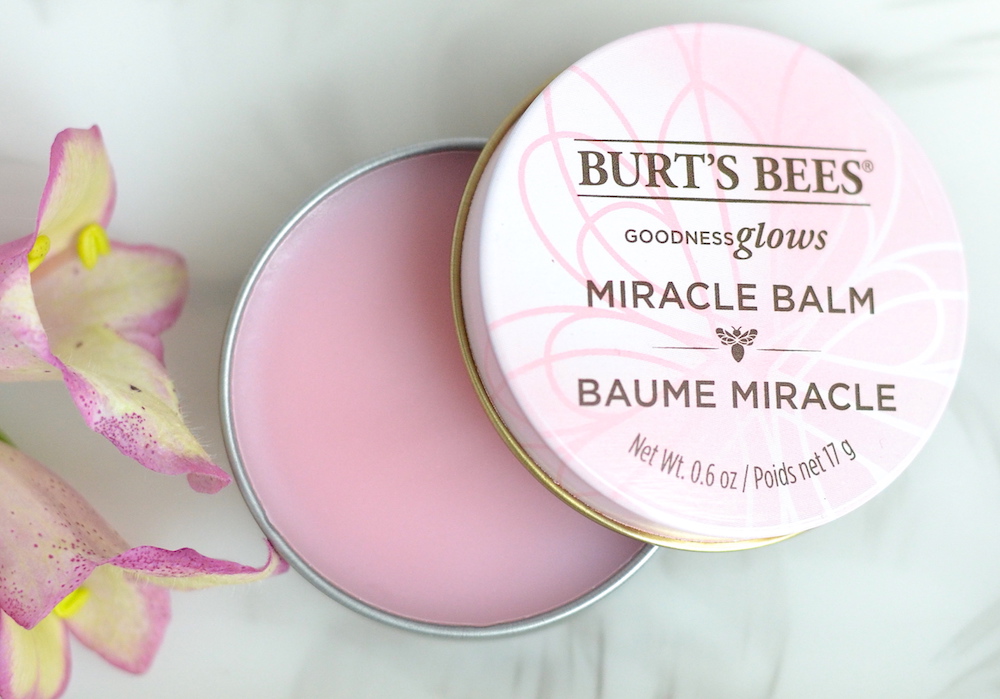 Lightweight and non-greasy with a dewy finish, Burt's Bees Goodness Glows Miracle Balm is quite versatile and goes on smoothly wherever it is used.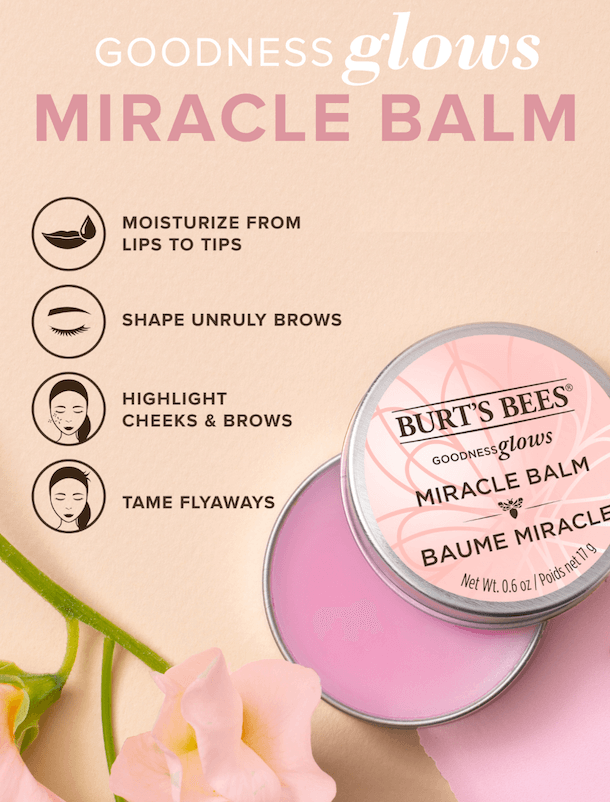 The formula is very moisturizing with a light fruity scent that fades away soon after application. I mostly use this as a lip balm and it does an excellent job of keeping my dry lips soft and hydrated. It can be used anytime during the day or as an overnight lip treatment for a boost of moisture while you sleep.
Burt's Bees Goodness Glows Miracle Balm also works well to smooth unruly eyebrows, moisturize dry cuticles (mine have been super dry from all the hand washing and sanitizer use!) and hydrate rough spots like elbows and knees. I also tried using a little dab of Miracle Balm on my cheeks as a highlighter and it adds a subtle, natural shine.
I also like that it comes in a recyclable tin can. I will definitely be buying more to keep one in my purse! This smoothing, soothing beauty balm is available for purchase at Walmart, CVS and Amazon.com for $8.99!

I have also been trying the Burt's Bees Squeezy Tinted Balms that add a sheer tint of shiny color with sweet, juicy flavor. Made with 100% natural origin ingredients, this tinted lip balm is enriched with responsibly sourced beeswax and hydrating cocoa butter for nourished, moisturized lips. The formula contains NO parabens, phthalates, SLS, or petrolatum.
Packaged in a squeezable tube, the Squeezy Tinted Balm comes in 4 fruity flavors – Watermelon Rush, Mandarin Granita, Sweet Peach and Berry Sorbet.
This tinted lip balm smooths and spreads easily on lips with a lightweight, moisturizing feel and adds sheer, easy-to-wear color with a shiny finish. The formula has a liquid-balm like texture that isn't sticky, tacky or gloopy and has a light fruity scent (each shade has a different flavor as the names suggest)
As for the color payoff, Sweet Peach (pale peach nude) is the lightest whereas Watermelon Rush (a reddish pink) has quite a bit of color! My favorite is the Mandarin Granita (sheer red with slight orange undertones) which is also pretty pigmented so a little goes a long way! That's the shade I am wearing in the photo at the end.
Each of these can be used as a hydrating lip tint base or on their own for a sheer, natural pop of color. Here are the swatches below
I love everything about this tinted lip balm, except that I wish the squeezable tube came with a slanted nozzle so I could directly apply it on the lips straight from the tube, instead of using fingertips. It's not a deal breaker for me, but a little less convenient!
Burt's Bees Squeezy Tinted Balms are available for purchase at Target, Ulta Beauty, CVS and Amazon.com for $4.99 each.