Dark green is the top trending nail color this season!
Sweater weather is finally upon us. And there's no better accessory to pair with your new chunky knit than a chic, mani peeking out from your sleeves. Rather than sticking with your go-to polish shade for winter, try something new as the weather gets chillier.
Using Pinterest trends data, interior experts at WeThrift have researched what nail trends we've all been adding to our inspiration boards ahead of the festive season, and the results are emerald greens, deep brown shades and metallic tips.
These moody winter manicures will have you forgoing gloves, even on the coldest of days!
1. Emerald Green
This season's must-have nail look is set to be emerald green. According to trends specialist Nick Drewe, "Deep dark green is a contemporary and surprising wearable shade that complements all skin tones and adds a bold edge to any outfit." The shade works so well for winter and is a big leap from the bright colors we have seen throughout the year.
Image credit: Instagram/@harrietwestmoreland
2. Khaki Green
One of Pinterest's top trending colors is khaki green – a soft earthy tone that looks set to take off this season. Go ahead and stock up on your green tones, because you'll be wearing these shades all autumn and winter. They look cozy, feel warm and pretty much go with everything – what more could you want?
Image credit: Instagram/@daisykalnina
3. Forest Green
Forest green is a hot trend this season, with searches up by a whopping 244% on Pinterest. You can wear the shade in many ways. Green french tips are simple but super stylish and easy to pair with autumn and winter looks. When you can't decide which shade of green you want, you can color each nail with a different tone.
Image credit: Instagram/@alecias.nails
4. Navy Blue
Who doesn't love a pop of blue? Deep navy blue works so well for autumn and winter, and is a relatively simple look to recreate at home. "Navy blue is a tasteful touch of color that doesn't scream summer, and brightens the gloomy mood that autumn and winter bring."
Image credit: Instagram/@lovefreshpaint
5. Dark Purple
"This season, we are going to be seeing a lot of dark tones and purple always makes a big comeback every year," predicts Nick Drewe. There are more ways to wear dark purple than just a solid shade. You can paint on thick lines, poker dots or curves, create swirls, or a design combination of glossy and matte.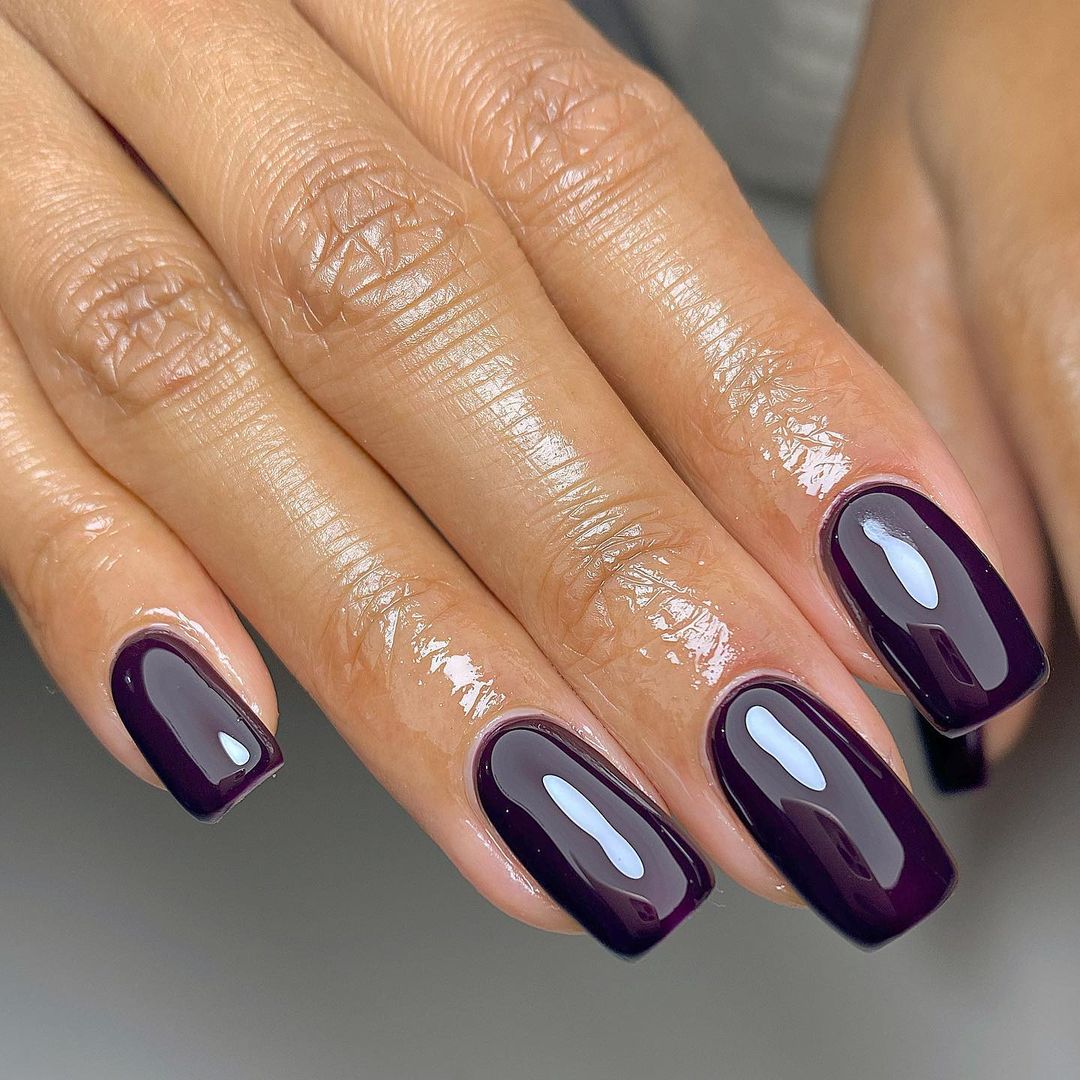 Image credit: Instagram/@mel_vivalasnails
6. Brown Swirl
You can't go wrong with an on-theme brown for autumn and winter, but if you're looking for something more unexpected, '70s swirls are on-trend. It's a fresh way to embrace darker tones and give your traditional solid shade a break.
Image credit: Instagram/@joelyoceannails
7. Olive Green
Love it or hate it, but green is the top color of the season. If you love earthy tones, chances are you haven't been waiting for winter to break out your favorite staple shade. Olive green is a muted tone with just enough depth to make a statement and soft enough to go with literally anything.
Image credit: Instagram/@lovefreshpaint
8. Gold Tip
While a deep red or classic navy will never go out of style, why not try an unexpected gold chrome French manicure. "You can really take shine and dimension to another level with this set. It's a festive alternative to the classic white tip and is attention-grabbing, but still toned down enough for this season," Nick Drewe.
Image credit: Instagram/@thehotblend
9. Black
Stand out this season and choose a black hue, which paired with a chunky knit and gold jewellery will look Pinterest ready. Go simple by creating a black french tip, or get creative with a fun design. If you want something that leans on the classy side, go for a simple matte finish.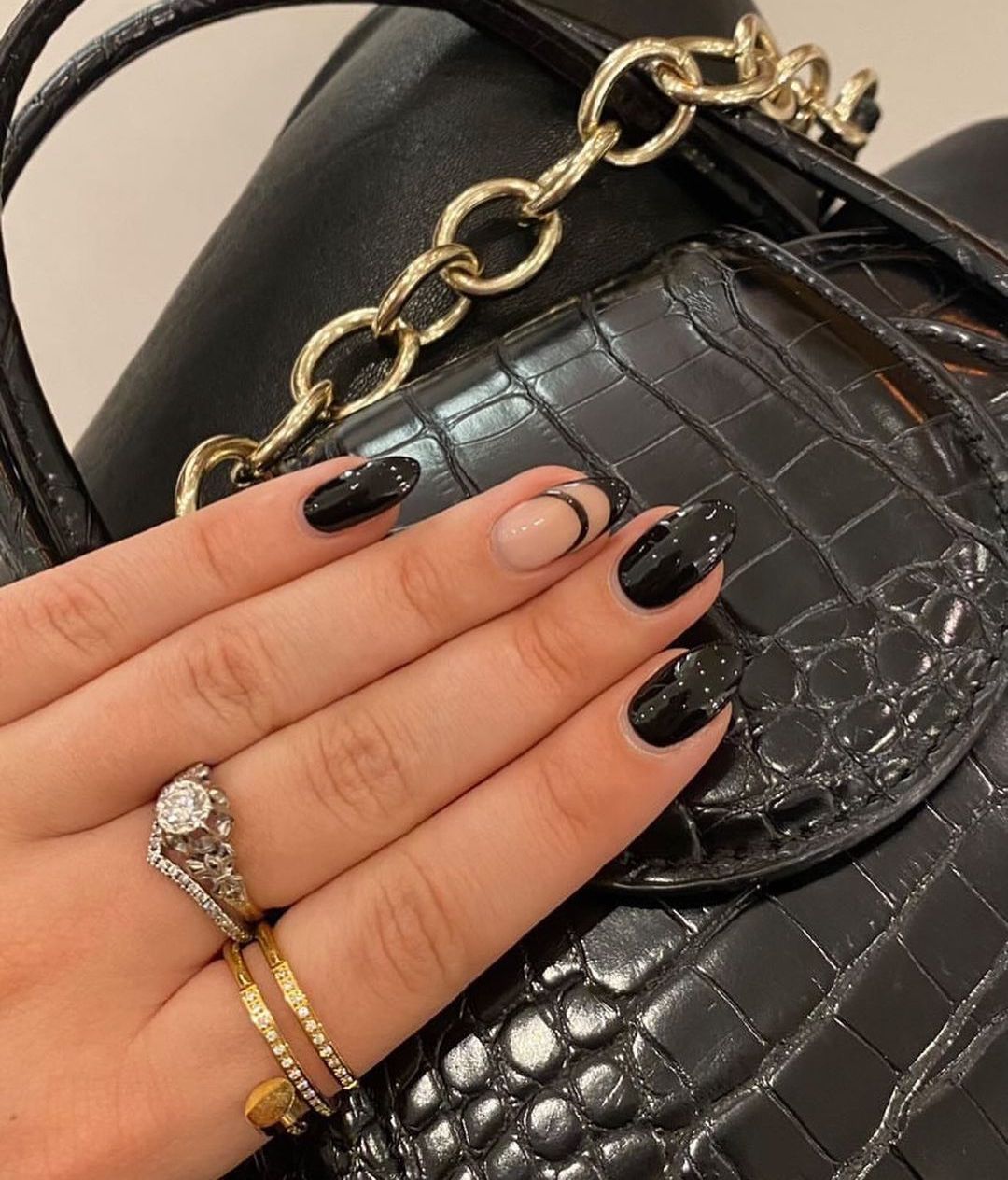 Image credit: Instagram/@thenicenailsclub
10. Brown Tip
If social media has proved one thing, it's that the French manicure look is still going strong. Add a touch of winter with a deep moody shade like chocolate or chestnut brown. While the more subtle version is still a firm favorite in salons around the world, this style is a great way to dip into darker tones for the colder months…in a subtle way.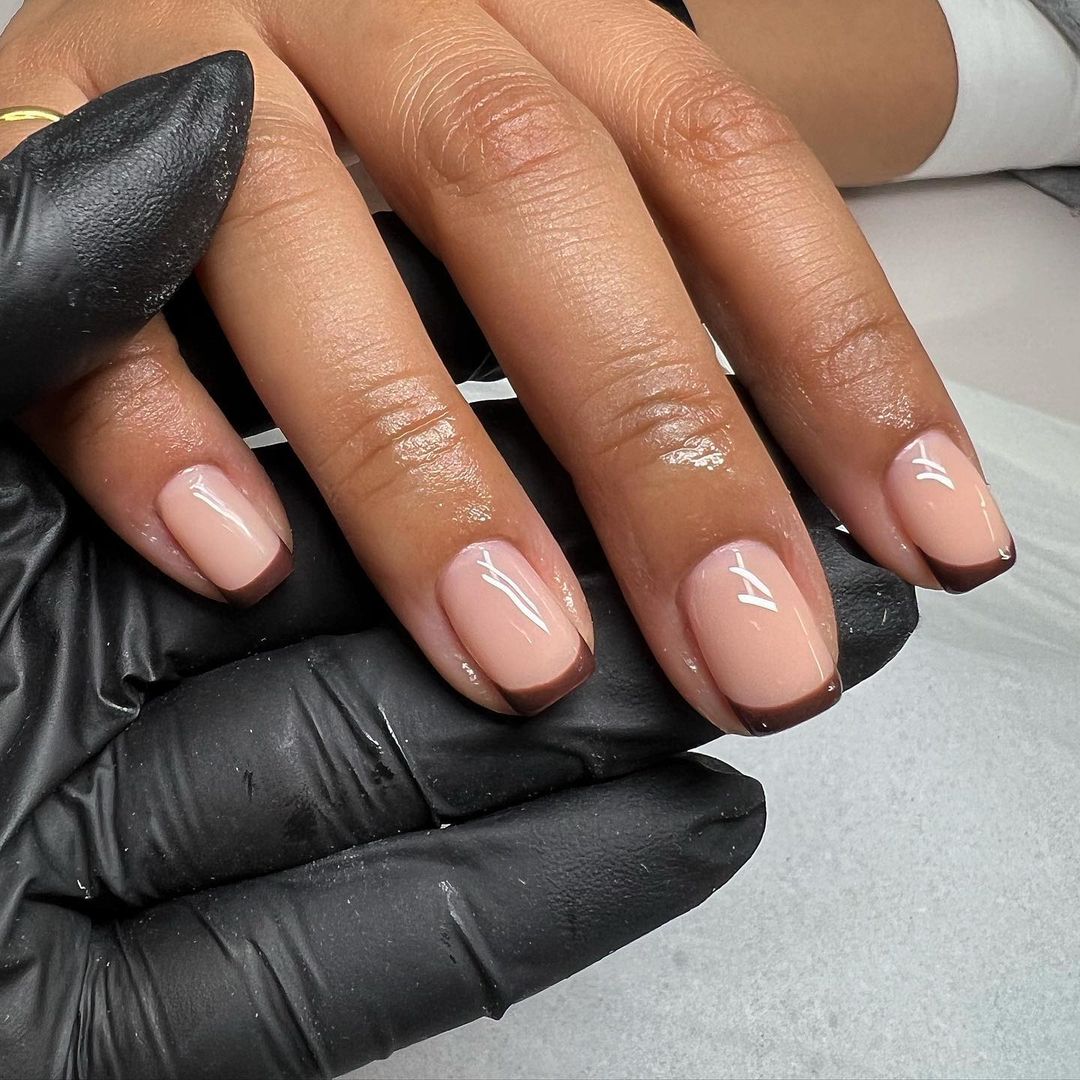 Image credit: Instagram/@bluxenails
So these are the top 10 winter 2021 nail trends! Which of these shades will you be rocking this season?