Affiliate links Last week I posted about all the new drugstore makeup hitting the shelves this month. Today, get ready for a roundup of all the new drugstore skincare launches for 2022!
January is the time of the year when we often vow to treat ourselves and our skin better. These latest skincare launches are the perfect way to try something new and tackle your complexion concerns without breaking the bank!
From glow-boosting serums and moisturizers to ultra-nourishing night creams and masks, below you'll discover a whole bunch of exciting new drugstore skincare products that'll help revive and rejuvenate your complexion – ALL under $30!
So beauty-lovers on a budget, grab a notepad and get ready to make a shopping list!
New Drugstore Skincare 2022
CeraVe Hydrating Toner ($9.99)
This gentle pH balanced toner with ceramides, hyaluronic acid and Niacinamide, helps restore the skin's natural protective barrier for improved hydration, and helps visibly smooth and calm skin. The formula is alcohol-free, astringent-free and fragrance-free and suitable for normal to dry skin, and sensitive skin.
Bliss Fabulips Overnight Lip Mask ($15)
This luxurious lip mask smooths as you snooze while deeply hydrating with a moisture complex of squalane and ceramide. Also contains gentle exfoliating fruit AHAs to smooth lips overnight.
Lanolin-free and petrolatum-free
Olay Regenerist Shea Butter + Peptide 24 Rich Cream ($29.99)
This rich and luxurious, fragrance-free cream melts into skin with no greasy feel to hydrate and nourish dry skin. Crafted with Niacinamide and Peptides to retain skin's moisture, and Shea Butter for rich skin conditioning, it delivers soft, glowing skin every time you moisturize.
There's also a new Olay Regenerist Shea Butter + Peptide 24 Nourishing Facial Cleanser ($6.99) and Shea Butter + Peptide 24 Eye Cream ($29.99) They are also fragrance-free and great for dry skin.
This new collection features fragrance-free, clean skincare products that are ideal for all skin types (even sensitive skin) Enriched with skin-loving ingredients like Oat Milk, Niacinamide, Ceramides, Hyaluronic acid and allantoin, the nourishing formulas soothe, hydrate, and support your skin's barrier.
Pure Skin Cleanser $9: A gentle non-foaming face cleanser that effectively removes dirt and oils, leaving your skin feeling refreshed and clean.
Pure Skin Toner $9: A non-irritating, non-drying toner that calms and moisturizes for a softer, smoother-looking complexion.
Pure Skin Moisturizer $12: A rich, nourishing, non-comedogenic cream moisturizer delivers lasting hydration that never feels greasy.
Neutrogena Ultra Sheer Oil-Free Serum SPF 60+ ($12.49)
Formulated with vitamin E, this sunscreen serum delivers weightless hydration and protection against UV rays. Plus, this fragrance-free, non-comedogenic formula goes on sheer, and is water-resistant for up to 80 minutes.
Pacifica Vegan Collagen Cuticle Balm ($12)
This moisturizing cuticle balm is infused with vegan collagen to hydrate and soften dry, brittle nails and cuticles.
Burt's Bees Marula Melt Clear Lip Conditioner ($4.39)
Infused with Marula oil, this ultra-hydrating, tint-free lip conditioner melts onto skin for pillowy soft, smooth lips. Also contains coconut oil, vitamin E, kokum, cocoa and shea Butters.
Covergirl Clean Fresh Skincare Collection
Designed to improve skin tone and texture, this clean, 100% vegan skincare line is supercharged with electrolyte-rich Cactus Water along with other hard-working ingredients like hyaluronic acid and vitamin C.
The Clean Fresh Skincare range consists of five products: Hydrating Cream Cleanser ($14), Priming Glow Mist ($10), Weightless Water Cream ($15), Mattifying Oil Free Moisturizer ($15), and Dry Skin Corrector Cream ($15)
Boots Ingredients Lactic Acid Face Serum ($8.99)
With naturally derived lactic acid, this serum gently exfoliates and helps reduce the appearance of uneven skin tone, leaving skin looking smoother and radiant. Vegan and cruelty-free.
Cetaphil Smoothing Relief Body Wash ($9.99)
A creamy, rich-lather body wash with lactic acid and micro-exfoliators that gently cleanses, exfoliates and smooth rough, textured skin. Formulated with moisturizing glycerin, shea butter and soybean oil to provide long-lasting dryness relief.
elf Cookies 'n Dreams Milkshake Overnight Mask ($9)
Inspired by cookies 'n cream, this rich creamy whipped mask works to nourish your skin while you sleep with shea butter and hyaluronic acid.
Bliss Sheer Glow Fabulips Lip Balm ($10)
Powered by hyaluronic acid and shea butter, this vegan lip balm serves up long-lasting moisture without the stickiness. Available in 3 sheer shades (Nude, Pink, Glow)
Boots Ingredients Niacinamide Clay Mask ($5.99)
This skin-soothing clay mask gently cleanses away dead skin cells, removes excess oil and treats your skin to the age-defying power of Niacinamide.
Pacifica Vegan Ceramide Skincare Collection
Pacifica has added 3 new products to its Vegan Ceramide skincare line (fragrance-free) created specifically for sensitive skin.
Vegan Ceramide Barrier Face Lotion ($16): This lightweight lotion hydrates and replenishes your skin barrier. Marshmallow root, chamomile and calendula help soothe and smooth skin.
Vegan Ceramide Face Oil($16): This ultra-hydrating, fast absorbing face oil instantly quenches dryness, leaving your skin plumped, dewy & glowing. Perfect for overly dry skin & dry patches.
Vegan Ceramide Serum ($16): This super-hydrating serum helps intensely hydrate & visibly improve texture.
Cetaphil Acne Relief Body Wash ($9.99)
A creamy, rich-lather body wash with 2% Salicylic Acid treats acne by gently exfoliating and eliminating blemishes. Formulated with a moisture blend of glycerin, shea butter and soybean oil to keep sensitive skin soft, smooth.
CeraVe Hydrating Makeup Removing Plant-Based Wipes ($11)
These fragrance-free makeup remover wipes effectively remove mascara (even waterproof) and other makeup, dirt and oil without disrupting your skin's protective moisture barrier. Infused with glycerin and 3 essential ceramides, the wipes feel gentle and leave skin feeling clean without a sticky or greasy feeling. They are also bio-degradeble in a home compost.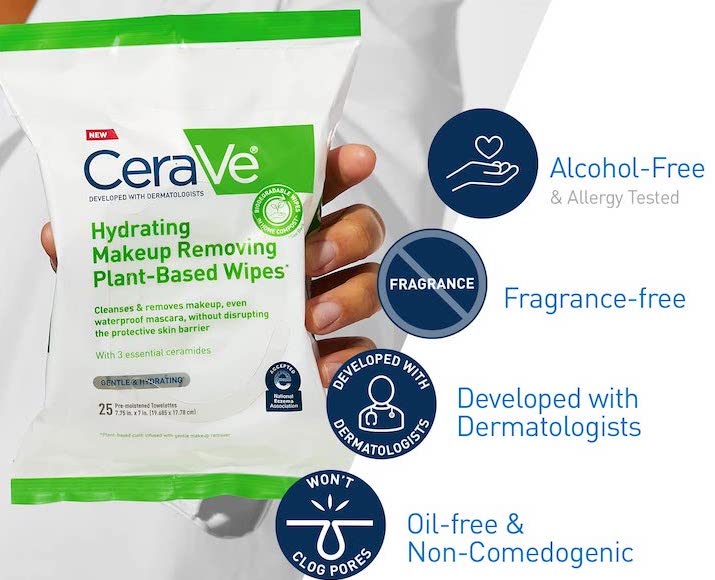 Neutrogena Sun Rescue After Sun Replenishing Lotion for Sensitive Skin ($9.94)
Formulated with soothing aloe vera, mint extract and vitamin E, this vegan moisturizing lotion cools and soothes skin after sun exposure and helps prevent peeling. There's also a new Neutrogena Sun Rescue After Sun Rehydrating Spray with Hyaluronic Acid ($13) to comfort sun-stressed skin.
Bliss Pink Blossom & Water Lily Cloud 9 Body Lotion ($13)
This lightweight yet intensive body lotion melts into skin for instant deep hydration, drying in seconds. Antioxidant-rich formula features a blend of vitamins B3, C and E plus shea butter to help dull skin achieve radiance.
elf Cookies 'n Dreams Cookie Crumble Lip Exfoliator ($5)
This delicious lip exfoliator with a sugary texture and sweet vanilla cookie scent gently buffs lips, leaving your pout smooth and conditioned, thanks to a blend of shea butter, jojoba and avocado oil.
Olay Cleansing and Strengthening Body Wash with Ceramides ($7.99)
This Ceramide-enriched formula deeply hydrates and help strengthen your skin's moisture barrier, leaving skin soft and replenished.
Pacifica Wake Up Beautiful Retinoid Serum ($16)
Recharge your skin while you sleep with this multi-tasking serum. The power packed formula tackle fine lines & wrinkles while leaving skin smooth and supple with highly potent, petroleum-free granactive Retinoid (less irritating), mushrooms, melatonin & quinoa.
Versed Smooth Landing Advanced Retinoid Eye Balm ($17.99)
Smooth Landing is a blend of deeply moisturizing, skin-nourishing ingredients that work while you sleep to reduce fine lines and smooth the skin around your eyes. The star of the formula is granactive retinoid—a safer, less irritating form of retinol that reforms skin texture to reduce the appearance of crow's feet. Also infused with shiitake mushroom extract, vitamin E, and black currant seed oil.
Honest Beauty Stay Hydrated Hyaluronic Acid + NMF Serum ($29)
This moisture-magnet serum is made with 3 types of Hyaluronic Acid, Natural Moisturizing Factors, kiwi seed oil, and rambutan peel extract to provide multi-depth hydration and leave skin feeling soft and plump.
Neutrogena Ultra Sheer Face & Body Mineral Sunscreen Stick SPF 50 ($14.99)
Fend off harmful UVA/UVB rays with this portable and easily swipeable sunscreen stick that leaves no white cast behind. With 21.6% zinc oxide and vitamin E, the fragrance-free formula is gentle enough for sensitive skin, non-comedogenic and water resistant for up to 80 minutes.
Reduce, Recharge, repeat! These 100% high-grade silicone masks with a vacuum-like seal are designed to pair with your favorite serum and smooth the look of fine lines and wrinkles in 15 minutes.
Just apply a few drops of serum to your skin, place the mask on your skin and press down gently. Leave on for as little time as you'd like or sleep in them overnight. After use, peel them off, rinse well with soap & water and let dry. Launching at Ulta beauty & Target on Jan 30
Versed Firm Ground Retinol Body Lotion ($17.99)
Retinol repair from the neck down! With gentle encasulated retinol, nourishing cocoa butter and squalane, this body lotion helps firm skin, smooth texture, and brighten dullness while relieving dryness. The formula is lightweight and fragrance-free (no overbearing scent)
Image credit: Versed
Pacifica Vegan Collagen Lip Plumping Gloss($14)
This plumping gloss is infused with vegan collagen, peptides, coconut, fatty acids, Vitamin E and shea butter to deeply moisturize and smooth lips while adding fullness and shine.
So, these are all the new drugstore skincare launches for 2022! Which of these products are you most excited to try?
Shop this post…