PR sampleNew from Peach & Lily, Power Cocktail Lactic Acid Repair Serum is a concentrated exfoliating treatment with 10% lactic acid and 12 natural extracts that actively repair and resurface skin for a brighter, clear complexion.
The potent yet gentle serum is designed to firm skin, smooth fine lines, refine texture, even skin tone and boost radiance. There's no fragrance or essential oils in the formula so it's suitable for all skin types.
When it comes to exfoliating serums or treatments, lactic acid is my favorite ingredient because it's the gentlest of the alpha hydroxy acids (AHAs) while still being potent.
Peach & Lily founder and CEO (and esthetician) Alicia Yoon says "We selected lactic acid because not only is it gently resurfacing and works for sensitive skin, but it actually increases your skin's natural moisturizing factors as well." As someone with dry skin, that's another reason I love lactic acid!
The Power Cocktail serum has 10% lactic acid as the star ingredient, and it can be used without worry even by those with moderately sensitive skin. However, if you have extremely sensitive skin that cannot tolerate any acids, it's best to avoid it.
Full list of Ingredients:
Water, Lactic Acid, Tromethamine, 1,2-Hexanediol, Caprylic/Capric Triglyceride, Cetearyl Olivate, Sorbitan Olivate, Glycerin, Hydrogenated Polydecene, Jania Rubens Extract, Panax Ginseng Root Extract, Ceramide NP, Camellia Japonica Flower Extract, Camellia Sinensis Leaf Extract, Saccharomyces/Viscum Album (Mistletoe) Ferment Extract, Lactobacillus/Soybean Ferment Extract, Saccharomyces/Imperata Cylindrica Root Ferment Extract, Saccharomyces/Rice Ferment Filtrate, Butylene Glycol, Xylitol, Polyglutamic Acid, Hyaluronic Acid, Hydrolyzed Sodium Hyaluronate, Hydrolyzed Hyaluronic Acid, Sodium Hyaluronate, Sodium Hyaluronate Crosspolymer, Ginkgo Biloba Leaf Extract, Phellinus Linteus Extract, Tremella Fuciformis (Mushroom) Extract, Morus Alba Root Extract, Propanediol, Caprylyl Glycol, Acetyl Hexapeptide-8, Copper Tripeptide-1, Palmitoyl Pentapeptide-4, Oligopeptide-1, Oligopeptide-2, Adenosine, Sodium Polyacryloyldimethyl Taurate, Pentylene Glycol, Ethyl Hexanediol, Ethylhexylglycerin
Key Ingredients:
10% Lactic Acid: This Alpha-Hydroxy Acid (AHA) gently exfoliates, fade the appearance of dark spots, and improve the look of fine lines, uneven skin tone and texture while helping to moisturize skin.
Panax Ginseng Root Extract: Powerful antioxidant and adaptogen which helps fight the effects of premature aging while rejuvenating skin
Red Algae: It conditions, hydrates, softens and detoxifies the skin, replenishing essential vitamins and minerals.
Ceramides: Help fortify and restore skin suppleness, and shield skin from environmental stressors
Hyaluronic Acid Complex: helps hydrate skin at various levels for plumped up, radiant skin
Gingko Biloba: rich in antioxidants and soothing qualities, helps skin look less red and appear more vibrant
Botanical Ferment Complex: rich with enzymes, this probiotic complex helps support the skin barrier and microbiome
How to use
Apply to skin after cleansing and toning. Follow up with moisturizer. Start by using 3 times per week and build up to once daily use, either AM or PM.
And of course, don't forget using a broad-spectrum sunscreen with SPF 30 or more during the day. You can use this either in the morning or evening, but personally I prefer to use any exfoliants at night only.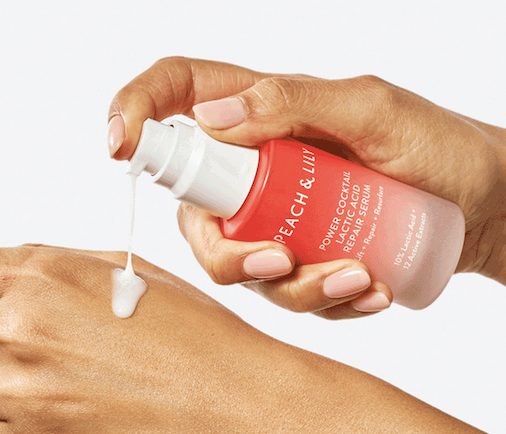 Texture-wise, this serum has a silky, lightweight formula that absorbs quickly into the skin. It's not at all greasy or tacky and feels silky-smooth. I also love that the formula plays nice with other products I use, it doesn't pill when layered under moisturizers.
After applying the serum, I follow up with a moisturizer and a light face oil to seal in the moisture. I love how my skin feels so soft and smooth with a healthy glow in the morning!
I've been using it every other night for the past 2 weeks and didn't experience any irritation, sensitivity, tingling, nothing! However, if you are totally new to exfoliating acids, you might experience very mild tingling sensation for a few seconds and that's normal.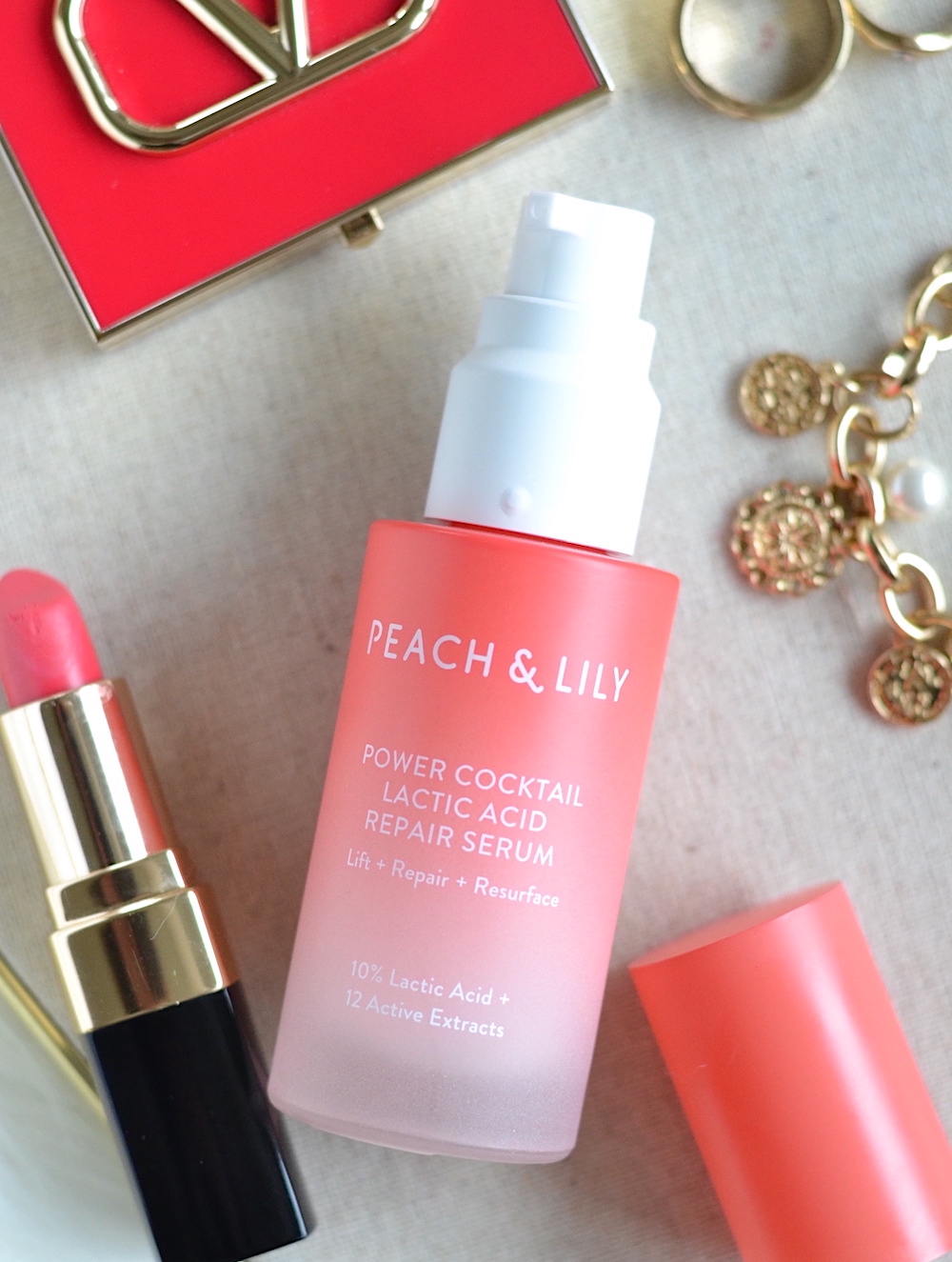 So far, my skin is noticeably smoother and supple and I am excited to see additional improvements in my skin texture, tone and radiance with continued use of this serum! Without a doubt, it has quickly become a top favorite and earned a permanent spot in my night-time skincare rotation.
Is Peach & Lily Lactic Acid Serum a Dupe For Drunk Elephant Protini Serum?
The new Peach & Lily Lactic Acid Serum is actually an amazing (and affordable) alternative for Drunk Elephant Protini Serum ($82)
Yes, this serum is actually a great dupe of the Protini serum in terms of the active ingredient lactic acid – both the serums have a 10% concentration of lactic acid.
Peach & Lily serum also contains a bunch of hydrating and skin-smoothing ingredients including ceramides and hyaluronic acid which makes it a well-rounded and gentle formula…just like the Protini serum!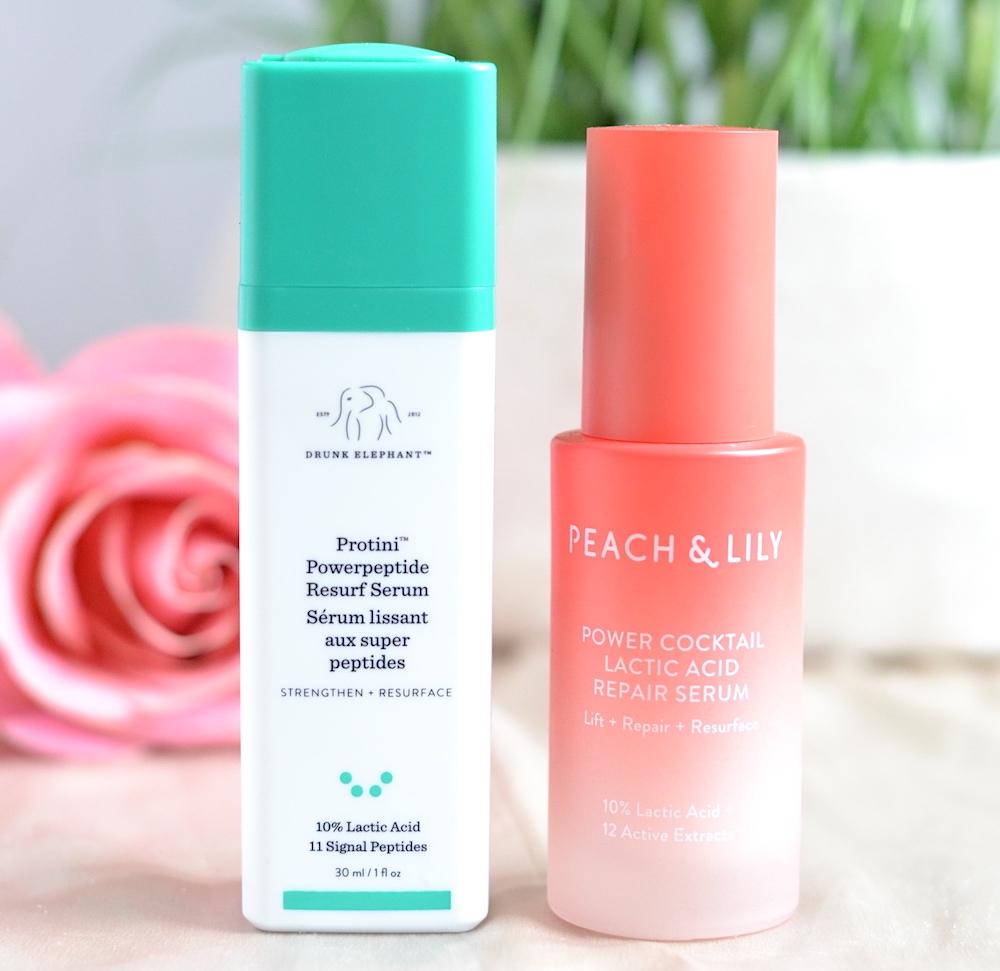 So, if you are looking for a Drunk Elephant Protini Serum dupe, Peach & Lily Lactic Acid Serum fits the bill and is much cheaper at only $49 (compared to $82 for Protini!)
Not to mention, the Peach & Lily Lactic Acid Serum is also a fantastic dupe for Sunday Riley Good Genes treatment ($85) which contains only 5% lactic acid.  So, not only is the Peach & Lily serum more potent (yet gentle on skin) than Good Genes treatment but also gives you the best bang for your buck under $50!
Bottom Line
Peach & Lily Lactic Acid Serum ticks all the right boxes for a gentle and effective exfoliating serum, from its aesthetics all the way down to its beneficial ingredients! It helps improve signs of sun damage, including fine lines, wrinkles, uneven skin tone and texture while boosting hydration levels for supple, glowing skin.
For under $50, this is such a well-formulated anti-aging serum with an impressive ingredient lineup that's perfect for anyone struggling with hyperpigmentation, dullness/discoloration and loss of firmness.
Because the formula is fragrance-free, doesn't clog pores, and isn't drying, all skin types can use this serum with ease. It's especially great for sensitive skin as it provides results without any irritation, harshness or downtime.
Also, it's cruelty-free and vegan. Available for purchase at Ulta Beauty and peachandlily.com