PR sample Urban Decay has launched 3 new NAKED mini eyeshadow palettes inspired by fan-favorite naked shades : Foxy, Sin and Half-baked.
Each NAKED mini eyeshadow palette includes a mix of buttery whipped mattes and high-shine shimmer shades with new richly pigmented textures and finishes.
I have the Urban Decay Half Baked palette that features 6 blazed, bronze-toned neutrals based off the classic OG Naked eyeshadow shade "Half-Baked"
SHADES
Rollin' (golden beige satin)
Half Baked (golden bronze shimmer)
Rocky (gold to pink duochrome metallic)
Buck Off (warm medium brown matte)
Breadwinner (copper metallic glitter)
Edible (deep brown matte)
Urban Decay Half Baked Palette Review
As you'd expect from Urban Decay, the eyeshadows in this palette are well-pigmented with a velvety soft texture that applies and blends out easily. There are a total of 6 shades with a good mix of mattes and shimmers. I love the color story of this palette. It's great for everyday with versatile neutral shades you can count on!
Both the matte shades are smooth, rich and packed with pigment. There's no patchiness and the formula is easy to work with. My favorite shade is Half-baked but I am also loving the shimmery-metallic Breadwinner, a gorgeous golden copper that's perfect to add some pizzazz to your look! It has a silky, blendable texture with a vibrant color payoff…there's some fall out, but nothing too messy.
Here are the swatches of Urban Decay Half Baked Palette: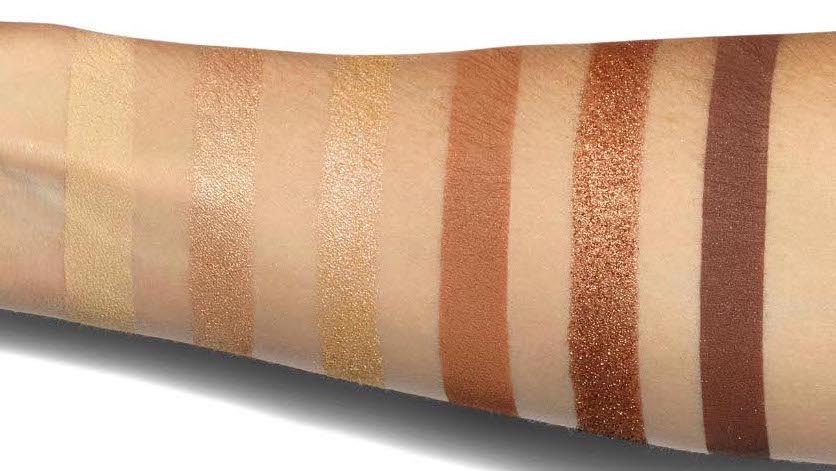 I would recommend using an eyeshadow primer to intensify the colors and longevity…it's an absolute must for me. The only shade in this palette that isn't so impressive is Rollin' (the first color) It's a bit chalky and doesn't apply as smoothly.
Bottom Line
Overall, Urban Decay Half Baked Palette gets a thumbs up from me. If you are looking for a palette with warm-toned neutrals, this bronze-hued beauty is sure to please!
The quality of eyeshadows is exactly what you expect of UD's Naked palettes, highly pigmented and long-lasting. Not to mention, it's compact and travel-friendly with sleek packaging. This laid-back neutral palette is perfect for everyday simple to glam makeup looks, day or nighttime!
Vegan and cruelty-free, it's available for purchase at UrbanDecay.com, Sephora stores and Sephora.com for $29