PR samples Skin Proud is a U.K.-based brand that launched at Walmart last year. Vegan and cruelty-free, their products are geared towards Gen Z and young millennials and the branding is very much about inclusivity.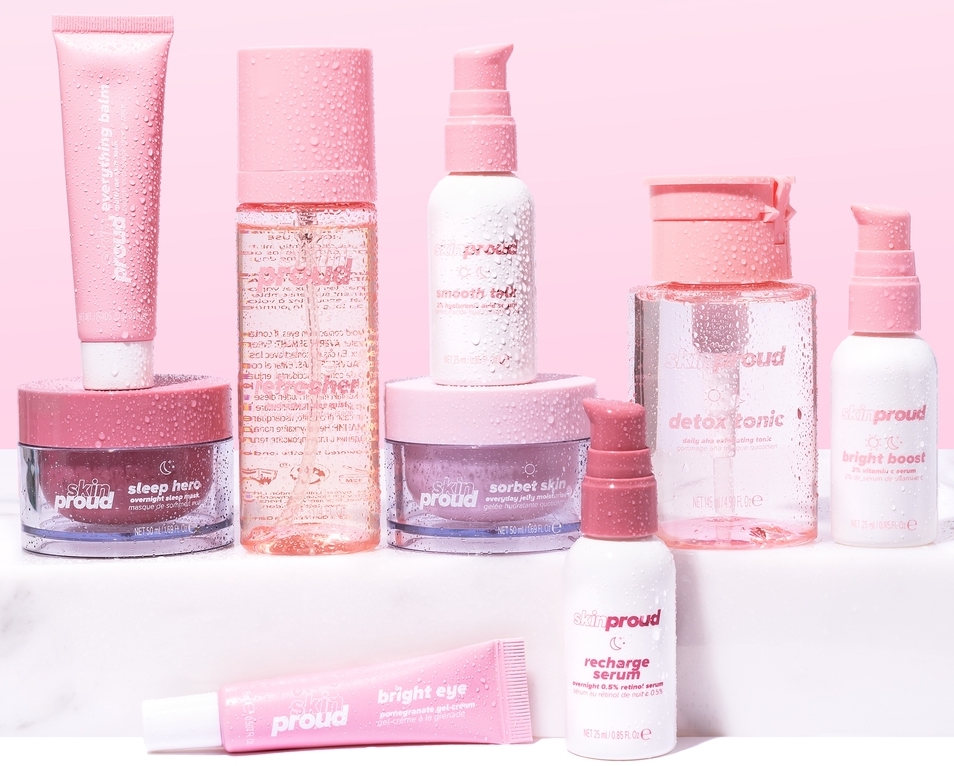 Skin Proud is focused on creating gentle yet effective formulas with results-driven ingredients for everyday use. The products are designed to be an introduction to skincare (targeted for 18-25 years old), as well as serving as an add-on to your current routine (targeted for 25-35 years old).
They offer a great range of budget-friendly products from foaming facial cleanser, exfoliating toner and clay mask to brightening eye cream and retinol serum. And the millenial pink packaging is cute!
I like that the brand does not use retouching in any of their images and emphasize on body & skin positivity as one of their core values.
I have been trying a few of the Skin Proud products lately…keep reading for my review!
Skin Proud Sorbet Skin – Jelly Moisturizer ($12.97)
Bursting with a 4-part hyaluronic acid complex, this sorbet-like gel delivers deep hydration while being lightweight. The oil-free formula also contains hydrating rose water and helps lock in moisture for a healthy glow.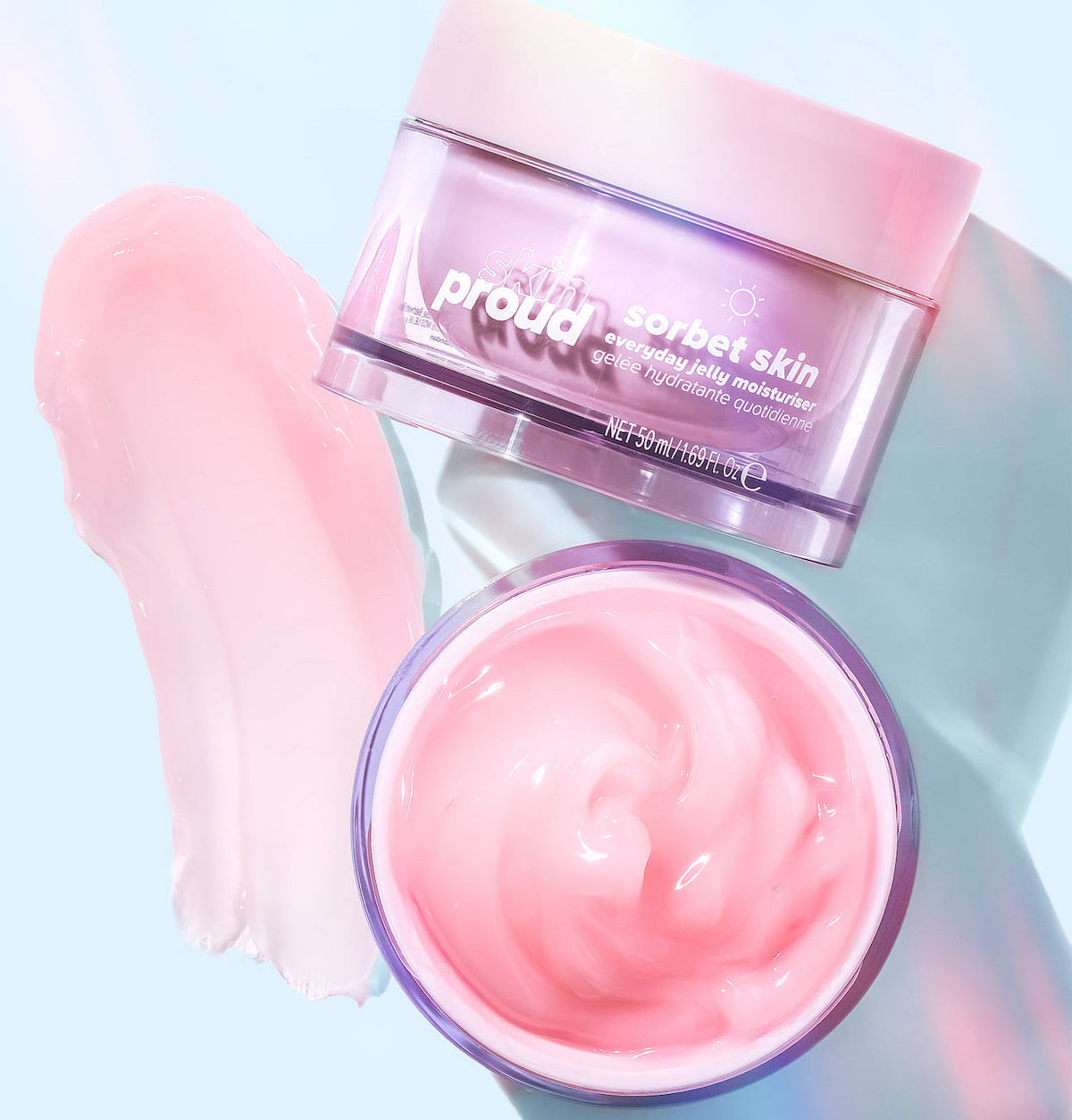 This gel moisturizer has such a lovely texture! It sinks into my skin within seconds and makes it feel hydrated without any heaviness. I enjoyed using this moisturizer throughout summer, but for my dry skin this would probably not be moisturizing enough during fall/winter months.
Overall, I think it's a great affordable moisturizer and I recommend it especially for those with normal to combination and oily skin types.
Skin Proud Everything Balm – multi-use skin balm ($8.46)
Formulated with shea butter, hydrating jojoba oil and nourishing coconut oil, this multi-purpose balm is great for areas in need of some TLC, especially dry lips & cuticles and any dry patches like elbows or knuckles to soften them.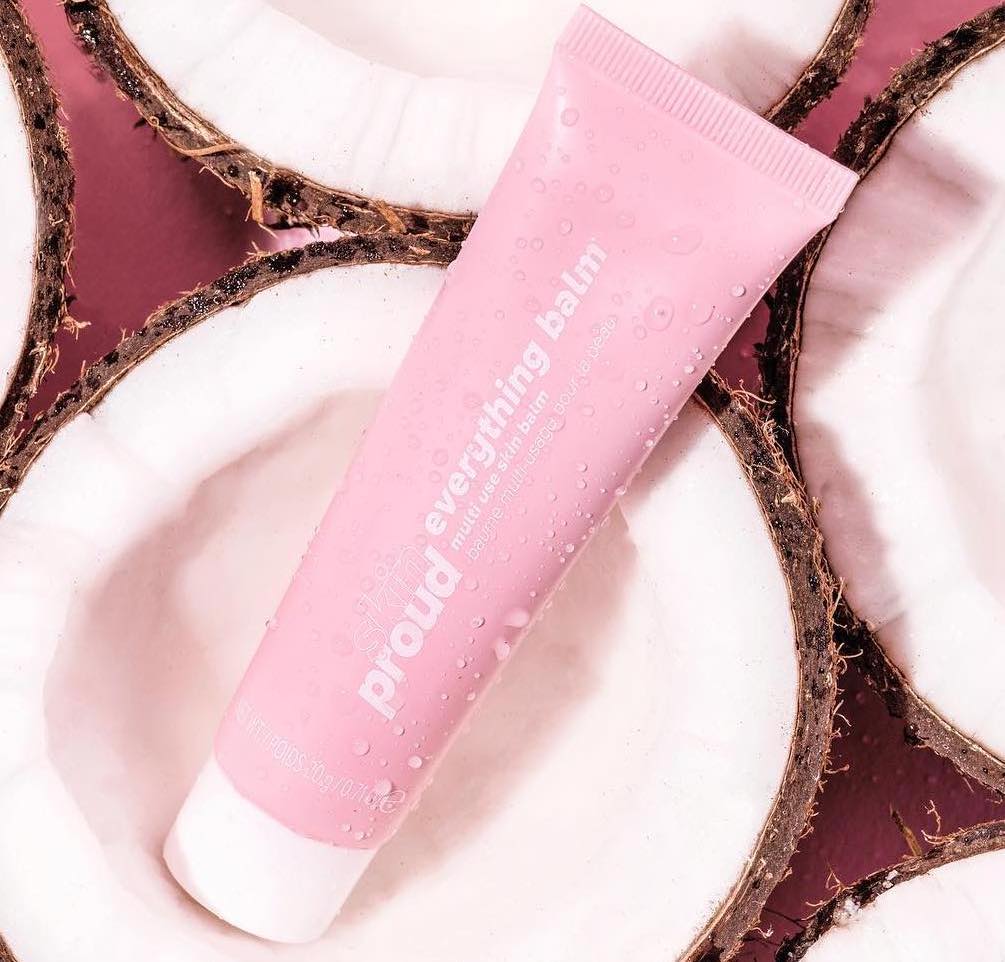 It goes on clear and does a great job of soothing and nourishing dry skin. This reminds me of the Glossier Original Balm Dot Com (which also doubles as a skin salve) but it's considerably cheaper.
Skin Proud Refresher – Facial Mist ($10.97)
Formulated with hydrating Japanese rose water, aloe vera and refining witch hazel extract, this pineapple-scented mist helps refresh tired skin in need of a boost.
This is essentially a hydrating mist with a fairly simple formula. It feels nicely hydrating on the skin and can be used anytime during the day. It has a fruity fragrance that dissipates pretty quickly and doesn't linger on.
Also, it contains witch hazel that can be potentially irritating but thankfully it's listed after fragrance in the ingredients, which is usually a sign that there's not much of it in there.
Skin Proud Fruit Smoothie – Exfoliating Toner ($12.97)
Formulated for everyday use, Fruit Smoothie uses a mix of natural AHA and PHA acids from lemons, blueberries, and grapefruits to remove dead skin cells whilst keeping skin hydrated. It also contains skin-smoothing lactic acid and Niacinamide plus there's brightening magnolia and antioxidant-rich matcha extract.
So yes, this toner has some good stuff but it also contains denatured alcohol (as the second ingredient on the list) which can be drying/irritating to your skin with consistent use of the product and there is fragrance too in the formula.
Plus, this toner has lemon peel extract (which can be irritating for some) but it's lower on the ingredient list than fragrance, which probably means there's less than 1% of it in the formula.
To be honest, as someone with dry and sensitive skin, I am wary of using this exfoliating toner on a regular basis mainly because of the high concentration of alcohol in the formula. If you don't have sensitive skin like me, you might not find this formula overly drying but I can't recommend it wholeheartedly.
Skin Proud Clear off – Makeup Remover Pads ($10.98)
Simply add water! These reusable and washable pads with super soft microfibre material quickly and effectively remove makeup without the need for added cleansers.
Simply soak the pad in water before gently wiping it across the face – remember not to scrub! To remove stubborn eye makeup, hold the pad over your eyes before wiping away makeup. Once done, rinse the pad with warm water and let dry. They need to be machine washed regularly.
Take a look at my Instagram reel below to see the textures of these Skin Proud products…
View this post on Instagram
Skin Proud skincare products are available at Walmart, Beautybay.com and ASOS
Have you tried anything from Skin Proud? Which of these skincare products would you like to try?
Shop this post…