Affiliate links Who loves affordable skincare dupes? Yes, I thought so! If you are like me and can't understand who would drop $100 on a hydrating serum, you've come to the right place!
It's no secret that drugstore skincare has come a long way in the recent years and now there's no shortage of amazing AND affordable skincare options that give the luxury brands a run for their money! The blend of ingredients is slightly less high-end, containing fewer fancy plant extracts but the final result is the same: healthy, beautiful skin!
Although these affordable skincare dupes might not have exactly similar texture as their expensive counterparts, they provide the same great skincare benefits without the hefty price tag and fancy packaging of course!
Related: 10 Affordable Alternatives For High-End Skincare Products
Here are 11 affordable skincare dupes you (and your wallet!) will love!
1. SkinCeuticals Discoloration Defense Dupe: Good Molecules Discoloration Correcting Serum
SkinCeuticals' Discoloration Defense ($98) helps to get rid of stubborn dark spots, sun damage and acne scars with a trio of proven brightening ingredients including 5% niacinamide, 3% tranexamic acid and 1% kojic acid and. The hydroquinone-free formula has a lightweight, easy-to-layer texture but the price tag…ouch!!
Good Molecules Discoloration Correcting Serum ($12) does exactly the same for about 80 bucks cheaper! It has a similar set of active ingredients, including niacinamide and tranexamic acid to diminish dark spots, acne scars and hyper pigmentation. Bonus: it also boasts of 3 forms of hyaluronic acid to hydrate skin. For the price, you really can't beat this skincare dupe!
2. Glow Recipe Watermelon Glow Moisturizer Dupe: Bliss What a Melon Hydrator
Formulated with watermelon extract, hyaluronic acid and antioxidants to boost radiance, Glow Recipe's watermelon moisturizer ($39) hydrates, soothes and perfectly preps skin for makeup. Best for oily/combo skin but can be used as a serum for dry skin.
Bliss water jelly hydrator ($20) is just as hardworking at half the price! It provides lightweight moisture with antioxidant-rich watermelon extract, sodium hyaluronate and cucumber extract. Best for combination to oily skin, it also leaves skin smooth & perfectly primed for makeup.
3. Drunk Elephant Vitamin C Serum Dupe: COSRX Triple C Lightning Liquid
Drunk Elephant Vitamin C serum ($80) is jam-packed with a potent antioxidant complex of 15% L-ascorbic acid, 0.5% ferulic acid and 1% vitamin E that all work together to firm and brighten skin, reducing dark spots, acne scars and wrinkles. Plus, it contains hydrating hyaluronic acid, antioxidant green tea and licorice root extract. The only downside? It's pretty pricey!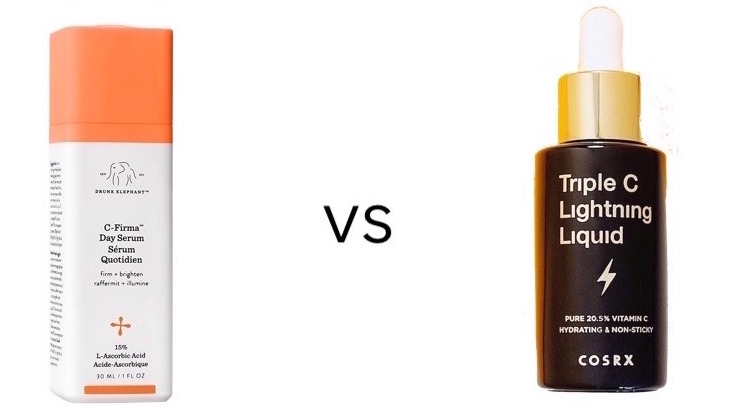 COSRX Vitamin C serum ($27) is much more affordable but still packs a powerful punch with 20.5% pure vitamin C (ascorbic acid) along with antioxidant-rich black chokeberry, licorice root extract and skin-plumping sodium hyaluronate.
Paula's Choice C15 Super Booster ($49) is very similar formula-wise with a 15% ascorbic acid formula along with antioxidant ferulic acid, vitamin E and Hyaluronic acid for hydration.
4. Farsali Rose Gold Elixir Dupe: Revolution Skincare Gold Elixir
Farsali Rose Gold Elixir ($54) is a 24-karat gold-infused dry oil formulated with Rosehip seed oil that's rich in vitamins, antioxidants, and essential fatty acids. Plus, it contains pumpkin seed oil and 24k gold flakes (that absorb right into skin) to leave your skin glowing. It can be used on its own as a moisturizer for supple skin or mixed with a matte foundation for a dewy finish, but it's quite expensive.
Revolution Gold Elixir ($14) gives you the same result (glowing, luminous complexion) for less than one-third the price! It's also a rosehip seed oil based nourishing formula with subtle gold flecks to give your skin a healthy radiance.
5. Paula's Choice 10% Niacinamide Booster Dupe: The Inkey List Niacinamide
With 10% Niacinamide as the star ingredient, Paula's Choice booster ($44) improves uneven skin tone & texture, reduces the appearance of large pores and diminish fine lines. It also contains Vitamin C and other antioxidants for additional complexion-refining benefits.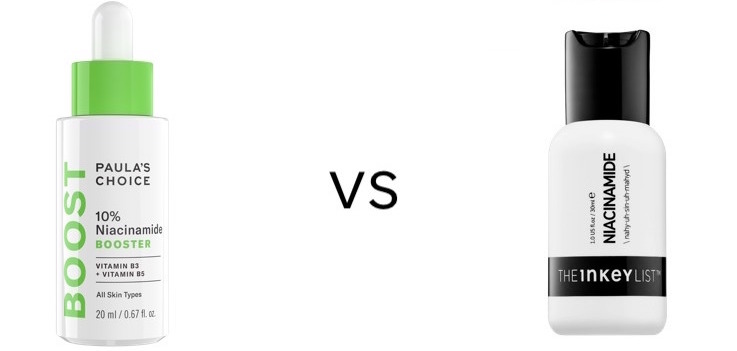 The Inkey List serum ($6.99) is also packed with 10% Niacinamide that offers the same skin-brightening benefits at only one-sixth the price! Plus, it has 1% hyaluronic acid for added hydration.
6. Skinceutucals B5 Gel Dupe: Glossier Super Bounce
Skinceuticals B5 Gel ($83) is an oil-free serum formulated with skin-plumping hyaluronic acid and hydrating vitamin B-5 (panthenol). Suitable for all skin types, it replenishes moisture and helps skin feel smoother. But it's an overpriced product for such a simple ingredient list.
Glossier Super Bounce ($28) serum is a great dupe at a great price! It features the same ingredients – 2% Hyaluronic Acid complex and soothing vitamin B5 for a heathy dose of hydration with a featherweight feel.
7. Drunk Elephant Lala Retro Cream Dupe: CeraVe Skin Renewing Night Cream
Drunk Elephant Lala Retro cream ($60) is truly a savior for dry skin, thanks to its intensely moisturizing formula packed with ceramides and six rare African oils. Despite being luxuriously rich, its fluffy non-greasy texture doesn't feel suffocating or heavy.
CeraVe night cream ($14) also does wonders for dry skin but at a fraction of the price! It's also fragrance-free and lightweight but provides intense hydration with a mix of Ceramides, peptides, hyaluronic acid and Niacinamide, leaving skin smooth and supple.
8. Kiehl's 12.5% Vitamin C Dupe: Revolution 12.5% Vitamin C Super Serum
Kiehl's Line Reducing Serum ($65) is infused with 10.5% L-Ascorbic Acid (pure vitamin C) and 2% Ascorbyl Glucoside to help reduce fine lines & wrinkles while improving skin's texture and radiance.
Revolution Vitamin C Serum ($14) is essentially the same thing at a bargain price! It also contains 12.5% of vitamin C (as ascorbic acid) to provide the same anti-aging benefits.
9. Tatcha Water Cream Dupe: Bliss Rose Gold Rescue Moisturizer
Great for combination to oily skin, Tatcha Water Cream ($68) is a luxurious yet lightweight treat that just melts in for instantly smoother skin! It nourishes and refines skin with Japanese botanicals like wild rose and leopard lily while also imparting a shine-free glow with a touch of 23-karat gold. But it's a major splurge at almost $70!

You can save a pretty penny with Bliss Rose Gold Rescue ($18.99) moisture cream that's infused with soothing rose flower water, Alpine rose stem cells and colloidal gold. This one also has a light and silky souffle-like texture to provide perfectly balanced hydration for oily and combination skin.
10. Glossier Super Pure Dupe: Revolution Skincare 10% Niacinamide + 1% Zinc Blemish & Pore Refining Serum
With 5% Niacinamide and zinc, Glossier Super Pure ($28) is designed to improve uneven skin tone & texture while reducing excess sebum in pores. Great for oily/combination skin, it has a water-like texture that feels weightless.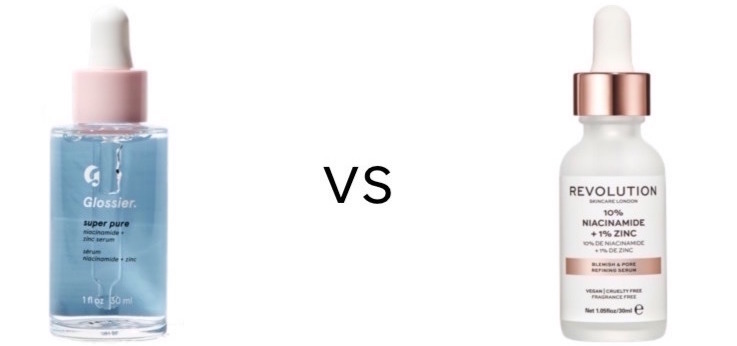 Revolution blemish & pore refining serum ($7) is not only cheaper but more concentrated with 10% Niacinamide and 1% zinc to tackle blemishes and improve skin texture & pore size. This one also has a water-light gel texture that works well for oily, acne-prone skin (here's my review) For under $10, it's a skincare steal!
11. Peter Thomas Roth Hyaluronic Cloud Serum Dupe: Inkey List Hyaluronic Acid
PTR's Hyaluronic Cloud Serum ($65) drenches skin in lightweight hydration with a concentrated hyaluronic acid complex, silk proteins and algae extract. Suitable for all skin types, this soothing serum provides long-lasting moisture. Overall, a great product but pricey!
You can save your hard-earned dollars with the Inkey List Hyaluronic Acid serum ($7.99) that also contains pure Hyaluronic Acid 2% for a healthy dose of hydration along with Matrixyl 3000 (peptides) that supports collagen production for an added plumping effect.
Want MORE affordable skincare dupes? Here's Part 2 of this Skincare Dupes 2019 series! And don't forget to bookmark this page for your reference and PIN the images above to keep it all handy!
Shop this post…